Changes-channels.jpg (JPEG Image, 425x294 pixels) Problem Gambling. Charge Battery Concept by Yeon Kyeong Hwang & Mieong Ho Kang. I am very grateful for the presence of the eneloop glitter edition in my life.
If it were not for this rechargeable set, then I'd be at the store every other day, buying stock for my iMac peripherals! In an alternate situation, I wouldn't mind giving these Spark Winners , Charge Battery a chance. They're like the old fashioned winding toys; a few good twists to charge and I'm ready to go. The Miniature Life of Food and Drinks. As children, most of us remember creating a variety of scenes using toys and action figures, ranging from epic battles to carwashes and swimming pools.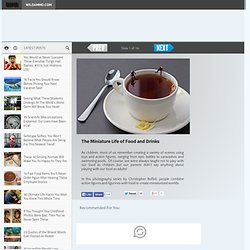 Of course, we were always taught not to play with our food as children…but our parents didn't say anything about playing with our food as adults! In this photography series by Christopher Boffoli, people combine action figures and figurines with food to create miniaturized worlds. Pancakes. Airline Story. Beardheads by Beardhead. UNTITLED. 1305232757483820.jpg (JPEG Image, 500x608 pixels) No touching the dog please.
---