Baby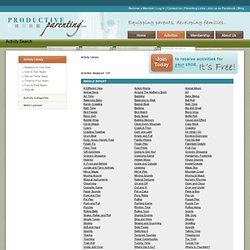 Productive Parenting - Activity Library: Preschool Activities, Toddler Activities, Baby Development
<a href="http://www.burstnet.com/ads/ad24896a-map.cgi/ns/v=2.3S/sz=728x90A/" target="_top"><img src="http://www.burstnet.com/cgi-bin/ads/ad24896a.cgi/ns/v=2.3S/sz=728x90A/" border="0" alt="Click Here" /></a> Productive Parenting Activity Search
Crafts For Kids! «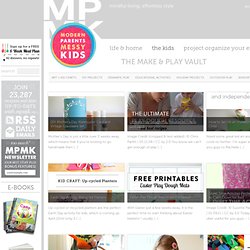 Happy hump day friends. Do you all have big Easter plans for this weekend? We're actually double booked – which [...]
The Make & Play Vault
Creating a New Normal | Efficient Homemade Baby Food » styleberry BLOG
Unlike cloth diapering, making my own baby food was something I have known I would do for years. I have a "system" (you'll see this theme with me) for making, carrying, storing & feeding the baby food I make and it is easier than you probably think. Would you believe me if I told you that I have only made baby food about 8 times?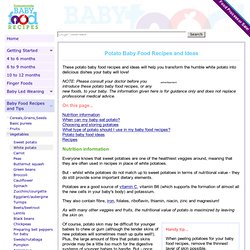 These potato baby food recipes and ideas will help you transform the humble white potato into delicious dishes your baby will love! NOTE: Please consult your doctor before you introduce these potato baby food recipes, or any new foods, to your baby. The information given here is for guidance only and does not replace professional medical advice.
White Potato Baby Food Recipes and Ideas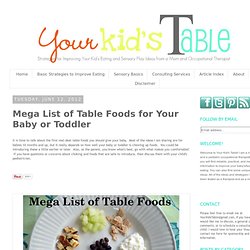 It is time to talk about the first real-deal table foods you should give your baby. Most of the ideas I am sharing are for babies 10 months and up, but it really depends on how well your baby or toddler is chewing up foods. You could be introducing these a little earlier or later. Also, as the parent, you know what's best, go with what makes you comfortable! If you have questions or concerns about choking and foods that are safe to introduce, then discuss them with your child's pediatrician. 442 I am going to do this a little backwards and give you food ideas and some meal plans in this post and then follow-up soon in a second post on exactly how to begin making this transition.
Your Kid's Table: Mega List of Table Foods for Your Baby or Toddler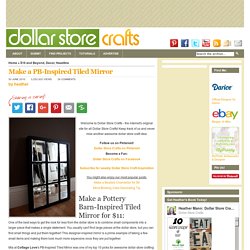 Home » $10 and Beyond , Decor , Headline Make a PB-Inspired Tiled Mirror 30 June 2010 1,851,706 views 21 Comments by heather Welcome to Dollar Store Crafts - the internet's original site for all Dollar Store Crafts!
Make a PB-Inspired Tiled Mirror
I'm sorry I've been so quiet lately. We went off to the wilds of Nebraska to visit Magical Mama Tiffany and her family for a week, and the kids and I have been battling various illnesses and ailments (on top of that pesky morning sickness). I think we're finally over the worst of it, though (at last!).
10 Ways to Make Today Magical | A Magical Childhood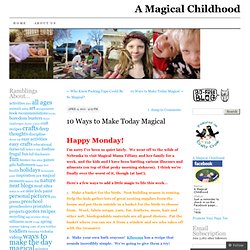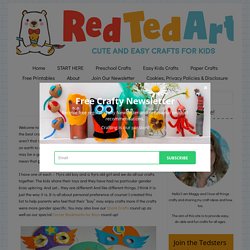 If you're new here, you may want to join us on Facebook or Google + . Thanks for visiting! Welcome to Boy Get Crafty! So many people tell me that their "boys just aren't that interested" or that they "wished they had a girl to sew for" or "what on earth to give hubby for Christmas"… So I thought a Boy Get Crafty may be a good idea.
Boy Get Crafty
make believe - animal ear headbands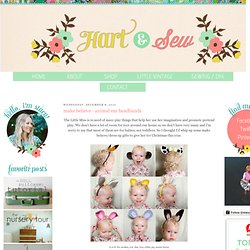 The Little Miss is in need of more play things that help her use her imagination and promote pretend play. We don't have a lot of room for toys around our house so we don't have very many and I'm sorry to say that most of them are for babies, not toddlers. So I thought I'd whip up some make believe/dress up gifts to give her for Christmas this year. (L to R: fox, monkey, cow, deer, lion, rabbit, pig, mouse, horse) Ever since Halloween she frequently asks me to draw a dog nose on her with my eyeliner, so what better to go with a little black nose than animal ears?
For the Boys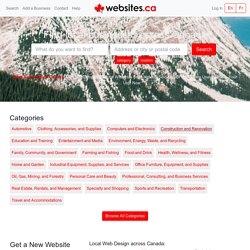 So I posted a while back a bunch of pictures of Little Man's bedroom but didn't show you the side of the room where he has his lego table. He LOVES lego and so last Christmas I wanted to make him a table and an area that allowed him to build and keep that stuff together. I showed you the view towards the bed
our house: boy's room – lego table : ordinary mom
Baby Sling Sewing Instructions from Maya Wrap
Below are the instructions for making a sling using your own fabric. If you are interested in purchasing a genuine Maya Wrap baby sling or baby carrier please visit our shopping area. Sew Your Own Baby Sling! You will need: 2.25 - 2.5 yards fabric Two 3" sturdy metal or nylon rings.
Age-by-age guide to feeding your baby
Reviewed by the BabyCenter Medical Advisory Board Last updated: April 2011 Use this guide to find out what and how much to feed your child at every stage of development from birth to 12 months. (See our toddler article for guidance on feeding children over 12 months .)
An RN for Mommy & Baby. In-home postpartum care by a Registered Nurse. MaryAnne Farrell RN, BSN
Posts people besides my mom seem to like
Reviewed by the BabyCenter Medical Advisory Board Last updated: August 2011 En español Do all babies experience separation anxiety? Baby on the move: Walking Yes, to a degree. Separation anxiety is a normal emotional stage of development that starts when babies begin to understand that things and people exist even when they're not present – something called "object permanence."
Separation anxiety
Got a baby? Then there's an excellent chance that you've also got piles of baby clothing and now is the perfect time to organize, and trim down your collection of outgrown baby clothes. It starts when you announce your pregnancy; friends and family just can't resist giving you all sorts of baby clothing. From hats to onesies to sweaters and little socks, it's amazing how quickly it starts to add up.
6 Clever Ways to Deal With Outgrown Baby Clothes reuse ideas for baby clothing – Inhabitots
This baby food schedule suggests some nutritious foods to offer your 6 to 9 month baby. Please note that it is important to discuss the introduction of all new foods with your pediatrician, as he or she will be acquainted with your family's medical history and will be able to advise you if certain foods are not appropriate for your child. Notes about this baby food schedule
Baby Food Schedule for 6 to 9 Months
Nursery DIY: Garland wall decoration - little. lovely. Lovely ideas for little people.
How One Mom's Pictures on Facebook Saved Her Son's Life | GoodyBlog
Babies Are Stupid
How to Read Your Baby's Mind - Newborn Basics - New Parent - TheBump.com