Headbands/Accessories
Blue Leaf Headband pattern by Adrienne Krey. Maner pattern by Alexandra Tinsley. Bow Headband pattern by Beth Postelwait. The Leonidas pattern by J. The Leonidas is a hairband inspired by the film 300.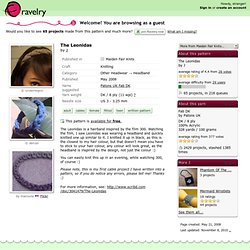 Watching the film, I saw Leonidas was wearing a headband and quickly knitted one up similar to it. I knitted it up in black, as this is the closest to my hair colour, but that doesn't mean you have to stick to your hair colour, any colour will look great, as the headband is inspired by the design, not just the colour :) You can easily knit this up in an evening, while watching 300, of course :) Oversized Bow Headband. A few people have asked me to write up a pattern for my bow headband. i had a spare moment today, so here it is!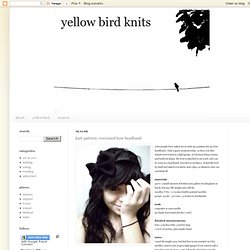 This simple bow is knit in a tight gauge, so it houses deep creases and holds its shape. the bow is attached to an icord, and can be worn as a headband, bracelet or necklace. or knit the bow by itself and attach it to shirts, hair clips, or whatever else you can think of! Materials:yarn: a small amount of bristol yarn gallery buckingham in black. but any DK weight yarn will do. needles: US2 / 2.75 mm double pointed needlesgauge: 24 sts / 40 rows = 4 inches in stockinette tools: a tapestry or yarn needle an elastic hair band (for the i cord) Quick I-Cord Headband. I am growing my hair a bit longer, and have taken to putting it in a short ponytail when busy working on my stuff.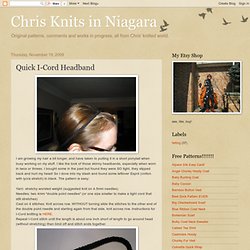 I like the look of those skinny headbands, especially when worn in twos or threes. I bought some in the past but found they were SO tight, they slipped back and hurt my head! So I dove into my stash and found some leftover Esprit (cotton with lycra stretch) in black. The pattern is easy:
---