Food
Get flash to fully experience Pearltrees
HEALTHY SWEETS How much: Sparingly Healthy choices: Unsweetened dried fruit, dark chocolate, fruit sorbet Why : Dark chocolate provides polyphenols with antioxidant activity. Choose dark chocolate with at least 70 percent pure cocoa and have an ounce a few times a week. Fruit sorbet is a better option than other frozen desserts. RED WINE How much: Optional, no more than 1-2 glasses per day Healthy choices : Organic red wine Why : Red wine has beneficial antioxidant activity. Limit intake to no more than 1-2 servings per day.
Posted on December 01, 2011 in Fashion & Accessories by Caroline Via: mycakies.blogspot.com Start saving your old jam jars! From cakes to herb gardens, pies to photo frames, and even entire meals … here are 20 fantastic things you never knew you could make with a jar.
Watermelon Keg Materials 1 medium-large oval or oblong watermelon (seeded or seedless) Kitchen knife Cutting board Green dry erase marker or ¾"-1" thick painter's trim tape Channel knife (can use top of a vegetable peeler as alternative) Large bowl & spoon or scoop Apple corer Spigot (from beer making supply company) Twine & straight pins Watermelon juice or punch recipe Instructions Wash the watermelon under cool running water and pat dry. On a cutting board, place the watermelon on its side and cut off 1/4"-1/2" from both ends, being careful not to cut too deep into the white part of the rind.
Need a midnight snack? Or anytime snack for that matter, my cookies and cream peanut butter might just knock your socks off I was so lucky to have my sister and her family visit earlier this week and I got to have some kitchen time with her beautiful girls. They are just the sweetest things ever. Hope you'll enjoy this naughty snack that's good enough to eat by the spoonful!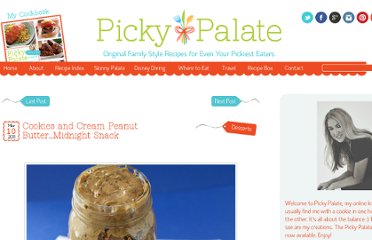 We don't use plastic to store any of our vegetables or fruits. For example, we store carrots, whole or cut, immersed in containers of water. They will stay crisp in the refrigerator for weeks. (Make sure to change the water frequently.) Celery works the same way.
The following is a "healthy food hot list" consisting of the 29 food that will give you the biggest nutritional bang for you caloric buck, as well as decrease your risk for deadly illnesses like cancer, diabetes and heart disease. Along with each description is a suggestion as to how to incorporate these power-foods into your diet. Fruits
By Glen Matten UPDATED: 16:17 GMT, 8 January 2010 Most of us know that avocado, blueberries and broccoli tick all the health boxes, but there are many other lesser-known superfoods that we should become acquainted with, says nutritionist Glen Matten – and better still, they all taste great 1 Leeks for digestion Judging by the TV ads, I guess you know about probiotics – 'friendly' bacteria – already.
Today's post is from one of Diane of Created by Diane. Diane and I met a year ago and I consider her friend and a very talented blogger, so I'm excited and honored to have her guest posting. She's here to share with us her tips and tricks to decorating cupcakes with one my favorite tips, Wilton's 2D.
I call this magic sauce. In part, because it makes everything it touches shimmer with deliciousness. It's magic like that.