Dessert
Lemon Sugar Cookies. Sometimes the simplest cookies are the most satisfying – and these sugar cookies certainly fit that description.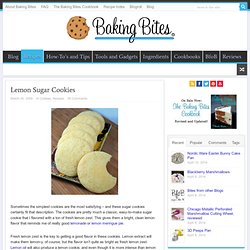 The cookies are pretty much a classic, easy-to-make sugar cookie that I flavored with a ton of fresh lemon zest. This gives them a bright, clean lemon flavor that reminds me of really good lemonade or lemon meringue pie. Fresh lemon zest is the key to getting a good flavor in these cookies. Lemon extract will make them lemon-y, of course, but the flavor isn't quite as bright as fresh lemon zest. Lemon oil will also produce a lemon cookie, and even though it is more intense than lemon extract, it still doesn't quite compare to fresh zest.
Grilled S'more Brownie. Deep-Dish Chocolate Chip Cookie for One. By Lauren Zembron, on July 20th, 2012 I know, I know… it seems as though I've been posting sweet recipe after sweet recipe (with a little something cheesy thrown in); but you see, after what seemed like a long time during which sweets were unappealing during my first trimester, (what can I say, pregnancy does some strange things to your body!)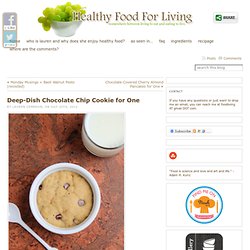 , they're apparently back with a vengeance on my appetite's menu. Nutella Cupcakes With Philly Cream Cheese Nutella Frosting! — A Happy Hippy Mom. My daughter is a Nutella freak and just loves the creamy chocolaty spread!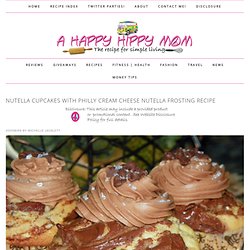 She would take a jar of it to school and her classmates would pass it around during lunch and eat it straight from the container. Probably not the most sanitary thing to do, but teens live for the moment and don't put much thought into that kind of stuff. I wanted to bake my daughter something special, so I decided to search for recipes using Nutella and found Self Frosting Nutella Cupcakes at Baking Bites. Cooking Light's Tres Leches Cake « « Vippins.com Vippins.com. Cooking Light's Tres Leches Cake Ingredients Print Email Send To Mobile Save Recipe Add to Menu Add to Shopping List Cake: Cooking spray $ 1 tablespoon all-purpose flour 1/4 teaspoon salt 4 large egg whites $ 2/3 cup sugar $ 1 teaspoon vanilla extract 3 large eggs $ 2/3 cup all-purpose flour Milk Mixture: 1 cup half-and-half 1 (14-ounce) can fat-free sweetened condensed milk 1 (12-ounce) can fat-free evaporated milk Meringue: 3 large egg whites $ 1 cup sugar $ 1/3 cup water 1 teaspoon lemon rind 1 teaspoon vanilla extract Preparation Preheat oven to 350°.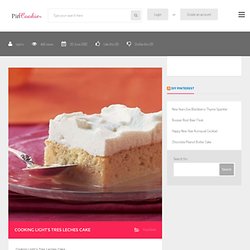 To prepare cake, coat a 13 x 9-inch baking dish with cooking spray; dust with 1 tablespoon flour. Nutella Cupcakes… « « Vippins.com Vippins.com. Nutella Cupcakes… INGREDIENTS: 2 sticks unsalted butter, softened 1 13-ounce jar of Nutella pinch of fine grain sea salt 1 tablespoon clear vanilla extract 2 pounds confectioners' sugar, sifted 6-8 tablespoons heavy cream or milk DIRECTIONS: 1.
What goes into making chocolate bowls. Leave it up to me to mess up every recipe in the world... but on the flipside, by experiencing everything that goes wrong, I end up learning the most.I had seen these bowls from Stephanie's Kitchen, and decided it was a fantastic idea for my food independent study. ingredients: chocolate, and balloons!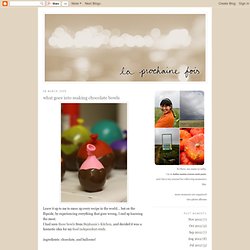 First, a giant bar of chocolate all the way from taiwan! And it's -special- grade, whatever that means. (i actually tried to pipe pretty lacy chocolate bowls first, but uh, that completely failed so i moved on. plus i don't like that pink fake chocolate.) Creme Brulee. Those of you who have been following me for a little while know that every so often I cover our local library's "Meet the Chef" series, where we lucky attendees get to see local chefs walk us step by step through the preparation of something scrumptious.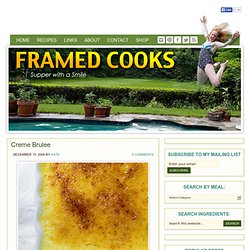 So far we have learned how to make Blackened Scallops with Mango Tomato Couscous, and Short Ribs with Mascarpone Polenta and Crispy Brussel Sprouts. So it did seem like it was time for dessert, right? Right! Because this time, we got to meet Rosemary Smith from La Vie En Rose Bakeryand Cafe, and she started us off with one of the Southern husband's very favorites: Creme Brulee. Here's Rosemary…doesn't she look fun?
Banana Parfait. I've noticed over the course of writing over the past few years about this, that and the other ingredient that there are a few things that folks have a particular love and devotion for.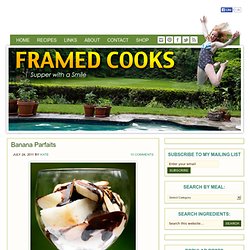 One of those things is bananas. We do love our bananas! And what's not to love – they are the perfect, scrumptious, portable, non-sticky/drippy/messy fruit. Ice Cream Cupcakes. Some recipes are just a work of genius — you run across them and first you think "I have GOT to make this as soon as possible," and for me that is quickly followed by "now, why didn't I think of this??"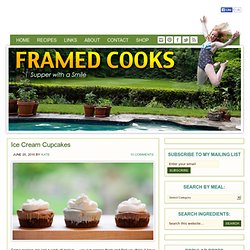 These delectable little ice cream cupcakes are from one of those recipes, and are from Joy The Baker, who is a virtuoso when it comes to inventive and irresistible desserts. A virtuoso, plain and simple. Here's the drill: you make up a batch of brownie batter (Joy makes her own, I went right for that Duncan Hines box in my pantry), and you spoon just a little bit into foil cupcake liners. French Toast Muffins. French toast is my secret weapon when it comes to teenagers.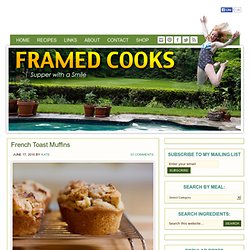 No matter how embarrassing I manage to be as a mom (yes! As a matter of fact I DO have Single Ladies on my Ipod, and I am going to sing it. Loudly. And yes, I realize I might have gotten the lyrics wrong, but I like singing it anyway, even if your friends areover.) Banana Bites! Oh, I love these little guys. Not only are they DELICIOUS, and not only do they feature fruit, so you can tell yourself they are just a little bit healthy, but they are also awesome for using up those bits and pieces that accumulate in your cupboard (if you are me, anyway.) You know what I mean – the last quarter cup of shredded coconut in the bag, the end of that package of mini-chocolate chips, etc etc.
Anyway, start with a bunch of bananas. I love bananas. And melt up your favorite kind of chocolate. Recipes from Kevin & Amanda. So excited to share this super easy, ultra creamy pesto alfredo sauce, poured over dreamy, fluffy gnocchi and topped with crisp bacon and shaved parmesan. It's warm, hearty, delicious, and perfect for busy weeknights. The combo of bacon, creamy basil pesto, and parmesan send this decadent sauce over the top!! It's seriously too good to eat in public. Gnocchi are basically potato dumplings, so serve this to your meat-and-potatoes loving family for a sure-fire winner!
Nutella Cinnamon Rolls. May 10, 2011 | Print | E-mail | Filed under bread, nutella There are some days that I just lose my appetite. It might be because of my mood, or that nothing sounds good, or that I'm in a food rut again and need to spice things up a bit. Mingmakescupcakes.yolasite.com.
Cupcake23recipesmall.jpg (800×400) For the Love of Dessert » Blog Archive » Princess Cake Recipe. I have been on a long, self-imposed break from the blogging world, but I felt it was necessary to pop-up for a moment to post a recipe for Princess Cake. I made it over 5 years ago from a recipe on iVillage.com (originally from the book Birthday Cakes: Recipes and Memories from Celebrated Bakers), but since then the site has taken it offline.
Several times a year I get asked if I still have a copy of it. I have moved three times since then, and finally dug through my papers and found a version I printed from iVillage.com back in 2005. Due to popular request, here it is, transcribed from my printed version. Key lime cheesecake. I can't believe I haven't told you yet about this Key Lime Cheesecake; I have some nerve, don't I? And I suppose I could get into its texture (dreamy), flavor (bright and promising), topping (thin strips of mango tossed in lime juice) but it wouldn't be honest of me, as I really only made these for one reason last weekend.
Take a look at this bottle; could there be a more enticing Wish You Were Here sign? I take one look at it and just want to yell: I'm coming for you! Alas, it is still quite January outside in New York, this might be the only piece of Key West we're getting for several months. Flower cupcakes. Black-bottom cupcakes. Lime yogurt cake with blackberry sauce. Orange chocolate chunk cake. Dulce de leche cheesecake squares. Chocolate soufflé cupcakes with mint cream. Clementine cake. Red velvet cake. Red wine chocolate cake.
Best birthday cake. Pumpkin cupcakes. New york cheesecake. Chocolate peanut butter cake. Lincoln's Red Velvet (Cheesecake) Cake. The Perfect Cookie Dough Truffles Recipe. Banana Split Bites. Recipe Print 5 Minute Chocolate Mug Cake recipe. Dark Chocolate Cupcakes with Peanut Butter Frosting. Graham Cracker S'mores Cookies. Chocolate Chip Lava Cookies. Strawberry Cheesecake Chocolate Chip Sandwich Cookies. Caramel-Vanilla Cupcakes for 5. Saffron Ice Cream. (Lazy) Chocolate Cherry Fudge Cake.
Banana Chocolate Granola. Blue Moon Applesauce Cake. Strawberry Tiramisu Pancakes. Chocolate Chip Cookie Dough Cheesecake. Cadbury Blondies. Banana Cupcakes with Nutella Cream Cheese Frosting. Orange Layer Cake. Nutella Brownie Bites. Sweet Potato Cupcakes with Brown Sugar Marshmallow Frosting. Spiced Sparkling Cider Poached Pears. Chocolate Kahlua Cake.
Very Vanilla Sprinkle Cupcakes. Cinnamon Roll Pancakes. How to Make Marshmallow Fondant.
---