N-tier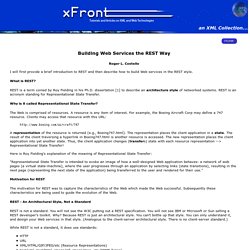 I will first provide a brief introduction to REST and then describe how to build Web services in the REST style.
www.xfront.com/REST-Web-Services.html
The topics contained in this section are intended to give you quick exposure to the Windows Communication Foundation (WCF) programming experience.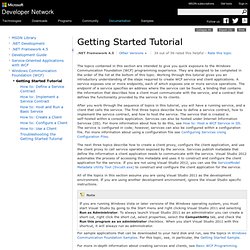 Getting Started Tutorial
Version 1.0.1 GotDotNet community for collaboration on this pattern
Data Transfer Object
A RESTful Web service, an example
It's often hard for people to "get" REST, this is mostly due to the fact that REST isn't a tangible thing like a piece of software or even a specification, it's a selection of ideals, of best practices distilled from the HTTP specs. I've always found that the best way to understand something is to see an example, to see the principles in action first and worry about the details later once I understand the general gist. So here's a little example of a RESTful version of a simple Web service you might already know about, the Delicious API .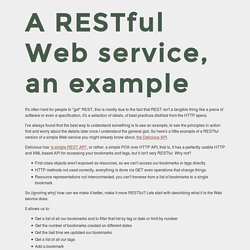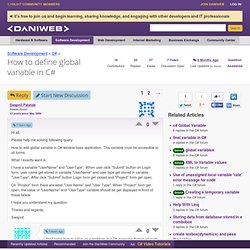 How to define global variable in C# - C#
alc6379 Cookie...
c# - what is Entity Framework with POCO
PhoneBookService Service
This sample demonstrates the serialization support for unmarked types; that is, types to which serialization attributes have not been applied, sometimes referred to as Plain Old CLR Object (POCO) types.
POCO Support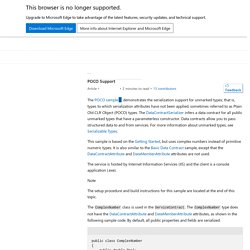 What is the Difference Between a DTO and a POCO?
First off, I'm not the authority on DTOs, POCOs, object oriented architecture, or really anything now that I stop to think about it.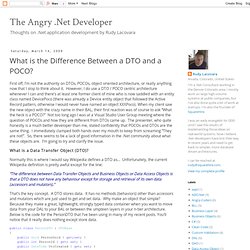 5 Minute Introduction to ASP.NET MVC
Plain Old CLR Object or POCO is a play on the term POJO , from the Java EE programming world, and is used by developers targeting the Common Language Runtime of the .NET Framework .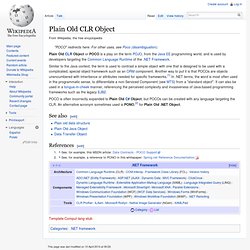 Plain Old CLR Object
Getting Started Tutorial
Every programming language has it's special characters - characters that mean something special such as identifying a variable, the end of a line or a break in some data.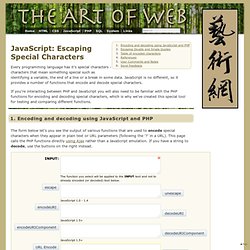 Escaping Special Characters < JavaScript
c# - POCO vs DTO