Wpmu
Debugging a WordPress Network. Debugging a WordPress Network Languages: English • Hrvatski • 日本語 • Português do Brasil • 中文(简体) • (Add your language) Debugging a WordPress Network If you have reached this page, chances are you have received an error in your WordPress network.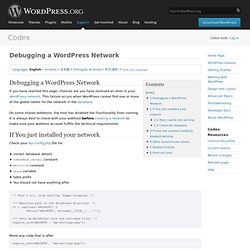 This failure occurs when WordPress cannot find one or more of the global tables for the network in the database. On some shared webhosts, the host has disabled the functionality from running. Migrating Multiple Blogs into WPMU. Migrating Multiple Blogs into WordPress 3.0 Multisite Languages: English • 日本語 • (Add your language) Since Version 3.0, WordPress includes new multisite features, meaning that it can run many blogs, even with their own separate domains, on one WordPress installation.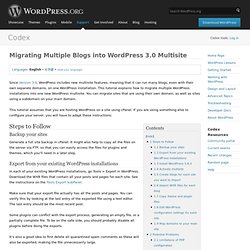 This tutorial explains how to migrate multiple WordPress installations into one new WordPress multisite. You can migrate sites that are using their own domain, as well as sites using a subdomain on your main domain. Create A Network. Create A Network Languages: English • Français • 日本語 • Português do Brasil • Русский • 中文(简体) • Español • (Add your language) As of WordPress 3.0, you have the ability to create a network of sites by using the multisite feature.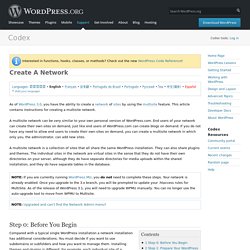 This article contains instructions for creating a multisite network. MU Sitewide Tags Pages. MU Domain Mapping. This plugin allows users of a WordPress MU site or WordPress 3.0 network to map their blog/site to another domain.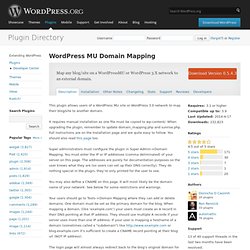 It requires manual installation as one file must be copied to wp-content/. When upgrading the plugin, remember to update domain_mapping.php and sunrise.php. Full instructions are on the Installation page and are quite easy to follow. Multisite User Management. Write a Plugin for WordPress Multi-Site. WordPress multisite functionality is now integrated into WordPress 3.0.
Currently, we must go through a non-trivial process to turn on multisite capability. However, there are already plugins that try to automate this process in one-click . As this process becomes easier and more streamlined, the multisite capability will likely see wider adoption. Here, we consider how we can make our plugins compatible with WordPress multisite. How to Write Plugins for Wordpress MU – updated | Ring Of Blogs. Last year I gave a ink to a short post on the basics of WPMU plugin development by itdamager.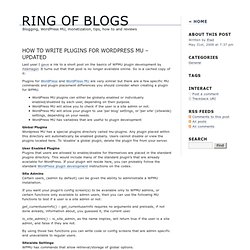 It turns out that that post is no longer available online. So is a cached copy of it: Plugins for WordPress and WordPress MU are very similar but there are a few specific MU commands and plugin placement differences you should consider when creating a plugin for WPMU.
---