Wp
Disable Admin Bar and Hide Preferences | | Developer's MindDeveloper's Mind
Before you consider removing the admin bar, you should read this. WordPress 3.1 was released earlier today and one of the key features is the admin bar, which allows you to get to your most-used dashboard pages with a single click. However, the admin bar is not for everyone and you can easily hide it by visiting your profile page. You can also disable the admin bar for all users on your site by adding the following code to a plugin or the functions file of your theme: This will disable the admin bar for all users on your site but they will still see the admin bar preferences in their profile. You can hide the admin bar preferences using:
Experiments: Admin Tour with WordPress Pointers [Video] - Theme.fm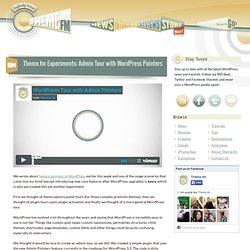 We wrote about feature pointers in WordPress earlier this week and one of the usage scenarios that came into my mind (except introducing new core features after WordPress upgrades) is tours, which is why we created this yet another experiment. First we thought of theme options panel tours (for those complex premium themes), then we thought of plugin tours upon plugin activation and finally we thought of a more general WordPress tour. WordPress has evolved a lot throughout the years and saying that WordPress is incredibly easy to use is not fair. Things like custom post types, custom taxonomies, permalinks structures, child themes, shortcodes, page templates, custom fields and other things could be quite confusing, especially to newcomers. We thought it would be nice to create an admin tour, so we did!
register_post_status | A HitchHackers guide through WordPress
Not even permalinks Recently, I had to set up WordPress on an IIS6 machine. Yes, WordPress does work on IIS6, believe it not. The only really tricky bit is getting fancy permalinks to work, so that urls looks like www.foo.com/2011/06/my-awesome-post instead of www.foo.com/index.php?p=6. I used IIRF to get mod_rewrite like functionality, as the supported IIS Rewrite isn't available until IIS7.
Wordpress Permalinks on IIS6 | ben lowery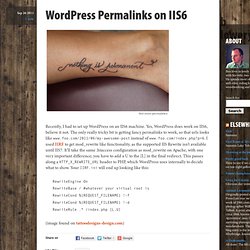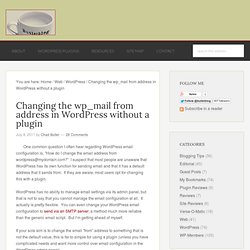 One common question I often hear regarding WordPress email configuration is, "How do I change the email address from wordpress@mydomain.com?"
Changing the wp_mail from address in WordPress without a plugin | ButlerBlog
We covered how to run a shortcode in a widget . But what about inserting a widget with a shortcode? I recently had this situation come up. I had a single page where I just wanted to be able to chuck in a widget without the whole rigmarole of creating a special widgetized area and probably a custom page template for that widgetized area and such. Call a Widget with a Shortcode
Is there a way to 1. detach and 2. reattach attachment-images from one post to another post? There are two very common ways of uploading an image to WordPress to place it into the Media Gallery. Via "add New" under the Media Tab in the admin.Inserting an image when writing a post and uploading the image from the overlay Media window/layer.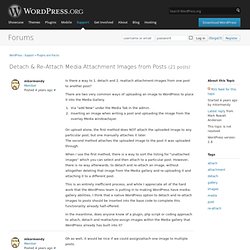 Support » Detach & Re-Attach Media Attachment Images from Posts
Embeds
Embeds Languages: English • Hrvatski • Italiano • 日本語 • Nederlands • Português do Brasil • Русский • 中文(简体) • (Add your language) Starting with WordPress 2.9, it's super easy to embed videos, images, and other content into your WordPress site. In A Nutshell All you need to do to embed something into a post or page is to post the URL to it into your content area. Make sure that the URL is on its own line and not hyperlinked (clickable when viewing the post).