Facebook
for Websites
Dialogs A simple, consistent way to add social functionality to your apps Overview Dialogs provide a simple, consistent interface to provide social functionality to people using your apps. Dialogs do not require any additional permissions because they require someone to directly interact with them.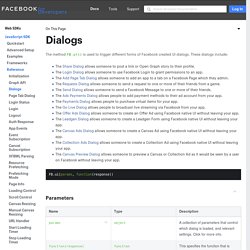 Dialog Overview
The Request Dialog can be used to send a Request directly from one person to another or display a multi-friend selector dialog, allowing the sender to select multiple recipients. This documentation covers the Request Dialog, for more information on the full set of features available including how recipients interact with a Request be sure to check out our guide to Requests. Requests are only available for games on Facebook.com or iOS and Android apps. Accepting a request from a game will direct the person to the Canvas Page URL of the app that sent the Request. For native mobile apps, accepting the request will direct the person to the app on their device if installed or to the appropriate location (Apple App Store or Google Play) to download the app otherwise.
Requests Dialog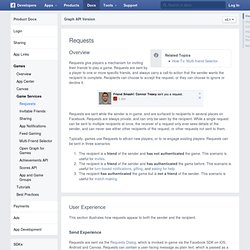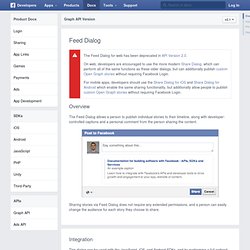 Feed Dialog
This dialog can be used with the JavaScript, iOS, and Android SDKs, and by performing a full redirect to a URL. Here are some example code snippets that can be used to trigger this dialog. JavaScript SDK Trigger a Feed Dialog using the FB.ui function with a feed method parameter. iOS SDK
Facebook Posting API
Old REST API
stream.publish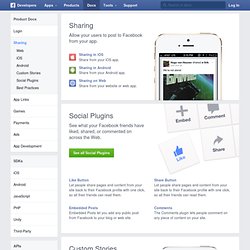 Stream Attachments
You can add a lot of rich information to a stream story by including an attachment. The attachment gives you the opportunity to expand on the post by describing what the user did in your application. Attachments are optional, however. The attachment is an array of structured data that defines the post.
Today we announced major updates to Facebook Pages to help Page admins manage communications, express their brands, and increase engagement. As part of these changes, we are also updating the model for building apps on Pages. Using iframes in Page Tabs
Introducing iframe Tabs for Pages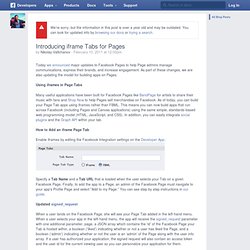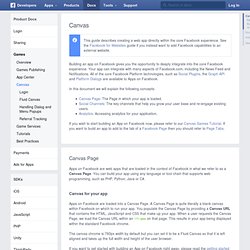 To drive more traffic to apps on Facebook, we enable various channels that enable new users to discover your app as well as existing users to re-engage with your app. Each channel is designed to help engage users and our algorithms help surface the best content for each user. The current channels include: Newsfeed stories
If you're NOT on the HyperArts Blog, CLICK HERE! This post was updated on 3/19/11 to reflect change to Tab URL and Secure Tab URL settings. New Tutorial: Add the Reveal Fan-gating Feature to your iFrame Page Tab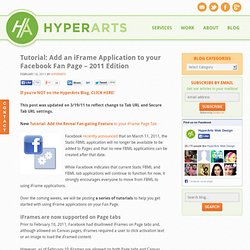 Customizing your Facebook iFrame Application – Reveal Tab Fan-gating & More!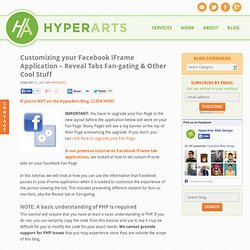 If you're NOT on the HyperArts Blog, CLICK HERE! IMPORTANT: You have to upgrade your Fan Page to the new layout before the application below will work on your Fan Page. Many Pages will see a big banner at the top of their Page announcing the upgrade. If you don't, you can click here to upgrade your Fan Page. In our previous tutorial on Facebook iFrame tab applications, we looked at how to set custom iFrame tabs on your Facebook Fan Page.
SDKs & Tools
3 Tools to Create New Facebook iFrame Pages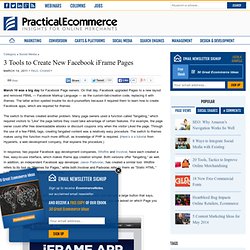 March 10 was a big day for Facebook Page owners. On that day, Facebook upgraded Pages to a new layout and removed FBML — Facebook Markup Language — as the custom-tab-creation code, replacing it with iframes. The latter action spelled trouble for do-it-yourselfers because it required them to learn how to create Facebook apps, which are required for iframes. The switch to iframes created another problem. Many page owners used a function called "fangating," which required visitors to "Like" the page before they could take advantage of certain features.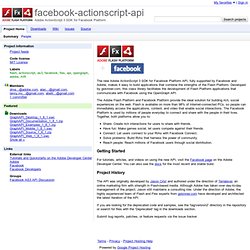 facebook-actionscript-api - Adobe ActionScript 3 SDK for Facebook Platform
The new Adobe ActionScript 3 SDK for Facebook Platform API, fully supported by Facebook and Adobe, makes it easy to build applications that combine the strengths of the Flash Platform. Developed by gskinner.com, this class library facilitates the development of Flash Platform applications that communicate with Facebook using the OpenGraph API. The Adobe Flash Platform and Facebook Platform provide the ideal solution for building rich, social experiences on the web. Flash is available on more than 98% of Internet-connected PCs, so people can immediately access the applications, content, and video that enable social interactions.
Did you know you can customize the text and image that Facebook uses when a visitor to your website uses "Share on Facebook"?
Customizing the Text and Images that are "Shared" on Facebook
JavaScript Test Console