TEC
10 Tips for Designing Presentations That Don't Suck: Pt.1. Powerpoint has produced more bad design in its day that perhaps any other digital tool in history with the possible exception of Microsoft paint.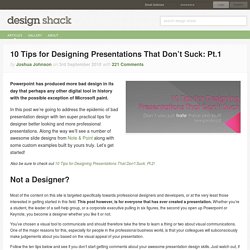 In this post we're going to address the epidemic of bad presentation design with ten super practical tips for designer better looking and more professional presentations. Along the way we'll see a number of awesome slide designs from Note & Point along with some custom examples built by yours truly. Let's get started! Also be sure to check out 10 Tips for Designing Presentations That Don't Suck: Pt.2! Themes. PNL : introduction critique. Analyse transactionnelle et publicité. Les Stars Dans La Publicité. Pursue your dream--and never accept a proven solution! This is ... Paul Otlet. Improving Einstein's Theories - The Me-Earth Equivalence. Sketchnotes / Visual Note Taking @ WebExpo Prague 2010. Four Steps For Better PowerPoint Presentations. Why most presentations suck. Influencing change through presentations. Brain Rules for Presenters.
Presenting something never done before. Presenting Sticky Ideas. Stop Killing Students With PowerPoint. One Hour PowerPoint: Ten Strategies for Improving Presentations. Presentation lessons for entrepreneurs. Skills for Presenters. Presentation Skills For Managers.
---