News
Obama Touts Return of 'Paygo' Joe The Plumber: McCain 'Screwed Up My Life' Major Rallies for Health Care This Week | Health Care for Americ. Major Rallies for Health Care This Week Posted on February 14th, 2010 by Charlie Albanetti We won't stop fighting until health care reform is finished, and finished right.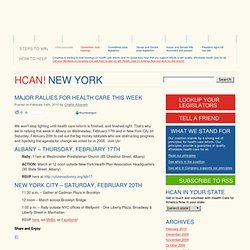 That's why we're rallying this week in Albany on Wednesday, February 17th and in New York City on Saturday, February 20th to call out the big money lobbyists who are obstructing progress and hijacking the agenda for change we voted for in 2008. Join Us! Albany – Thursday, February 17th. Controversial contractor eligible for lucrative new Pentagon bid. A Blackwater security firm helicopter flies low above the scene of a bomb blast near the Iranian Embassy in Baghdad in 2005.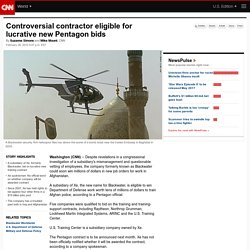 A subsidiary of Xe, formerly Blackwater, bid on lucrative new training contractXe spokesman: No official word on whether company will be awarded contractSince 2007, Xe has held rights to bid against four other firms in a $15 billion jobs poolThe company has a troubled past both in Iraq and Afghanistan Washington (CNN) -- Despite revelations in a congressional investigation of a subsidiary's mismanagement and questionable vetting of employees, the company formerly known as Blackwater could soon win millions of dollars in new job orders for work in Afghanistan.
A subsidiary of Xe, the new name for Blackwater, is eligible to win Department of Defense work worth tens of millions of dollars to train Afghan police, according to a Pentagon official.