Books and Literature
Poetry of Komitas. As a creative individual, Komitas tested his abilities in the field of poetry, have left marvelous poems.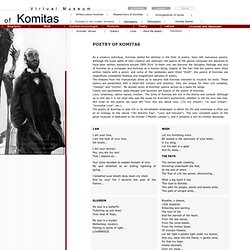 Although the exact dates of their creation are unknown, the poems of the genius composer are assumed to have been written sometime around 1905-1914. In them one can discover the thoughts, feelings and soul of Komitas as a composer and Komitas as a human being. Inspite of the fact that the poems were often written hastily with a pencil, and some of the notebooks were titled "Draft", the poems of Komitas are respectfully considered flawless and magnificent samples of poetry. The khazzes from the manuscripts allow us to assume that Komitas intended to vocalize his texts. I like my body when it is with your by e e cummings at Old Poetr. How to Permanently Delete a Facebook Account. XVII (I do not love you...). By Pablo Neruda - Hello Poetry.
Neil Gaiman on Writing « occultdetective.com. As culled from The Guardian: 1 Write. 2 Put one word after another.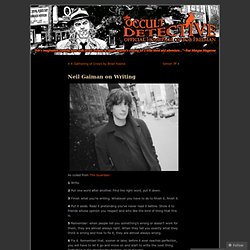 Find the right word, put it down. 3 Finish what you're writing. 20 Books of Shattered Childhood on AbeBooks. In many ways, our childhood defines the rest of our life.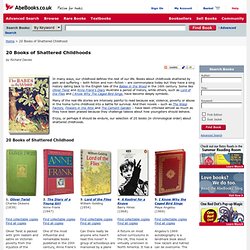 Books about childhoods shattered by pain and suffering – both fiction and non–fiction – are commonplace today but they have a long history dating back to the English tale of the Babes in the Wood in the 16th century. Some like Oliver Twist and Anne Frank's Diary illustrate a period of history, while others, such as Lord of the Flies and I Know Why The Caged Bird Sings, have become deeply symbolic. Many of the real-life stories are intensely painful to read because war, violence, poverty or abuse in the home turns childhood into a battle for survival. "Never Date a Writer" by xstephens [821940-1] - RedBubble. Never date a writer because she'll fictionalize everything.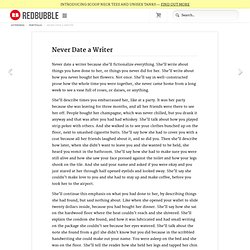 She'll write about things you have done to her, or things you never did for her. She'll write about how you never bought her flowers. Not once. The Online Books Page. Listing over 1 million free books on the Web - Updated Friday, April 25, 2014 Search our Listings -- New Listings -- Authors -- Titles -- Subjects -- Serials A public domain metadata gift for our 20th birthday -- Blog (Everybody's Libraries) -- Latest Book Listings.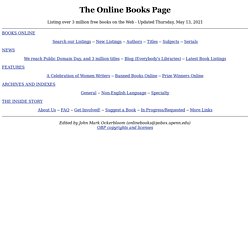 Wikipedia Articles
Temp Work. The Book Seer | Find your next book. The 100 Most Influential Books Ever Written (book) - Wikipedia, The 100 Most Influential Books Ever Written: The History of Thought from Ancient Times to Today (1998) is a book of intellectual history written by Martin Seymour-Smith, a British poet, critic, and biographer.[1] The list included the books such as, Upanishads, Hebrew Bible, I Ching, Kabbalah, Candide, The World as Will and Idea, among others.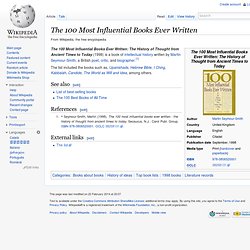 See also[edit] References[edit] McSweeney's Internet Tendency: You Got Me Again With This Fake U. Collected Quotes from Albert Einstein (MOOD) Don't Talk to Strangers. Index.
---