Social Media
La distribución de los 100 millones de usuarios de LinkedIn. Publicado por Alodia Isidro - 18 febrero 2011 LinkedIn es la mayor red social profesional cuenta con más de 100 millones de perfiles, que se añaden a la red para expandir su mapa profesional, pero sobre todo para crearse un escaparate personal en el que tanto amigos como colegas de profesión puedan ver qué puede vender y cómo, mientras haces contactos ya no sólo con antiguos amigos, sino con profesionales que puedan interesarte.
LinkedIn se ha convertido en la plataforma social predilecta para buscar trabajo, donde la mayoría de los usuarios son varones (55%) con una edad comprendida entre los 35 y 54 años del sector financiero y las altas tecnologías, profesionales del área de ventas y de empresas con más de 10.000 trabajadores. Guía de @AnyWhere en Español. BitTorrent Surges to 100 Million Active Users. BitTorrent, the company responsible for file-sharing tools BitTorrent Mainline and µTorrent, disclosed Monday that 100 million people are using the aforementioned software products per month.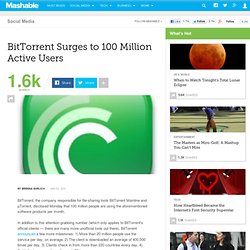 In addition to this attention-grabbing number (which only applies to BitTorrent's official clients — there are many more unofficial tools out there), BitTorrent announced a few more milestones: 1) More than 20 million people use the service per day, on average, 2) The client is downloaded an average of 400,000 times per day, 3) Clients check in from more than 220 countries every day, 4) Said clients access the software in 52 languages.
We've reached out to BitTorrent to ask to what they think has spurred this growth and will update this post with any further information. 10 Websites to Watch in 2011. There are more than a trillion URLs in Google's index.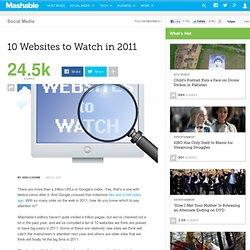 Yes, that's a one with twelve zeros after it. And Google crossed that milestone two and a half years ago. With so many sites on the web in 2011, how do you know which to pay attention to?
---