Rails
[Example] Ruby on Rails 3 and FCGI (Page 1) / Hébergement / alwaysdata | forum
Bonjour, Je suis confronté au même problème que fbenmena ci-dessus. Je développe des sites en RoR depuis quelques mois, mais je n'ai encore jamais déployé un site RoR en production : comment fixer l'erreur « Could not find rake-0.9.2 in any of the sources » survenant au lancement du fichier `dispatch.fcgi` par ssh ? J'ai suivi scrupuleusement les indications précédentes de sinetris avec les corrections de Graeme_moss
Ruby & Ruby on Rails
HelioHost is one of the few free web hosts to offer the Ruby programming language. A combination of Perl's syntax and Smalltalk's semantics, Ruby is a recent language that is growing in popularity. Ruby's compatibility with multiple programming paradigms allows it great versatility and makes it an easy language to learn for existing developers. One of HelioHost's unique offerings is the ability of each user to configure their own Ruby extensions (known as Ruby Gems) from their control panel.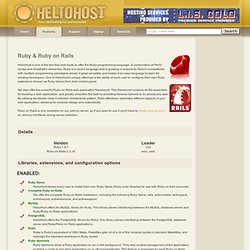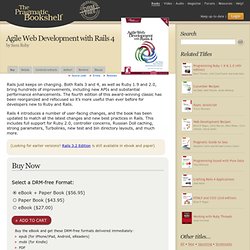 Agile Web Development with Rails
Rails just keeps on changing. Both Rails 3 and 4, as well as Ruby 1.9 and 2.0, bring hundreds of improvements, including new APIs and substantial performance enhancements. The fourth edition of this award-winning classic has been reorganized and refocused so it's more useful than ever before for developers new to Ruby and Rails.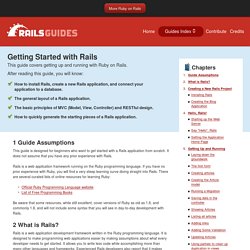 This Guide is based on Rails 3.2. Some of the code shown here will not work in earlier versions of Rails. 1 Guide Assumptions This guide is designed for beginners who want to get started with a Rails application from scratch.
Ruby on Rails Tutorial: Learn Rails by Example book and screencasts by Michael Hartl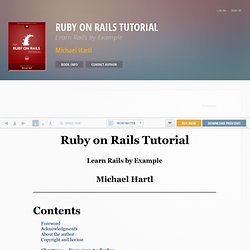 Michael Hartl Contents Foreword