Drinks
Peach Lemonade Coolers. Set the table-scape and call me Sandra Lee, because its cocktail time and it's semi-home made.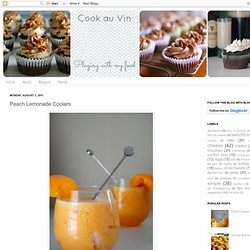 Last week, my husbands sister and her family visited from Vienna. I knew for a short trip, we would not eat at home much, but I had bought plenty of snacks to have on hand for when we were home. Including a ton of Georgia peaches. I may have overbought just a little, because I still had a handful of peaches left when the house emptied out. Frozen Lemonade with Coconut Rum Recipe. Layered Drinks and Cocktails. Browse our collection of Layered Drinks and Cocktails below or use the search box at the top of the page.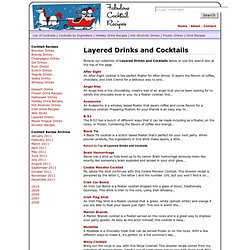 After Eight An After Eight cocktail is the perfect floater for after dinner. It layers the flavors of coffee, chocolate, and Irish Creme for a delicious way to end... Angel Kiss An Angel Kiss is the chocolately, creamy kiss of an angel that you've been looking for to satisfy the chocolate lover in you. As a floater cocktail, this...
Avalanche An Avalanche is a whiskey based floater that layers coffee and cocoa flavors for a delicious cocktail. Irish Flag Shot Recipe. Posted on March 4, 2010 Filed under: Baileys Drinks, Irish Drink Recipes, Layered Drinks, Shooter Recipes An Irish Flag Shot is a floater cocktail that is green, white (almost white) and orange if you are able to float your layers just right.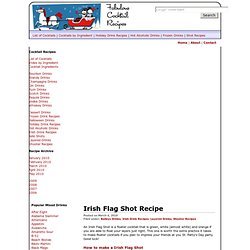 This one is worth the extra practice it takes to make floater cocktails if you plan to impress your friends at you St. Patty's Day party. Good luck! How to make a Irish Flag Shot.
---