Christian Blogs
Out of Ur | Conversations for Ministry Leaders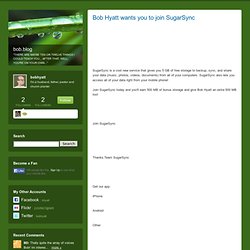 A couple of months ago, I participated in a little conference here in PDX, co-sponsored by the Ecclesia Network and North West Church Planters. It was called Rain and Shine, and the point was to draw together, for two days, a group of church planters who would talk about the brightest and darkest moments they had experienced in Church planting. Everyone got 14 minutes to speak.
bob.blog
Boundless Line | Extreme conversation starters for young adults.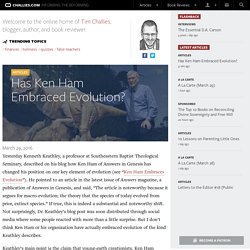 Last week I began a new Sunday series called "The Bestsellers." The Evangelical Christian Publishers Association tracks sales of Christian books, and awards the Platinum Book Award for books whose sales exceed one million, and the Diamond Book Award for sales exceeding ten million. In this series I will look at the history and impact of some of the Christian books that have sold more than a million copies—no small feat when the average Christian books sells only a few thousand. We will encounter books by a cast of characters ranging from Joshua Harris, Randy Alcorn and David Platt all the way to Joel Osteen, Bruce Wilkinson and William Young. Today we look at one of the bestselling Christian books of all-time: Rick Warren's The Purpose Driven Life.
Want to get in our Community Blogs section on the right sidebar? We'd love to have you! It's powered by Yahoo Pipes and using WordPress' built-in Feed Parser. Here's what it'll take: Must have an 'active' and 'consistent' blog. This means that you update regularly (but no spammers please).A good portion of your content is focused on the use of web technology for ministry.If someone called you a technoevangelist it wouldn't upset you.You use Feedburner for your RSS syndication.You're sporting one of our delicious ChurchCrunch-Love Squares on your blog.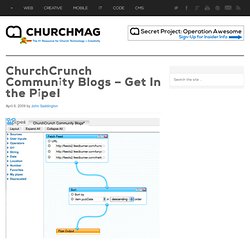 ChurchCrunch Community Blogs – Get In the Pipe!
adrianwarnock.com —
Acts 29 Network: Seattle, WA > Homepage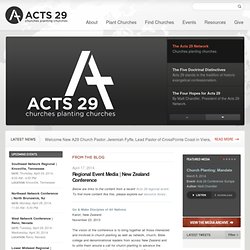 January 7, 2014 There isn't a lot out there to encourage church planters. Advice? Yes. Correction? Yes.
Blog
How many of you, right now, are working your "dream job?" None of you. Because right now, you're reading this blog, probably on company time. Aside from that, most of us, according to the stats, are not working our dream jobs.
The Church of No People | What sermon would a pastor preach…if no one showed up to church?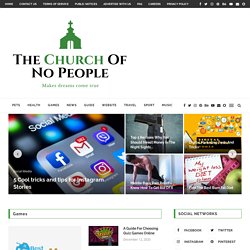 Armchair Theology - Joyfully submitting to the Word.Armchair Theology | Joyfully submitting to the Word.
I have been thinking about this post for quite a while now (i.e. years). Most of these suggestions have Bible college or Seminary students in mind, but a great deal of it really applies to students in general or perhaps even Christians in general. I decided to wait a few months until after I graduated to post it on the blog. These thoughts are the fruit of my experience, and I hope that they will be helpful to you. I do not see this as being anywhere near complete, just a start. They are not in any particular order.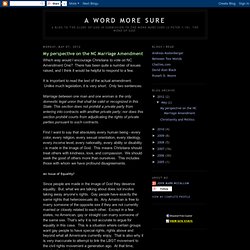 A Word More Sure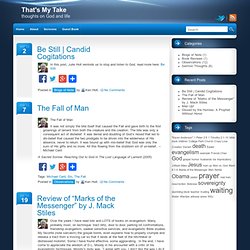 Sometimes I hate being a man. Not that I want to be a woman, I quite like my gender. It's just that being a man in America these days is to be a wimp. It doesn't take long watching TV or movies to see what I mean. Men are dimwitted, useless, scratching, belching morons. The only things they understand are sports, beer, and leering at women.
thoughts on God and life
The Centers for Medicare and Medicaid Services (CMS) wants to require health care providers to include "social and behavioral" data in Electronic Health Records (EHR) and to link patient's records to public health departments, it was announced last week. -Washington Beacon My typical liberal friend would say: "Sure! Why Not?
Thinking in Christ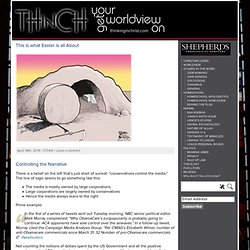 In 19th century North America, evangelicalism basically referred to a loosely associated, intradenominational coalition of Protestants who held to the basic reformational doctrines of sola fide [faith alone] and sola scriptura [Scripture alone], mediated through the revival experiences of the Great Awakenings. David Bebbington's evangelical quadrilateral—namely, that the common denominator among evangelicals is the combined belief in biblical authority, cruciformity, conversionism, and evangelism—has value but lacks specificity when applied to the North American experience (instead of just evangelicalism in Great Britain). North American evangelicals not only believed in the Bible's general authority but also its inerrancy and infallibility. They not only believed in conversion but also saw revivalism as a way in which God might work.