Calvary Bible Fellowship, Madison, WI
We are an independent Baptist church of Bible believing evangelical Christians located in Madison, Wisconsin. The believers of Calvary Bible Fellowship desire "to know Christ and to make Him known." If we could help you, please contact us. We encourage you to join us Sunday mornings at 9:00 a.m. for our Morning Worship Service. Please search this site to find out more about us: our beliefs, our ministries, our leaders, our missionaries, and our Savior Jesus Christ.
Welcome To Calvary Bible Fellowship!
Northland Camp & Conference Center : Home
ABWE | Association of Baptists for World Evangelism
Get to Know Maranatha Maranatha Baptist University provides a Christ-centered, biblically based liberal arts education in an environment marked by intellectual rigor and inquiry. The University emphasizes the local church and personal outreach, providing each student with a platform to fulfill God's plan for his or her life.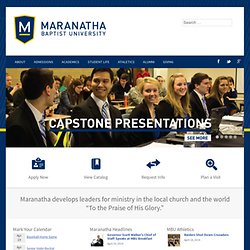 Maranatha Baptist Bible College - MBBC
NBBC | Northland International University