Six Sigma
In probability theory, the normal (or Gaussian) distribution is a very commonly occurring continuous probability distribution—a function that tells the probability that an observation in some context will fall between any two real numbers. For example, the distribution of grades on a test administered to many people is normally distributed. Normal distributions are extremely important in statistics and are often used in the natural and social sciences for real-valued random variables whose distributions are not known.[1][2]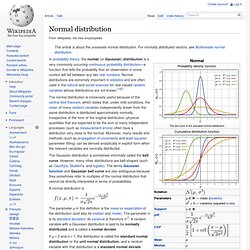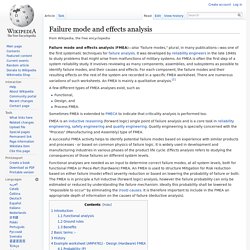 Failure mode and effects analysis
Failure Mode and Effects Analysis (FMEA) was one of the first systematic techniques for failure analysis.
Ishikawa diagrams (also called fishbone diagrams, herringbone diagrams, cause-and-effect diagrams, or Fishikawa) are causal diagrams created by Kaoru Ishikawa (1968) that show the causes of a specific event.[1][2] Common uses of the Ishikawa diagram are product design and quality defect prevention, to identify potential factors causing an overall effect. Each cause or reason for imperfection is a source of variation. Causes are usually grouped into major categories to identify these sources of variation.
Tools drawer at a 5S working place 5S is the name of a workplace organization method that uses a list of five Japanese words: seiri, seiton, seiso, seiketsu, and shitsuke.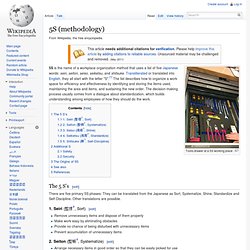 Analysis of variance
Analysis of variance (ANOVA) is a collection of statistical models used to analyze the differences between group means and their associated procedures (such as "variation" among and between groups). In ANOVA setting, the observed variance in a particular variable is partitioned into components attributable to different sources of variation.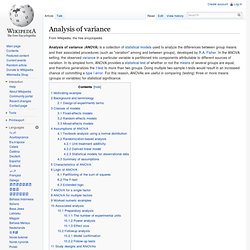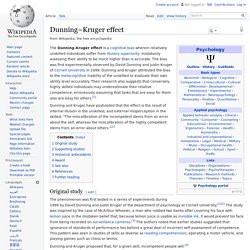 The Dunning–Kruger effect is a cognitive bias in which unskilled individuals suffer from illusory superiority, mistakenly rating their ability much higher than is accurate. This bias is attributed to a metacognitive inability of the unskilled to recognize their ineptitude.[1] Actual competence may weaken self-confidence, as competent individuals may falsely assume that others have an equivalent understanding. David Dunning and Justin Kruger of Cornell University conclude, "the miscalibration of the incompetent stems from an error about the self, whereas the miscalibration of the highly competent stems from an error about others".[2]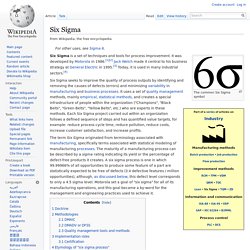 The oft-used Six Sigma symbol
Statistical hypothesis testing
A statistical hypothesis test is a method of statistical inference using data from a scientific study.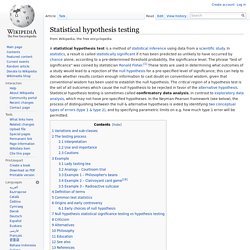 In statistical significance testing, the p-value is the probability of obtaining a test statistic at least as extreme as the one that was actually observed, assuming that the null hypothesis is true.[1] A researcher will often "reject the null hypothesis" when the p-value turns out to be less than a certain significance level, often 0.05 or 0.01.
P-value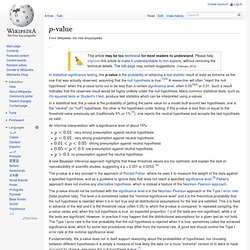 William Edwards Deming (October 14, 1900 – December 20, 1993) was an American statistician, professor, author, lecturer, and consultant.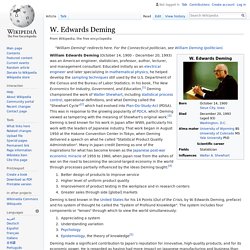 W. Edwards Deming
Process capability index
and the estimated variability of the process (expressed as a standard deviation) is
Process performance index
, and the estimated variability of the process (expressed as a standard deviation) is
Pareto chart
A Pareto chart, named after Vilfredo Pareto, is a type of chart that contains both bars and a line graph, where individual values are represented in descending order by bars, and the cumulative total is represented by the line.
Control chart
Control charts, also known as Shewhart charts (after Walter A.
EnterpriseTrack Login
Optimize Project and Resource Investments Instantis EnterpriseTrack is a leading cloud PPM solution used by IT and business process leaders to improve strategy execution and financial performance through more effective work and resource management. This end-to-end solution provides a top-down approach to managing, tracking, and reporting on enterprise strategies, projects, portfolios, processes, resources, and results. Data Sheet (PDF)
On-demand Project Portfolio Management Software | EnterpriseTrack | Instantis
16 - Minitab
Minitab