Six Sigma
Control chart
Control charts , also known as Shewhart charts (after Walter A.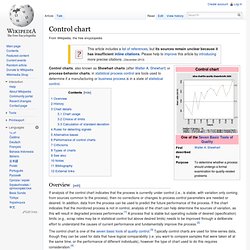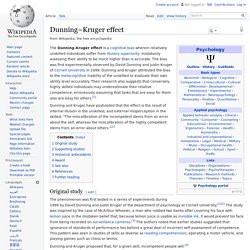 The Dunning–Kruger effect is a cognitive bias in which unskilled individuals suffer from illusory superiority , mistakenly rating their ability much higher than average. This bias is attributed to a metacognitive inability of the unskilled to recognize their mistakes. [ 1 ] Actual competence may weaken self-confidence, as competent individuals may falsely assume that others have an equivalent understanding.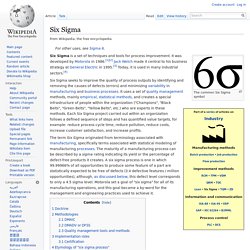 The often-used Six Sigma symbol
Statistical hypothesis testing
A statistical hypothesis test is a method of making decisions using data from a scientific study .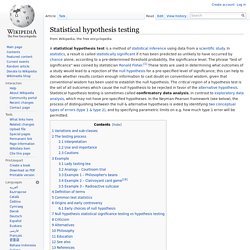 In statistical significance testing the p -value is the probability of obtaining a test statistic at least as extreme as the one that was actually observed, assuming that the null hypothesis is true. [ 1 ] One often "rejects the null hypothesis" when the p -value is less than the predetermined significance level which is often 0.05 or 0.01, indicating that the observed result would be highly unlikely under the null hypothesis.
P-value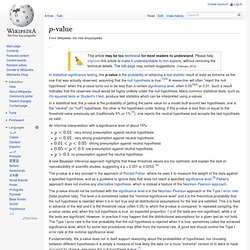 Pareto chart
A Pareto chart , named after Vilfredo Pareto , is a type of chart that contains both bars and a line graph , where individual values are represented in descending order by bars, and the cumulative total is represented by the line.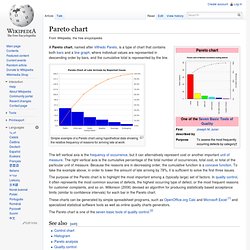 Process performance index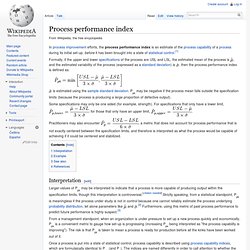 In process improvement efforts, the process performance index is an estimate of the process capability of a process during its initial set-up, before it has been brought into a state of statistical control . [ 1 ]
Process capability index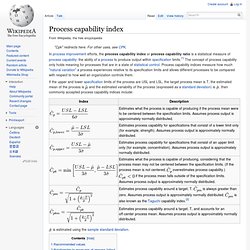 In process improvement efforts, the process capability index or process capability ratio is a statistical measure of process capability : the ability of a process to produce output within specification limits. [ 1 ] The concept of process capability only holds meaning for processes that are in a state of statistical control .
Analysis of variance
In statistics , analysis of variance ( ANOVA ) is a collection of statistical models , and their associated procedures, in which the observed variance in a particular variable is partitioned into components attributable to different sources of variation. In its simplest form, ANOVA provides a statistical test of whether or not the means of several groups are all equal, and therefore generalizes t -test to more than two groups.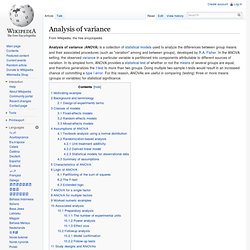 William Edwards Deming (October 14, 1900 – December 20, 1993) was an American statistician , professor , author , lecturer and consultant .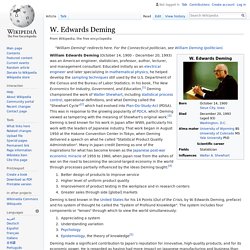 W. Edwards Deming
Ishikawa diagrams (also called fishbone diagrams , herringbone diagrams , cause-and-effect diagrams , or Fishikawa ) are causal diagrams created by Kaoru Ishikawa (1968) that show the causes of a specific event . [ 1 ] [ 2 ] Common uses of the Ishikawa diagram are product design and quality defect prevention, to identify potential factors causing an overall effect. Each cause or reason for imperfection is a source of variation. Causes are usually grouped into major categories to identify these sources of variation.
Tools drawer at a 5S working place 5S is the name of a workplace organization method that uses a list of five Japanese words: seiri, seiton, seiso, seiketsu, and shitsuke.
5S (methodology)
Failure mode and effects analysis
Failure mode and effect analysis ( FMEA ) was one of the first systematic techniques for failure analysis.
In probability theory , the normal (or Gaussian ) distribution is a continuous probability distribution , defined by the formula The parameter μ in this formula is the mean or expectation of the distribution (and also its median and mode ). The parameter σ is its standard deviation ; its variance is therefore σ 2 .
EnterpriseTrack Login
Instantis is now part of the Oracle family and web content has been moved to the Oracle.com website. There you will find updated datasheets and product information.
On-demand Project Portfolio Management Software | EnterpriseTrack | Instantis
16 - Minitab
Minitab