WSSecurity
Applying WS-Security | SOAP and WSDL
In this guide you will learn how to add WS-Security (WSS) to your tests in SoapUI using keystores and truststores (cryptos). Please observe that this document will not explain WS-Security and its related standards themselves. SoapUI manages WS-Security related configurations at the project level, allowing these configurations to be used at several places within a project: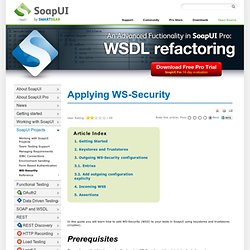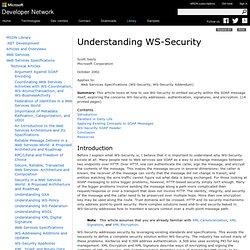 Understanding WS-Security
Scott Seely Microsoft Corporation October 2002 Applies to: Web Services Specifications (WS-Security, WS-Security Addendum) Summary: This article looks at how to use WS-Security to embed security within the SOAP message itself, exploring the concerns WS-Security addresses: authentication, signatures, and encryption. (14 printed pages)
Web services security - ready to do business Over the past couple of years, web services has gone from being an overly-hyped technology to one that many organizations are using productively. The early implementations, like all new technology projects, tended to be sandbox-type efforts or projects that were small, inside the firewall, and non-mission-critical in nature. Those brave souls that tried to venture into the world of delivering web services over the Internet found that they either had to provide services that were open and available for use by anyone (for example XMethods or Amazon) or had to develop their own, typically proprietary, very company-specific, security scheme. Early adopters using the Internet as their transport typically used some form of registration process (for example Google) for open Internet services or only provided services to a small number of business partners with whom they already had a tight, trusted relationship.
Implementing WS-Security