Info
10 Tips on How to Research Your Competition. Competitors.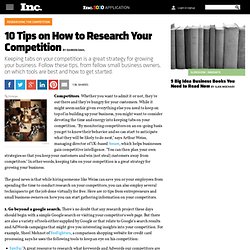 Whether you want to admit it or not, they're out there and they're hungry for your customers. While it might seem unfair given everything else you need to keep on top of in building up your business, you might want to consider devoting the time and energy into keeping tabs on your competition. "By monitoring competitors on an on-going basis you get to know their behavior and so can start to anticipate what they will be likely to do next," says Arthur Weiss, managing director of UK-based Aware, which helps businesses gain competitive intelligence. "You can then plan your own strategies so that you keep your customers and win (not steal) customers away from competitors. " In other words, keeping tabs on your competition is a great strategy for growing your business. Five Ways to Hold the Right Kind of Attention - John Hagel III and John Seely Brown - John Hagel III and John Seely Brown.
By John Hagel III and John Seely Brown | 8:26 AM April 5, 2011 No matter how talented or accomplished you are, you cannot always count on attracting and retaining the attention of others.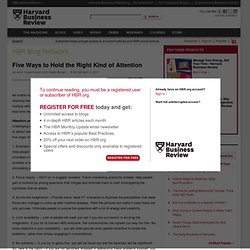 Too many options compete for everyone's attention, and they multiply with each passing day. It will be more and more challenging to rise above the noise and hold onto the attention of those who matter to you. Attention provides leverage. How to Use Game Mechanics to Reward Your Customers. There's a green card.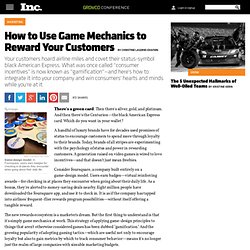 Then there's silver, gold, and platinum. And then there's the Centurion—the black American Express card. Which do you want in your wallet? A handful of luxury brands have for decades used promises of status to encourage customers to spend more through loyalty to their brands. Today, brands of all stripes are experimenting with the psychology of status and power in rewarding customers. 10 Things I Learned From Failure. Every entrepreneur has made a series of mistakes or been subject to failures along his or her entrepreneurial journey.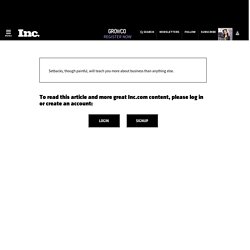 These setbacks, though painful, will teach you more about business than any textbook, lecture, or mentor ever could. Plus, they are great fodder for conversations at cocktail receptions and on panel discussions. I am proud to have learned such a great deal from my failures, and the fact that I get to share them—and, more important, the hard-knocks lessons learned—with a worldwide audience is a real thrill. How to Narrow Your Target Market. Huge, profitable companies like Walmart and Amazon didn't start as the all-encompassing retailers we know today.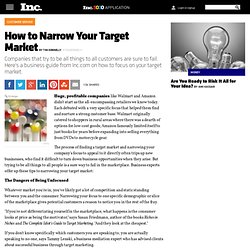 Each debuted with a very specific focus that helped them find and nurture a strong customer base. Walmart originally catered to shoppers in rural areas where there was a dearth of options for low-cost goods; Amazon famously limited itself to just books for years before expanding into selling everything from DVDs to motorcycle gear. The process of finding a target market and narrowing your company's focus to appeal to it directly often trips up new businesses, who find it difficult to turn down business opportunities when they arise. But trying to be all things to all people is a sure way to fail in the marketplace. Business experts offer up these tips to narrowing your target market: How to Monetize Social Media. Many business executives have not found sites such as Facebook, Twitter, YouTube, Myspace, and Linkedin useful in making money.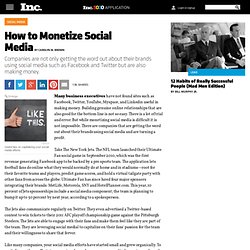 Building genuine online relationships that are also good for the bottom line is not so easy. There is a lot of trial and error. But while monetizing social media is difficult it is not impossible. How to Write an Executive Summary - Business Plan Executive Summary. While the business plan's executive summary is the first thing the readers of your business plan see, it should be the last part of the business plan you write.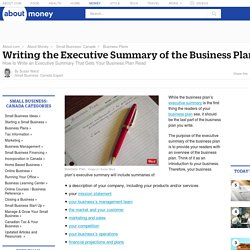 The purpose of the executive summary of the business plan is to provide your readers with an overview of the business plan. Think of it as an introduction to your business. Therefore, your business plan's executive summary will include summaries of: The executive summary will end with a summary statement, a "last kick at the can" sentence or two designed to persuade the readers of your business plan that your business is a winner. How to Write an Executive Summary. Does Your Business Have Curb Appeal? When my wife and I saw the ad for a small, lemon-yellow cottage, we immediately knew we wanted that house.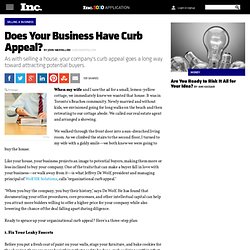 It was in Toronto's Beaches community. Newly married and without kids, we envisioned going for long walks on the beach and then retreating to our cottage abode. We called our real estate agent and arranged a showing. How to Make Your Small Business Seem Bigger (Using Tech) Ramon Ray, journalist and editor at Smallbiztechnology.com, sums it up perfectly: "Small businesses can do BIG things using low-cost technology and readily available expertise.
" It doesn't matter if you're running a business out of your home, the local Starbucks (free Internet), or an abandoned warehouse, if you have the right tools to reel in a large consumer base, it's not necessarily important how small your business is because it's doing big things. With all of the technology tools out there, small businesses are now in a better position to compete. "With the rise of social media and ubiquity of online software the time is NOW for small businesses to reach a big business audience," Ray says.
Creating a Company Vision. Hardly a day passes without someone asking me for business advice.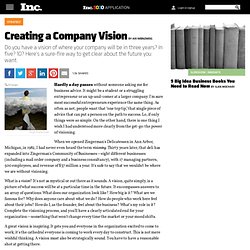 It might be a student or a struggling entrepreneur or an up-and-comer at a larger company. I'm sure most successful entrepreneurs experience the same thing. As often as not, people want that "one top tip," that single piece of advice that can put a person on the path to success. How to Write a Business Plan Outline. When the topic of business plans comes up, it tends to polarize people into two separate camps: those that think business plans are worth the effort to put together and those that think that unless you're trying to raise money, writing a business plan is a waste of time. For Ellen Rohr, a business consultant and founder of Bare Bones Biz, the answer lies somewhere in between. "The primary purpose of a business plan is to help you gain clarity and hold yourself accountable for moving in the direction of what you want," she says. "The secondary purpose is to attract investors, or get a loan, or get buy-in from your spouse, partner, parent, kid, team members, or whomever.
Unless you have your intentions for your business written down, you might miss an opportunity to communicate it to someone else or even to clarify things for yourself. "
---