Info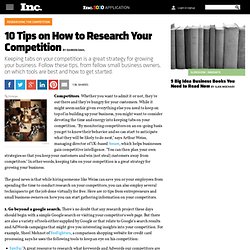 Competitors. Whether you want to admit it or not, they're out there and they're hungry for your customers. While it might seem unfair given everything else you need to keep on top of in building up your business, you might want to consider devoting the time and energy into keeping tabs on your competition. "By monitoring competitors on an on-going basis you get to know their behavior and so can start to anticipate what they will be likely to do next," says Arthur Weiss, managing director of UK-based Aware, which helps businesses gain competitive intelligence. "You can then plan your own strategies so that you keep your customers and win (not steal) customers away from competitors." In other words, keeping tabs on your competition is a great strategy for growing your business.
10 Tips on How to Research Your Competition
by John Hagel III and John Seely Brown | 8:26 AM April 5, 2011 No matter how talented or accomplished you are, you cannot always count on attracting and retaining the attention of others. Too many options compete for everyone's attention, and they multiply with each passing day. It will be more and more challenging to rise above the noise and hold onto the attention of those who matter to you. Attention provides leverage.
Five Ways to Hold the Right Kind of Attention - John Hagel III and John Seely Brown - John Hagel III and John Seely Brown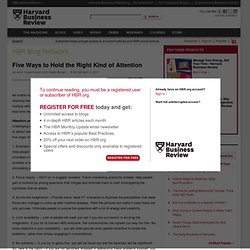 There's a green card. Then there's silver, gold, and platinum. And then there's the Centurion—the black American Express card. Which do you want in your wallet? A handful of luxury brands have for decades used promises of status to encourage customers to spend more through loyalty to their brands. Today, brands of all stripes are experimenting with the psychology of status and power in rewarding customers.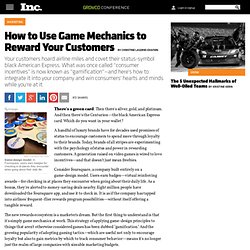 10 Things I Learned From Failure
Every entrepreneur has made a series of mistakes or been subject to failures along his or her entrepreneurial journey. These setbacks, though painful, will teach you more about business than any textbook, lecture, or mentor ever could. Plus, they are great fodder for conversations at cocktail receptions and on panel discussions. I am proud to have learned such a great deal from my failures, and the fact that I get to share them—and, more important, the hard-knocks lessons learned—with a worldwide audience is a real thrill.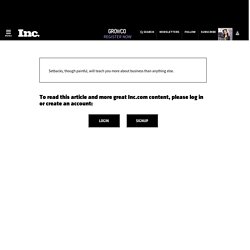 How to Narrow Your Target Market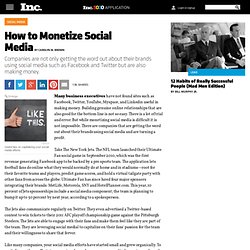 Many business executives have not found sites such as Facebook, Twitter, YouTube, Myspace, and Linkedin useful in making money. Building genuine online relationships that are also good for the bottom line is not so easy. There is a lot of trial and error. But while monetizing social media is difficult it is not impossible.
How to Monetize Social Media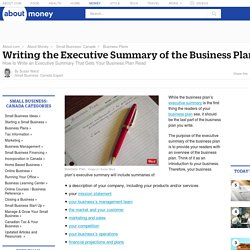 How to Write an Executive Summary - Business Plan Executive Summary
While the business plan's executive summary is the first thing the readers of your business plan see, it should be the last part of the business plan you write. The purpose of the executive summary of the business plan is to provide your readers with an overview of the business plan. Think of it as an introduction to your business. Therefore, your business plan's executive summary will include summaries of: The executive summary will end with a summary statement, a "last kick at the can" sentence or two designed to persuade the readers of your business plan that your business is a winner. How to Write an Executive Summary
Does Your Business Have Curb Appeal?
How to Make Your Small Business Seem Bigger (Using Tech)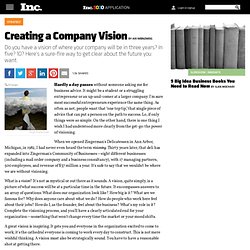 Hardly a day passes without someone asking me for business advice. It might be a student or a struggling entrepreneur or an up-and-comer at a larger company. I'm sure most successful entrepreneurs experience the same thing. As often as not, people want that "one top tip," that single piece of advice that can put a person on the path to success.
Creating a Company Vision
How to Write a Business Plan Outline