Web Design/Computer
Web Hosting - Find Affordable Web Hosting Providers. WebHosting Top25 - Find top 25 web hosting providers at Tophosts.com. The TopHosts panel determines the best web hosting providers based on.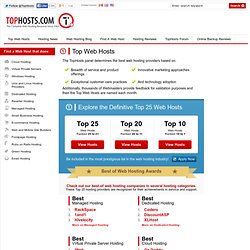 Breadth of service and product offeringsInnovative marketing approachesExceptional customer care practicesAnd technology adoption Additionally, thousands of Webmasters provide feedback for validation purposes and then the Top Web Hosts are named each month. Explore the Definitive Top 25 Web Hosts. Adobe CS5 - Everything about Adobe Creative Suite 5. Free WYSIWYG HTML editors list. Amaya Web Browser and WYSIWYG HTML editor from W3C The free open source Amaya WYSIWYG HTML editor comes from the World Wide Wed Consortium (W3C).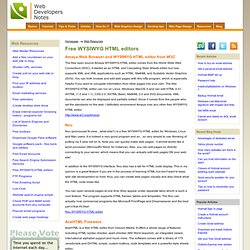 It started as an HTML and Cascading Style Sheets editor but now supports XML and XML applications such as HTML, MathML and Scalable Vector Graphics (SVG). You can both browse and edit web pages with this nifty program, which is especially helpful if you want to cut-paste information from other pages into your own. The free WYSIWYG HTML editor can run on Linux, Windows, MacOS X and can edit HTML 4.01, XHTML (1.0 and 1.1), CSS 2.0, XHTML Basic, MathML 2.0 and SVG documents.
XML documents can also be displayed and partially edited. Online-HTML-Editor.org - The free online WYSIWYG Editor! Free HTML editor wysiwyg - Alleycode HTML, Text, PHP editor , cheap website hosting - Netix. The 10 Best Free Web Editors For Windows - Best Free Windows HTML Editors. I have evaluated over 100 web page editors for Windows against over 40 different criteria relevant to professional web designers, web developers, small business owners, and beginning web designers.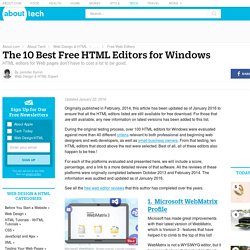 The following editors are the 10 best free web page editors for Windows, both WYSIWYG and text editors, in order from best to worst. Each editor below will have a score, percentage, and a link to a more detailed review. All reviews were completed between October 2013 and February 2014. And this list was compiled on February 24, 2014. The editors were ranked based on their scores for Web Designers.
10 Useful Free WYSIWYG HTML Editors For Web-Based Application. Web-based HTML Editor is a web component that let users write within the browser.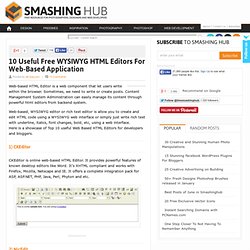 Sometimes, we need to write or create posts. Content Management System Administration can easily manage its content through powerful html editors from backend system. Web-based, WYSIWYG editor or rich text editor is allow you to create and edit HTML code using a WYSIWYG web interface or simply just write rich text with underline, italics, font changes, bold, etc, using a web interface. Here is a showcase of Top 10 useful Web Based HTML Editors for developers and bloggers. Web Hosting Review - Find Quality Affordable Web Hosting - Best Web Hosting...
---