Web Design/Computer
Web Hosting - Find Affordable Web Hosting Providers
The TopHosts panel determines the best web hosting providers based on.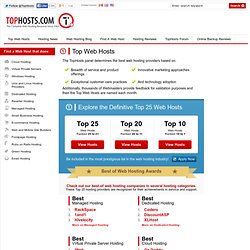 WebHosting Top25 - Find top 25 web hosting providers at Tophosts.com
Adobe CS5 - Everything about Adobe Creative Suite 5
Amaya Web Browser and WYSIWYG HTML editor from W3C The free open source Amaya WYSIWYG HTML editor comes from the World Wide Wed Consortium (W3C).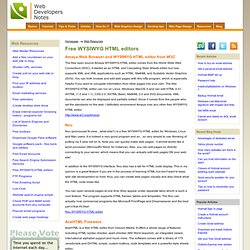 Free WYSIWYG HTML editors list
Online-HTML-Editor.org - The free online WYSIWYG Editor!
Free HTML editor wysiwyg - Alleycode HTML, Text, PHP editor , cheap website hosting - Netix
The 10 Best Free Web Editors For Windows - Best Free Windows HTML Editors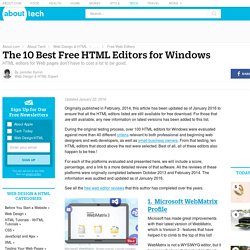 I have evaluated over 130 HTML editors for Windows against over 40 different criteria relevant to professional web designers and developers. The following editors are the 10 best free HTML editors for Windows, both WYSIWYG and text editors, in order from best to worst.
Web-based HTML Editor is a web component that let users write within the browser.
10 Useful Free WYSIWYG HTML Editors For Web-Based Application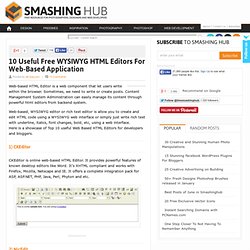 Web Hosting Review - Find Quality Affordable Web Hosting - Best Web Hosting...