Lan taldeak kudeatzeko aplikazioak
Diez programas para organizar reuniones y eventos privados
Already have an account? Please, click here to signin Full name must be at least 4 characters You forgot to enter your full name Only use letters, numbers, or '_' This doesn't look like a valid email You forgot to enter an email Sorry, this email is already in use, did you already sign up?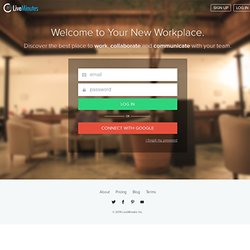 Minutes
Enter The Group: Making Group Projects Easier | Home Page
It became a catch phrase across Skype as we built Pegby: let's go to the Board . Using an unlimited number of Boards , you can collaborate with friends, family, co-workers and even strangers...if you like that sort of thing. We've seen boards with twenty Columns , which is no big deal for Pegby.