Lan taldeak kudeatzeko aplikazioak
Diez programas para organizar reuniones y eventos privados. Minutes. Full name must be at least 4 characters You forgot to enter your full name Only use letters, numbers, or '_' This doesn't look like a valid email You forgot to enter an email Sorry, this email is already in use, did you already sign up?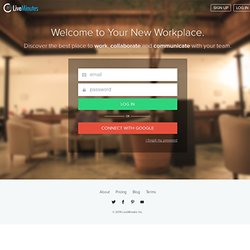 Password must be at least 6 characters You forgot to enter a password Your password cannot contain spaces The activation code is not correct. Wiggio - Makes it easy to work in groups. Organize anything, together. Gestión de proyectos y colaboración en línea. Simplificado.
Enter The Group: Making Group Projects Easier | Home Page. Collaboration Software - Online project management tool for teams. Peg it up, Move it Around, Get it Done.
---