Pinterest
Guía para principiantes: cómo utilizar Pinterest
Cómo utilizar Pinterest
The 25 Best Pinterest Boards in Educational Technology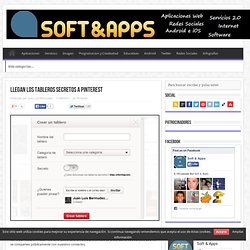 Llegan los tableros secretos a Pinterest
Si eres usuario de Pinterest, y estás familiarizado con el uso de esta red social, sabes que podemos crear tableros para organizar nuestras colecciones de pines que pertenecen a una temática concreta.
8 Herramientas Imprescindibles para Pinterest « Community's Room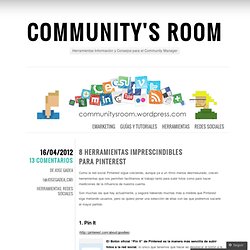 Como la red social Pinterest sigue creciendo, aunque ya a un ritmo menos desmesurado, crecen herramientas que nos permiten facilitarnos el trabajo tanto para subir fotos como para hacer mediciones de la influencia de nuestra cuenta.
Herramientas para gestionar Pinterest | Vilma Núñez - Social Media Lover
11 museos a seguir en Pinterest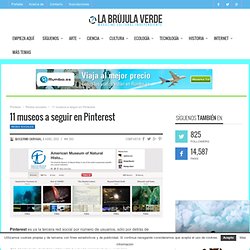 Pinterest es ya la tercera red social por número de usuarios, sólo por detrás de Facebook y Twitter. Si bien los primeros en adoptar el fenómeno fueron las marcas comerciales y los negocios online, ahora podemos encontrar ya muchas instituciones que desarrollan una actividad más o menos frecuente en Pinterest. Es el caso de los museos, para los que el carácter eminentemente visual de la red social les viene como anillo al dedo.
Si ya estás participando en la popular red social Pinterest habrás descubierto su adictividad, lo sencillo que resulta compartir y visualizar todo tipo de imágenes y el elegante diseño de su timeline.
Pinstamatic: publica sitios web, notas post-it, fechas, ubicaciones o tweets en Pinterest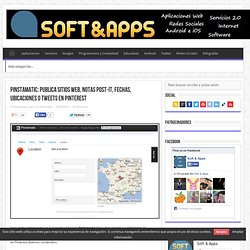 As previously mentioned, you need to integrate Pinterest onto your blog to get more traffic. Why not get even more traffic and authority by using Pinterest?? :).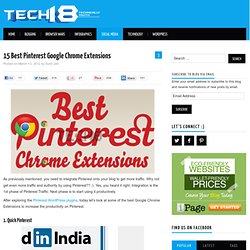 15 Best Pinterest Google Chrome Extensions
Video Tutorial de Pinterest en español
6 Chrome Extensions To Perfect Your Pinterest Experience
Mucha conversación se ha generado sobre Pinterest, una red social relativamente nueva.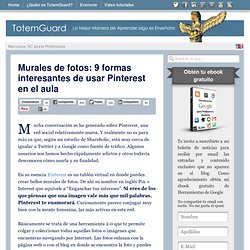 Murales de fotos: 9 formas interesantes de usar Pinterest en el aula
Why should you use Pinterest?
Se están escribiendo tantas cosas sobre esta nueva red social que ya da como vértigo y algunos usuarios de redes incluso le están tomando manía casi antes de empezar a utilizarla.
12 enlaces para conocer mejor Pinterest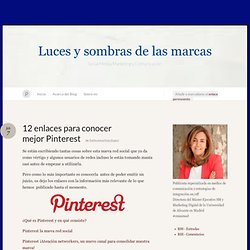 Cybraryman Internet Catalogue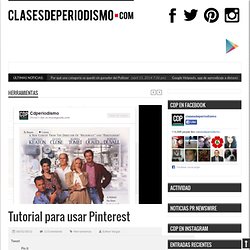 Tutorial para usar Pinterest
Pinterest, la red social de moda, gana cada día más seguidores. En enero tuvo más tráfico que YouTube , Reddit , Google+ , LinkedIn y MySpace juntos, de acuerdo con un estudio de Shareaholic.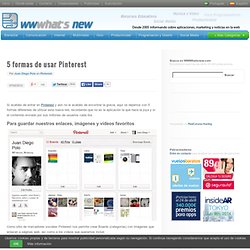 5 formas de usar Pinterest
Si acabáis de entrar en Pinterest y aún no le acabáis de encontrar la gracia, aquí os dejamos con 5 formas diferentes de utilizar esta nueva red, recordando que no es la aplicación la que hace la joya y sí el contenido enviado por sus millones de usuarios cada día. Para guardar nuestros enlaces, imágenes y vídeos favoritos Como sitio de marcadores sociales Pinterest nos permite crear Boards (categorías) con imágenes que enlazan a páginas web, así como a los vídeos que queramos incluir.