Mind Mapping
WiseMapping - Visual Thinking Evolution. Design Your Mind! Mind Mapping Software - Create online Mind Maps. Press Space or double-click to edit. This operation requires a valid MindMup Gold License.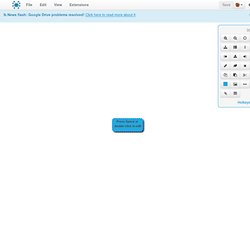 Export, save and embed larger maps using MindMup Gold. We have sent a temporary access code to your e-mail. Please wait, your license is being restored. Software de Mind Mapping - Crear Mind Maps en línea. Innovation Management - Collaboration Tools & More - Mindjet USA. Flow Chart Maker & Online Diagram Software | Lucidchart. Online Diagram Software to draw Flowcharts, UML & more | Creately. Coggle. iMindMap. Using an intuitive workspace, an unrestrictive structure and lots of visual stimulation, iMindMap is the perfect Mind Mapping tool for all thinking tasks.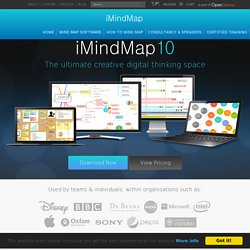 Enhance your productivity, unleash your creativity and improve your quality of work by joining the millions already Mind Mapping. See what's new in the latest version, iMindMap 7 Learn More Your Mind Mapping software has transformed our business & become a part of our cultural DNA at WWP.Wheaton Wealth Partners, U.S.A iMindMap is the most creative piece of technology I've ever used.Graham Cullen, HeadTeacher, Porchester School, U.K. Awesome Way to Organize and Present Ideas using Mind Maps and Presentation Effects. Opciones para crear mapas mentales en Internet. Los mapas mentales han ayudado a mucha gente a desarrollar sus ideas desde hace mucho tiempo.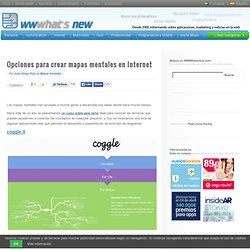 Hace más de un año os presentamos un curso sobre este tema ideal para conocer las técnicas que pueden ayudarnos a conectar los conceptos de cualquier proyecto, y hoy os mostramos una lista de algunas aplicaciones web que permiten el desarrollo y presentación de este tipo de diagramas: coggle.it Podemos identificarnos con la cuenta de Google y empezar nuestro mapa añadiendo nodos con las ideas que queremos relacionar transmitir. Zero-friction online mind mapping. Home. Free mind mapping and knowledge management software Download Freeplane now!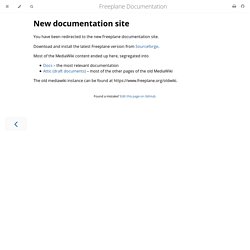 (this downloads the stable version 1.2.23) Read about the features coming next, Download last development versions (beta or preview) Try it and give your opinion. Freeplane is a free mind mapping program under the GNU General Public License (GPL) version 2 or later. 15 Great Mindmapping Tools and Apps. Mindmapping is the process of drawing up diagrams that show relations between various ideas, tasks or information.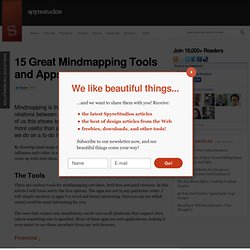 For many of us this shows to actually be a way of taking notes that can be more useful than just writing down keywords or sentences like we do on a to-do list. By drawing mind maps you actually visualize your tasks and how each task can influence each other in a better way, making your brain remember more easily and/or come up with new ideas. Connected Mind: Draw unique maps in the browser. Mural.ly. Free Mind Mapping Software, Freeware, Create mindmaps for brainstorming, problem solving, rational analysis, and decision marking. Helps you build, save, share and print arbitrary mind maps absolutely free.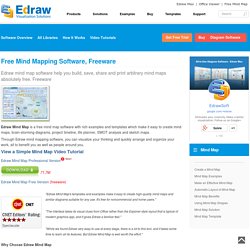 Edraw Mind Map is a free mind map software with rich examples and templates which make it easy to create mind maps, brain-storming diagrams, project timeline, life planner, SWOT analysis and sketch maps. Through Edraw mind mapping software, you can visualize your thinking and quickly arrange and organize your work, all to benefit you as well as people around you. All software | Vic's Picks. Text 2 Mind Map – The text-to-mind-map converter. Online Diagram & Flowchart Software | Lucidchart. Edistorm - Edistorm - Online Brainstorming and Planning. Add a sticky note and post it online.
Mapas Mentales - Mejores Herramientas Para Hacer Tus Propios Mapas Mentales. Learn about biologia on instaGrok.com. InstaGrok | A new way to learn. Visual Thinking Evolution. A mind map is a diagram used to represent words, ideas, tasks, or other items linked to and arranged around a central key word or idea.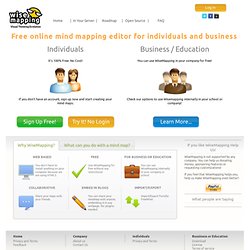 Especially in British English, the terms spidergram and spidergraph are more common,[1] but they can cause confusion with the term spider diagram used in mathematics and logic. Mind maps are used to generate, visualize, structure, and classify ideas, and as an aid to studying and organizing information, solving problems, making decisions, and writing. The elements of a given mind map are arranged intuitively according to the importance of the concepts, and are classified into groupings, branches, or areas, with the goal of representing semantic or other connections between portions of information. Mind maps may also aid recall of existing memories. By presenting ideas in a radial, graphical, non-linear manner, mind maps encourage a brainstorming approach to planning and organizational tasks. 11 aplicaciones gratuitas para crear mapas mentales. Un mapa mental es un diagrama donde se representan gráficamente ideas, palabras o conceptos emanados de una idea central.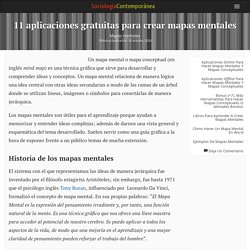 Su función principal es gestionar y potenciar el flujo de información entre nuestro cerebro y el exterior conectando semántica y jerárquicamente diferentes tipos de concepciones. Históricamente el sistema de representación jerárquico fue inventado por el estagirita Aristóteles; sin embargo fue hasta 1971 que el psicólogo inglés Tony Buzan, basado en ideas de Leonardo Da Vinci, formalizó el concepto de mapa mental. En sus propias palabras: "El Mapa Mental es la expresión del pensamiento irradiante y, por tanto, una función natural de la mente. Es una técnica gráfica que nos ofrece una llave maestra para acceder al potencial de nuestro cerebro. Se puede aplicar a todos los aspectos de la vida, de modo que una mejoría en el aprendizaje y una mayor claridad de pensamiento pueden reforzar el trabajo del hombre".
Mapa_Conceptual_Howard_Gardner_recursostic.png (1919×1731) Popplet. 99 Mind Mapping Resources, Tools, and Tips. So, there you are staring at that black sheet of paper again.

Or perhaps it's a black Word document on your computer screen. Whichever it may be, it's obvious you're about to take notes for that big essay assignment or group project, and you're not too excited about getting started! 11 Free Mind Mapping Applications & Web Services. Mind mapping is a way of taking notes, capturing ideas, exploring concepts and breaking down information into a more readily understood format.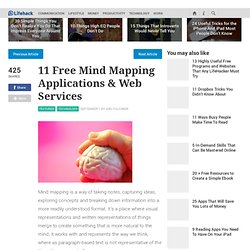 It's a place where visual representations and written representations of things merge to create something that is more natural to the mind; it works with and represents the way we think, where as paragraph-based text is not representative of the thought process at all. There are a million and one uses for mind mapping. You can use it to study for a big exam. You can use it brainstorm new article ideas, or flesh out what needs to be covered in the business plan for a new venture. 5 Innovative Mind-Mapping Tools For Education. What do you do when you have an elaborate project, assignment, or paper that needs to be quickly organized? Do you fire up Microsoft Word and whip up an outline? Do you pull out a pen and paper and start sketching? What if you could have the best of both options with a free online tool?
It's called 'mind mapping' ("Mind Map" is a trademark of the Buzan Organization .) and it's basically a fun and intuitive way to visually organize your thoughts. Con Tsop-It llueven las ideas. Los compañeros de ProjectLinkr han creado Tsop-It, una herramienta que te va a permitir generar, ordenar, compartir (o no) y priorizar tus ideas de manera intuitiva, sin esfuerzo, sin tener que pagar un solo céntimo y disponible en español. Solo tienes que darte de alta introduciendo tu email y una contraseña en la página principal (posteriormente podrás modificar estos datos si lo deseas). Una vez estés registrad@ abre tu primera sesión, en la que podrás ir incluir tantas pestañas (Tabs) o pizarras de trabajo como quieras. Tsop-It Beta. Draw Diagrams Online using Collaborative Diagram Tools.
UsefulCharts.com | Cool Charts & Timelines. Online Mind Mapping and Brainstorming app - SpiderScribe. Mind Mapping software for visual thinking | Seavus DropMind™ Tag Galaxy. Mind iT - Intelligent Bookmarking. Mind Map Art.
100 Online Brainstorming Tools to Help You Think Outside the Box | Forensic Science Technician : Online Schools Guide. A lateral thinking process, brainstorming demands that people come up with ideas and thoughts that can seem shocking or crazy. By using these ideas as a starting point, you can then change and improve them into something useful and original. Below are the top 100 tools, tips, guides, and resources to help you think outside the box and maximize your ideas. 10 Collaborative Brainstorming Web Apps When You Work As A Group. XMind - Mind Mapping and Storming. Mapa Mental: Genera mapas mentales de calidad rápidamente con XMind. Bubbl.us | brainstorm and mind map online. Mind42.com - Collaborative mind mapping in your browser. Concept mapping.
Mapas Conceptuales TIES 2012. 50 Useful Mind-Mapping Tools for College Students.
---