Curation
¿ Cuáles son las 10 herramientas básicas de un buen "Content Curator"? | El Content Curator – Víctor V. Valera. En anteriores entradas os he hablado sobre las cualidades de un buen "content curator" y sobre sus 10 tareas fundamentales.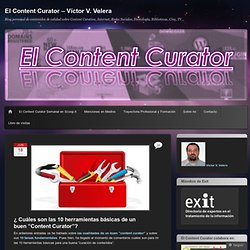 Pues bien, ha llegado el momento de comentaros cuales son para mi las 10 herramientas básicas para una buena "curación de contenidos". Desde luego que aplicaciones hay muchas y con muchas posibilidades, ya sean gratuitas o de pago, pero yo creo que con estas diez es más que suficiente para proporcionar contenidos de calidad hacía vuestros seguidores, pues son herramientas fáciles de utilizar y que realizan sus propósitos de una manera muy eficiente, y por supuesto que son las que yo utilizo habitualmente y normalmente en este orden (más o menos): 1.- Google Alerts, la herramienta clásica de alertas, sencilla y realmente útil.
Podemos configurar varias búsquedas y decidir si queremos recibir los nuevos resultados que van apareciendo vía e-mail o mediante un feed RSS.
Pearltrees
Be Discovered!Scoop. Scoop.it's first mission is to help people publish gorgeous magazines by means of curation – and by doing so, make their passion and expertise be heard and recognized on the web.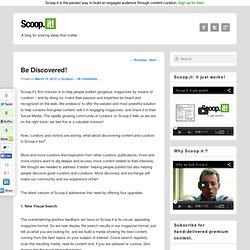 We endeavor to offer the easiest and most powerful solution to help curators find great content, edit it in engaging magazines, and share it to their Social Media. The rapidly growing community of curators on Scoop.it tells us we are on the right track; we feel this is a valuable mission! Now, curators and visitors are asking: what about discovering content and curators in Scoop.it too? More and more curators find inspiration from other curators' publications; more and more visitors want to dig deeper and access more content related to their interests.
We thought we needed to address it better: helping people publish but also helping people discover great curators and curations. - Top 10 Sites for Curating the Web. 0 Comments March 6, 2012 By: David Kapuler Mar 6 Written by: 3/6/2012 3:52 AM ShareThis.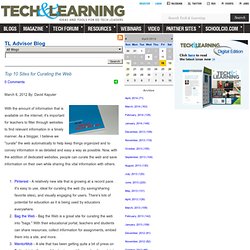 How Can Web 2.0 Curation Tools Be Used in the Classroom? Digital Tools Jeff Thomas "Curation" may be one of the big buzzwords of 2011.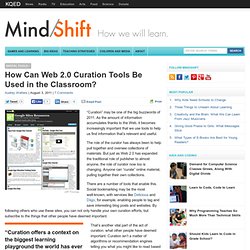 As the amount of information accumulates thanks to the Web, it becomes increasingly important that we use tools to help us find information that's relevant and useful. The role of the curator has always been to help pull together and oversee collections of materials. Apuntes sobre "curación de contenidos" | LabTIC. Best News Curation Tools for Independent Publishe... Storify · Create engaging social stories. Paper.li – Be a publisher. 40 Social Media Curation Sites and Tools « Social Media Pearls. Easily Publish Gorgeous Magazines. 30+ Cool Content Curation Tools for Personal & Professional Use.
---