Networking
TCP Checksum Offload is not equal to TCP Task Offload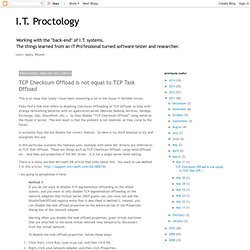 This is an issue that lately I have been answering a lot in the Hyper-V TechNet forum. Folks find a link that refers to disabling Checksum Offloading or TCP Offload to help with strange networking behavior with an application server (Remote Desktop Services, XenApp, Exchange, SQL, SharePoint, etc.). So they disable "TCP Checksum Offload" using netsh on the Hyper-V Server. The end result is that the problem is not resolved, so they come to the forum. In actuality they did not disable the correct feature. So here is my third attempt to try and straighten this out.
Information about the TCP Chimney Offload, Receive Side Scaling, and Network Direct Memory Access features in Windows Server 2008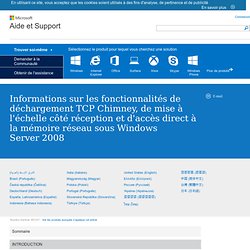 This article describes the TCP Chimney Offload, Receive Side Scaling (RSS), and Network Direct Memory Access (NetDMA) features that are available for the TCP/IP protocol in Windows Server 2008. TCP Chimney Offload overview TCP Chimney Offload is a networking technology that helps transfer the workload from the CPU to a network adapter during network data transfer. In Windows Server 2008, TCP Chimney Offload enables the Windows networking subsystem to offload the processing of a TCP/IP connection to a network adapter that includes special support for TCP/IP offload processing. TCP Chimney Offload is available in all versions of Windows Server 2008 and Windows Vista. Both TCP/IPv4 connections and TCP/IPv6 connections can be offloaded if the network adapter supports this feature.
Strange logon drivemapping problem after updgrade to DC 2008 R2 (Network Steve Forum)
Troubleshooting the intermittent slow logon or slow startup - AD Troubleshooting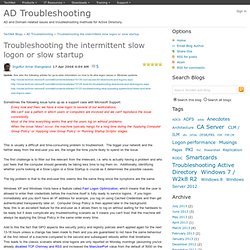 Update: See also the following articles for up-to-date information on how to fix slow logon issues in Windows systems: http://social.technet.microsoft.com/wiki/contents/articles/10130.root-causes-for-slow-boots-and-logons.aspxhttp://social.technet.microsoft.com/wiki/contents/articles/10128.tools-for-troubleshooting-slow-boots-and-slow-logons.aspxhttp://social.technet.microsoft.com/wiki/contents/articles/10123.troubleshooting-slow-operating-system-boot-times-and-slow-user-logons.aspx Sometimes the following issue turns up as a support case with Microsoft Support:
Using Registry Values to Enable and Disable Task Offloading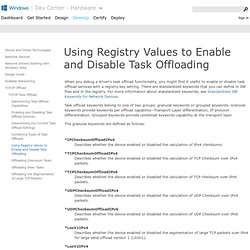 When you debug a driver's task offload functionality, you might find it useful to enable or disable task offload services with a registry key setting. There are standardized keywords that you can define in INF files and in the registry. For more information about standardized keywords, see Standardized INF Keywords for Network Devices. Task offload keywords belong to one of two groups: granular keywords or grouped keywords. Granular keywords provide keywords per offload capability--Transport Layer differentiation, IP protocol differentiation.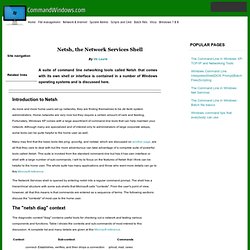 The Command-Line in Windows XP: Netsh, the Network Services Shell
A suite of command line networking tools called Netsh that comes with its own shell or interface is contained in a number of Windows operating systems and is discussed here. Introduction to Netsh As more and more home users set up networks, they are finding themselves to be de facto system administrators. Home networks are very nice but they require a certain amount of care and feeding.