Networking
TCP Checksum Offload is not equal to TCP Task Offload. This is an issue that lately I have been answering a lot in the Hyper-V TechNet forum.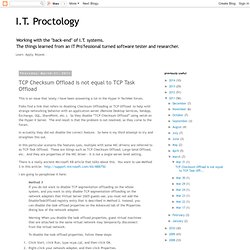 Folks find a link that refers to disabling Checksum Offloading or TCP Offload to help with strange networking behavior with an application server (Remote Desktop Services, XenApp, Exchange, SQL, SharePoint, etc.). So they disable "TCP Checksum Offload" using netsh on the Hyper-V Server. The end result is that the problem is not resolved, so they come to the forum. In actuality they did not disable the correct feature. So here is my third attempt to try and straighten this out. Information about the TCP Chimney Offload, Receive Side Scaling, and Network Direct Memory Access features in Windows Server 2008. Cet article décrit les fonctionnalités de déchargement TCP Chimney, de mise à l'échelle côté réception (RSS) et d'accès direct à la mémoire réseau (NetDMA) disponibles pour le protocole TCP/IP sous Windows Server 2008.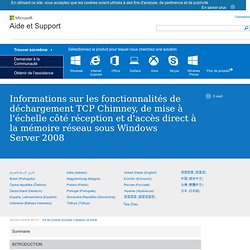 Présentation du déchargement TCP Chimney Le déchargement TCP Chimney est une technologie de réseau qui permet de transférer la charge de travail du processeur vers une carte réseau pendant le transfert des données réseau. Sous Windows Server 2008, le déchargement TCP Chimney permet au sous-système en réseau Windows de décharger le traitement d'une connexion TCP/IP sur une carte réseau qui comprend un support spécial pour le traitement de déchargement TCP/IP.
Le déchargement TCP Chimney est disponible dans toutes les versions de Windows Server 2008 et Windows Vista. Les connexions TCP/IPv4 et TCP/IPv6 peuvent être déchargées si la carte réseau prend en charge cette fonctionnalité. Strange logon drivemapping problem after updgrade to DC 2008 R2 (Network Steve Forum) Troubleshooting the intermittent slow logon or slow startup - AD Troubleshooting. Update: See also the following articles for up-to-date information on how to fix slow logon issues in Windows systems: Sometimes the following issue turns up as a support case with Microsoft Support: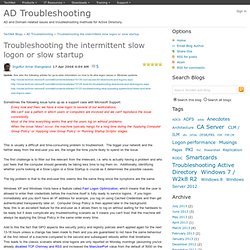 Using Registry Values to Enable and Disable Task Offloading. Task offload keywords belong to one of two groups: granular keywords or grouped keywords.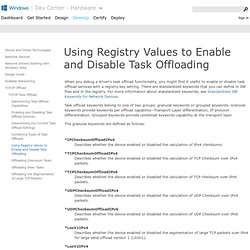 Granular keywords provide keywords per offload capability--Transport Layer differentiation, IP protocol differentiation. Grouped keywords provide combined keywords capability at the transport layer. The granular keywords are defined as follows: *IPChecksumOffloadIPv4. The Command-Line in Windows XP: Netsh, the Network Services Shell. A suite of command line networking tools called Netsh that comes with its own shell or interface is contained in a number of Windows operating systems and is discussed here.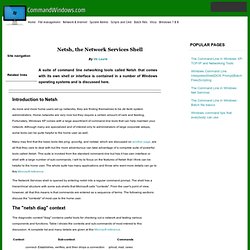 Introduction to Netsh As more and more home users set up networks, they are finding themselves to be de facto system administrators. Home networks are very nice but they require a certain amount of care and feeding.
---