Trailers
iTunes Movie Trailers. The Dark Knight Rises - Official Trailer 2. Return to Middle-earth with First, Gorgeous Trailer for 'The Hobbit' There's not much one can really say about this first trailer for the much-anticipated The Hobbit: An Unexpected Journey.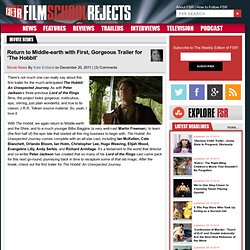 As with Peter Jackson's three previous Lord of the Rings films, the project looks gorgeous, meticulous, epic, stirring, just plain wonderful, and true to its classic J.R.R. Tolkien source material. So, yeah, I love it. With The Hobbit, we again return to Middle-earth and the Shire, and to a much younger Bilbo Baggins (a very well-cast Martin Freeman), to learn (the first half of) the epic tale that started all this ring business to begin with.
UPSIDE DOWN Official Trailer 2012.
---