Technology
Minecraft update 1.3.1 arrives with emeralds and NPC trading
Minecraft update 1.3.1 has gone live, and we're going to level with you: it sounds pretty awesome. This is easily one of the biggest Minecraft updates we've had since the game officially launched back in November, adding a variety of new things and fixing a number of bugs. Though there's a lot of cool stuff to check out in this update, the biggest change by far is the merging of single player and multiplayer worlds. Mojang described this change last month, saying that single player mode was basically becoming a "shell on top of multiplayer" so modders would only have to make one version of their mod, and Mojang would only have to fix a bug once instead of twice. That may be the biggest change, but there's plenty more to tide over the die-hand Minecraft fan. For starters, emeralds have been added to the game, and players now have the ability to trade with NPCs.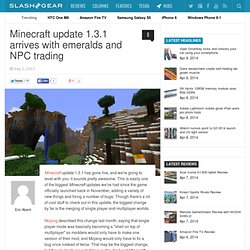 Google Project Glass spills more prototype secrets
Another public outing for Google's Project Glass has spilled even more details about the wearable augmented reality headset, including some of the first indications of just what's visible through that single display. New glimpses of the prototypes have been shown courtesy of a Google Glass Walk that took place earlier this week in San Francisco, including what seems to be the first shot of the headset not actually being worn. That reveals a small power button recessed into the rear of the body of the eyepiece, over a microUSB port presumably for charging and flashing software. The label, meanwhile, flags Project Glass as having not passed FCC testing; it's unclear if the protruding section just next to it is a cushioning pad of some sort or a button, triggered by pushing the body of the headset in against the wearer's head. The image below shows what's believed to be a camera button on the top edge of the eyeband.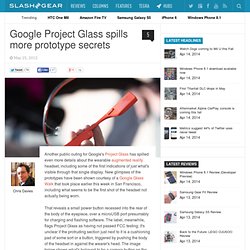 iOS Rock Band app unplayable after May 31
If you're a fan of the music game Rock Band and have the app on your iPhone or iPad you may notice a pop-up that has been showing on the game. According to the pop-up, the mobile game won't be playable after May 31. I have a feeling since this was a premium purchase app when it was new, there will be unhappy people who lose access to the game. EA Mobile has offered no official reason that the App will be unplayable after the end of this month. The pop-up message in the game reads "Dear rockers, on May 31; Rock Band will no longer be playable on your device. Thanks for rocking out with us!"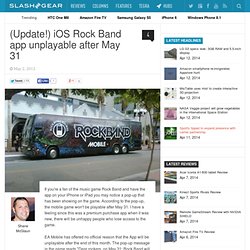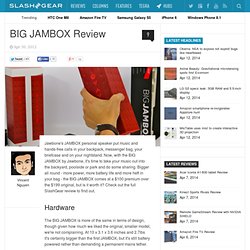 BIG JAMBOX Review
Jawbone's JAMBOX personal speaker put music and hands-free calls in your backpack, messenger bag, your briefcase and on your nightstand. Now, with the BIG JAMBOX by Jawbone, it's time to take your music out into the backyard, poolside or park and do some sharing. Bigger all round – more power, more battery life and more heft in your bag – the BIG JAMBOX comes at a $100 premium over the $199 original, but is it worth it? Check out the full SlashGear review to find out.
Google testing heads-up display glasses in public, won't make you look like Robocop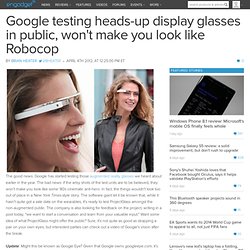 The good news: Google has started testing those augmented reality glasses we heard about earlier in the year. The bad news: if the artsy shots of the test units are to be believed, they won't make you look like some '80s cinematic anti-hero. In fact, the things wouldn't look too out of place in a New York Times style story.
The Sifter spent last night looking through hundreds of Macbook decals and stickers. Below you will find a collection of our 50 favourites. There are thousands of options online, with many original designs on Etsy and other online retailers. The images below were culled from various Google image searches. As we began to try and source the original designers of the decals we found many online retailers offering identical versions of the same design.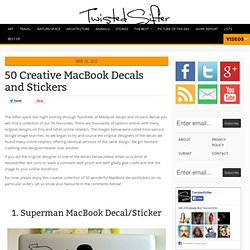 50 Creative MacBook Decals and Stickers
Facebook access becoming mandatory part of job, college applications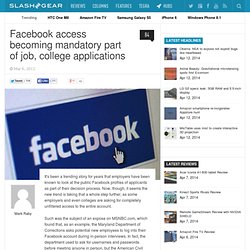 It's been a trending story for years that employers have been known to look at the public Facebook profiles of applicants as part of their decision process. Now, though, it seems the new trend is taking that a whole step further, as some employers and even colleges are asking for completely unfiltered access to the entire account. Such was the subject of an expose on MSNBC.com, which found that, as an example, the Maryland Department of Corrections asks potential new employees to log into their Facebook account during in-person interviews. In fact, the department used to ask for usernames and passwords before meeting anyone in person, but the American Civil Liberties Union (ACLU) leveled a complaint that forced that process to stop. But that's not the only example. Apparently it's also becoming the norm for college athletes to "friend" their coach so he can see everything that the student is up to.
If you've used the mobile social network Path recently, it's likely that you enjoyed the experience. Path has a sophisticated design, yet it's easy to use. It sports an attractive red color scheme and the navigation is smooth as silk. It's a social app and finding friends is easy thanks to Path's suggestions and its connection to Facebook. In short, Path has a great user experience.
5 Signs of a Great User Experience
Star Trek Enterprise coffee table is the stuff of geek dreams
I would wager that there are a bunch of you out there that like Star Trek as much as I do. I'm not dressing up in pointy ears or anything, but I can appreciate some awesome Star Trek gear when I see it. Take this coffee table for instance. If there was ever a cooler project for a geek with a wood working background, I haven't seen it. He must have a wife that likes Star Trek too since it is in the living room.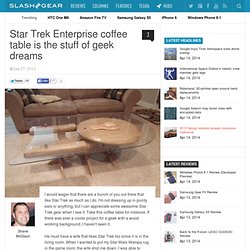 Lumus DK-32 wearable display hands-on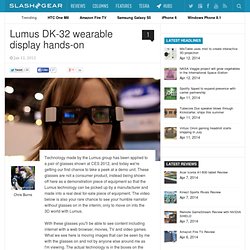 Technology made by the Lumus group has been applied to a pair of glasses shown at CES 2012, and today we're getting our first chance to take a peek at a demo unit. These glasses are not a consumer product, instead being shown off here as a demonstration piece of equipment so that the Lumus technology can be picked up by a manufacturer and made into a real deal for-sale piece of equipment. The video below is also your rare chance to see your humble narrator without glasses on in the interim, only to move on into the 3D world with Lumus. With these glasses you'll be able to see content including internet with a web browser, movies, TV and video games. What we see here is moving images that can be seen by me with the glasses on and not by anyone else around me as I'm viewing. The actual technology is in the boxes on the outsides of the lenses, one for each temple: OE-32 Optical Engine modules to project 720p resolution in 3D received through HDMI.
Voyager 1 One of the two identical Voyager probes, as photographed by NASA. NASA More than three decades after launching from Earth, Voyager 1 is about to leave the solar system.
Voyager 1 Has Entered 'Cosmic Purgatory,' Where No Probe Has Gone Before
Can a Windows Phone Web demo win over iPhone and Android users?
Keen to get consumers to take a look at Windows Phone, Microsoft has released a browser-based demo of its smartphone operating system for iPhone and Android users. The Web site gives users of these competing platforms a taste of the Windows Phone look and feel. The Web site is not an "application" in any sense; it's an HTML and JavaScript mock-up of the Windows Phone user interface, populated with dummy data. There are eight sections in total: phone, people (contacts), messaging, e-mail, calendar, a pinned contact group, Local Scout, and pictures. Each section gives you a brief walk-through, with on-screen prompts showing where to tap or swipe next to see the next screen, and each shows off some of the features that makes Windows Phone a little different from Android or iOS: the Facebook integration, face tagging, application integration, inbox linking, and so on.