Music
Wax Audio | Mashup Producer. eMusic.com. AllMusic.
Artists & bands. Spotify. Spotify. Spotify debuts enhanced radio service with unlimited skips. One of the features popular music service Spotify has lacked most has been radio.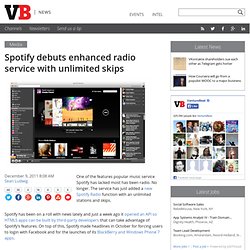 No longer. The service has just added a new Spotify Radio function with an unlimited stations and skips. Spotify has been on a roll with news lately and just a week ago it opened an API so HTML5 apps can be built by third-party developers that can take advantage of Spotify's features. On top of this, Spotify made headlines in October for forcing users to login with Facebook and for the launches of its BlackBerry and Windows Phone 7 apps. ShareMyPlaylists.com. Last.fm. Lyrics Muse - Lyrics for your last.fm Profile.
Normalisr: Time-based charts of your last.fm music data. Build Last.fm: Extend your Last.fm experience – Last.fm. Last.fm scripts » How eclectic is your style? Last.fm tool: How eclectic is your musical style?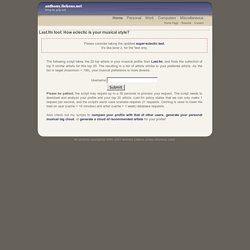 The following script takes the 20 top artists in your musical profile from Last.fm , and finds the collection of top 5 similar artists for this top 20. The resulting is a list of artists similar to your preferred artists. As the list is larger (maximum = 100), your musical preference is more diverse. , the script may require up to a 30 seconds to process your request. Last.fm scripts » Recommended artists cloud. Last.fm tool: Generate your recommended artists tag cloud p>The following script takes the 50 top artists in your musical profile from Last.fm, and creates a cloud of the similar artists that are not in your top 50.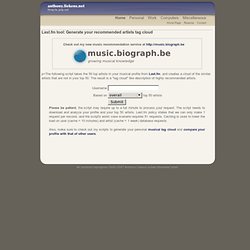 The result is a "tag cloud" like description of highly recommended artists. MUSE | LAST.FM Spiral by Sha Hwang. Last.fm tools and aditionals. Google unveils Android-based online music store. 17 November 2011Last updated at 00:04 Rapper Busta Rhymes attended the Google Music announcement in Los Angeles Google has launched an online music store in the US, which will allow devices running its Android software to buy, store and stream MP3 files.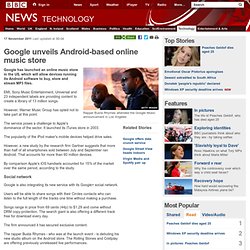 EMI, Sony Music Entertainment, Universal and 23 independent labels are providing content to create a library of 13 million songs. However, Warner Music Group has opted not to take part at this point. The service poses a challenge to Apple's dominance of the sector.
---