Music
Follow Wax Audio on SoundCloud: https://soundcloud.com/waxaudio You'll find all the Wax Audio sounds you desire there. And plenty more are going to be added later this year. Stay tuned Waxoids! A bunch of guys play and discuss their favorite Wax Audio tracks – enjoy!
Wax Audio | Mashup Producer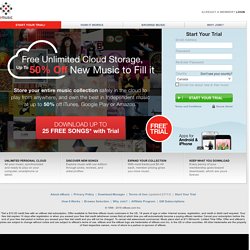 We're sorry, eMusic is not available in your country. We know everyone everywhere loves music and we want to bring the world of music to everyone. But we have to play by the rules and there are many when it comes to the global distribution of music. Unfortunately, due to licensing restrictions we are unable to offer service in your country at this time. We understand that you are currently in Canada (your IP address 46.22.74.179).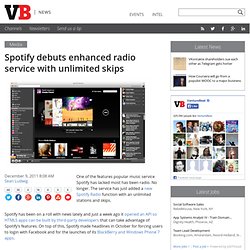 Spotify debuts enhanced radio service with unlimited skips
One of the features popular music service Spotify has lacked most has been radio. No longer. The service has just added a new Spotify Radio function with an unlimited stations and skips. Spotify has been on a roll with news lately and just a week ago it opened an API so HTML5 apps can be built by third-party developers that can take advantage of Spotify's features. On top of this, Spotify made headlines in October for forcing users to login with Facebook and for the launches of its BlackBerry and Windows Phone 7 apps.
Lyrics Muse - Lyrics for your last.fm Profile
Lyrics Muse is a music lyrics site which enables last.fm and Spotify users to quickly see lyrics for the music they're listening to. The lyrics is open so everyone can add and correct the lyrics on the site. How? If you are a last.fm user you are well aware (hopefully) that they track your listening habits. However, there has not been an easy way of quickly matching what you are currently listening to with lyrics. You've been forced to search the internet and sometimes end up on dubious lyric sites with hundreds of ads.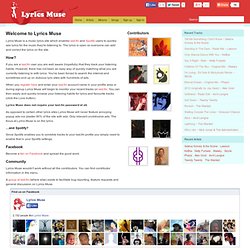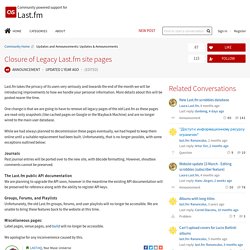 For Social Networks Last.fm apps for Facebooks, blogs, etc Tastebuds Tastebuds is the best place to meet new people through music. Simply share your… Scrobblers Submit your tracks from tons of players and devices
Last.fm tool: How eclectic is your musical style? The following script takes the 20 top artists in your musical profile from Last.fm , and finds the collection of top 5 similar artists for this top 20. The resulting is a list of artists similar to your preferred artists. As the list is larger (maximum = 100), your musical preference is more diverse. , the script may require up to a 30 seconds to process your request.
anthony.liekens.net » Last.fm scripts » How eclectic is your style?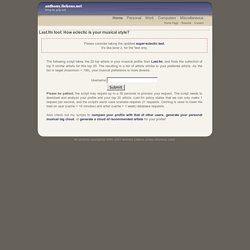 anthony.liekens.net » Last.fm scripts » Recommended artists cloud
Last.fm tool: Generate your recommended artists tag cloud p>The following script takes the 50 top artists in your musical profile from Last.fm, and creates a cloud of the similar artists that are not in your top 50. The result is a "tag cloud" like description of highly recommended artists.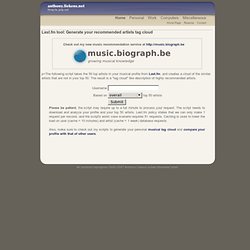 MUSE | LAST.FM Spiral by Sha Hwang
Last.fm tools and aditionals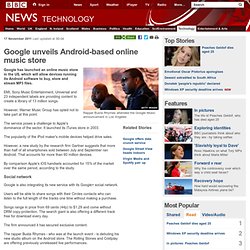 17 November 2011Last updated at 00:04 Rapper Busta Rhymes attended the Google Music announcement in Los Angeles Google has launched an online music store in the US, which will allow devices running its Android software to buy, store and stream MP3 files. EMI, Sony Music Entertainment, Universal and 23 independent labels are providing content to create a library of 13 million songs. However, Warner Music Group has opted not to take part at this point. The service poses a challenge to Apple's dominance of the sector.
Google unveils Android-based online music store