Convict Australia
Explore the exhibition items. Accesskeys menu Skip to content You are here :: Home › Exhibitions & events › Exhibitions › Past exhibitions › 2012 past exhibitions › Lewin: Wild Art › Explore the exhibition items Filters -Artist or Author John LewinOther.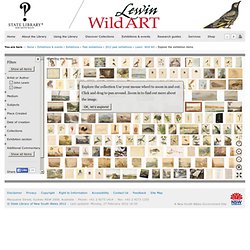 European discovery and the colonisation of Australia. European mariners Francesco Bartolozzi (1727-1815), Captn.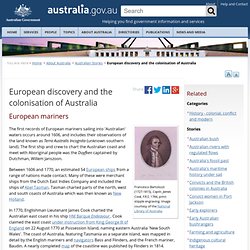 James Cook, F.R.S, 1784, print: stipple engraving. Image courtesy of the .
First Fleet - Investigating. The Learning section outlines a general framework for the process of posing questions.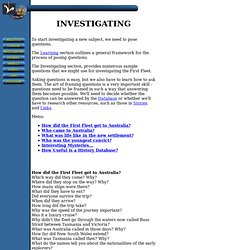 The Investigating section, provides numerous sample questions that we might use for investigating the First Fleet. Asking questions is easy, but we also have to learn how to ask them. The art of framing questions is a very important skill - questions need to be framed in such a way that answering them becomes possible. We'll need to decide whether the question can be answered by the Database or whether we'll have to research other resources, such as those in Stories and Links. European discovery and the colonisation of Australia. A convict without socks - Sydney Living Museums - Historic Houses Trust of NSW. Convicts | Colonies | Irish | Transportation.
A convict Story. Convict records. New!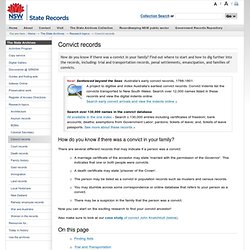 Sentenced beyond the Seas: Australia's early convict records, 1788-1801 A project to digitise and index Australia's earliest convict records. A Convict Story: interactive teaching resource - Sydney Living Museums - Historic Houses Trust of NSW. A day in the life of a convict - Historic Houses Trust of NSW. Some hapless individuals experienced the full horrors of convict transportation.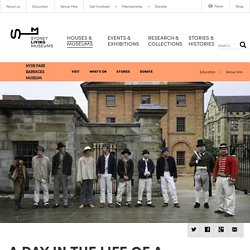 It was no wonder that some, like Anderson, endured periods of mental instability. Navy seaman and thief Charles 'Bony' Anderson arrived in Sydney from Devonshire in 1834, aged 24. He was heavily tattooed, with designs of a mermaid, anchor, buoy, cottage, flag, heart, crucifix, sun, moon and seven stars, Adam and Eve, serpent and tree. Convict transportation: related sites, books and more. Convicts_to_Australia. More than 160,000 convicts were transported to Australia between 1788 and 1868.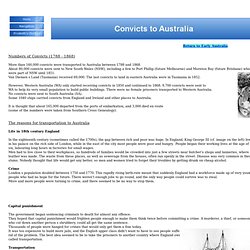 About 80,000 convicts were sent to New South Wales (NSW), including a few to Port Phillip (future Melbourne) and Moreton Bay (future Brisbane) which were part of NSW until 1851. Van Diemen s Land (Tasmania) received 69,000. The last convicts to land in eastern Australia were in Tasmania in 1852. Pilot Guides.com: Short History of Convict Australia - Convict Life. Short History of Convict Australia is the first ever documentary about Australia's convict past.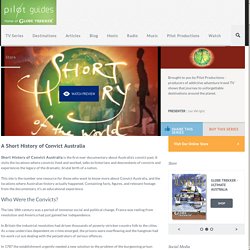 It visits the locations where convicts lived and worked, talks to historians and descendants of convicts and experiences the legacy of the dramatic, brutal birth of a nation. This site is the number one resource for those who want to know more about Convict Australia, and the locations where Australian history actually happened. Top 10 Ideas for Teaching Australian History to Kids. Media - Convict life in The Rocks, Sydney. 00:00:11:21RICHARD GLOVER:Are you one of our regular students for Self Improvement Wednesday?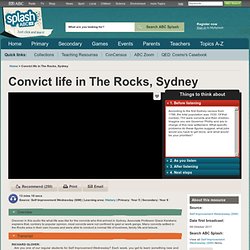 Each week, you get to learn something new and each week, you can test out what you've learnt on our website, where there's already a pop-up test all about today's lesson. Your lesson this week - Convict Secrets of the Rocks. Your teacher is Associate Professor Grace Karskens, Senior Lecturer in Australian History at the University of New South Wales. Grace, good afternoon. ...Read more > European discovery and the colonisation of Australia. European discovery and the colonisation of Australia.
Convicts in Australia. Key points Convicts arrived in Australia in 1788, on the First Fleet.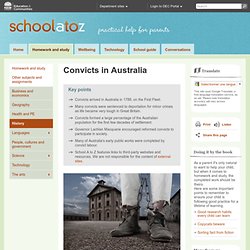 Many convicts were sentenced to deportation for minor crimes as life became very tough in Great Britain.
---