Home
Buzz On! Tips for Making Bees Feel Welcome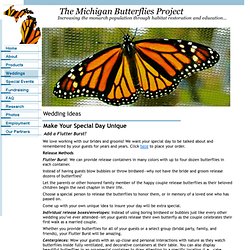 We love working with our brides and grooms! We want your special day to be talked about and remembered by your guests for years and years. Click here to place your order. Release Methods Flutter Burst: We can provide release containers in many colors with up to four dozen butterflies in each container. Instead of having guests blow bubbles or throw birdseed—why not have the bride and groom release dozens of butterflies?
Wedding Ideas
Psychology of Color | Miss Centsible - StumbleUpon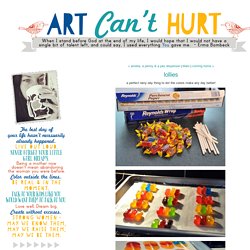 a perfect rainy day thing to do! the colors make any day better! how to make LOLLIESyou will need: jolly ranchers, candy sticks, parchment paper, foil & a cookie sheet 1) lay a piece of foil on cookie sheet. cover foil with a piece of parchment paper.2) unwrap candies and place side by side on parchment paper in your choice of color & flavor combinations. use three candies together for extra large lollies, and only two candies together for regular lollies.3) heat candies in oven for about 5 minutes at 200 degrees. keep a close eye on the candies and take them out as soon as they've barely melted together. if you leave them in too long they will melt too much and you won't be able to put a stick into the lollie. alter the cook time accordingly.4) carefully take cookie sheet out of oven. immediately lay candy sticks into place on melted candies. slowly twirl in melted candy to coat the stick and so it will hold in the lollie. they're hot!
lollies - a little ART CANT HURT - StumbleUpon
1. Take ten deep breaths. 2. Do push-ups, crunches, or pull-ups 3. Play with a pet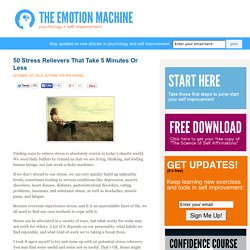 50 Stress Relievers That Take 5 Minutes Or Less | The Emotion Machine - StumbleUpon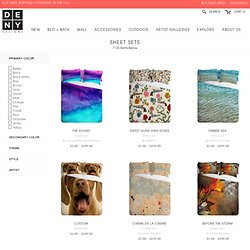 5387 items below
Sheet Set - All Art - StumbleUpon
If your kids like playing with dough like Play-Doh or molding clay, they will love making sculptures with homemade wood dough. Homemade wood dough dries to a wood finish and can be sanded down smooth with sandpaper. You can also paint or stain wood dough sculptures.
How to Make Wood Dough | General Arts & Crafts | FireHow.com
I am one of those not-so-good-at-watering-plants kind of girls, but I love plants at the same time. Makes no sense, right? Thankfully, terrariums allow you to add the airy, natural feel of plants to any room without the fuss of caring for them.
Terrarium Tutorial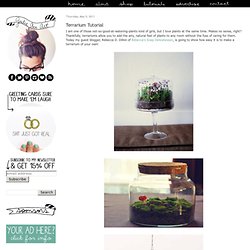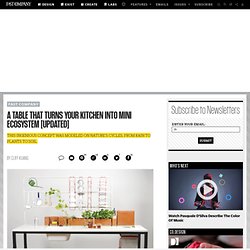 Convenience and efficiency are king when it comes to product design. What could be more efficient than a natural ecosystem? That's the insight behind a "living kitchen" designed by the brilliant young design studio Studio Gorm. They looked at what we have in our kitchens--fruits, vegetables, organic waste--and figured: That's actually enough to create a miniature system for watering fresh herbs, composting the waste, and generating new soil.
A Table That Turns Your Kitchen Into Mini Ecosystem [UPDATED] | Fast Company
Via: amy-newnostalgia.blogspot.com Why didn't I think of that?! We guarantee you'll be uttering those words more than once at these ingenious little tips, tricks and ideas that solve everyday problems … some you never knew you had!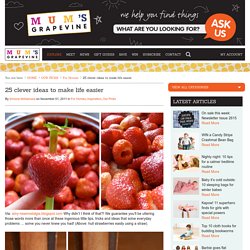 25 clever ideas to make life easier - StumbleUpon