FAVE BLOGS
Makeup Tutorials - Makeup For Life - Beauty Blog, Makeup Tutorials, Product Reviews, Celebrity Makeup, Beauty Advice. Fun Friday - DIY Beach Hair - asuyeta [ah-soo-yeh-tah] clothes & accessories. handmade with love. I love the messy hair/bohemian look.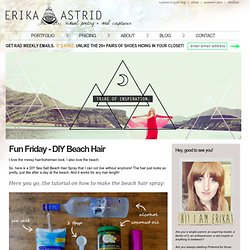 I also love the beach. So, here is a DIY Sea Salt Beach Hair Spray that I can not live without anymore! Free Budget-Spending Worksheet - Monthly Household Budgeting. Discover Products that Match Your Personality. This purse was designed by Leonardo da Vinci. Did you know that in addition to numerous designs for submarines, helicopters and parachutes, Leonardo Da Vinci designed women's purses as well?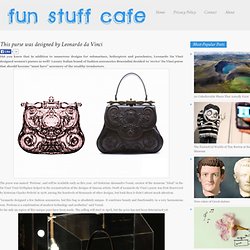 Luxury Italian brand of fashion accessories Braccialini decided to 'revive' Da Vinci purse that should become "must have" accessory of the wealthy trendseters. The purse was named 'Pretiosa', and will be available early as this year. Art historian Alessandro Vesozi, curator of the museum "Ideal" in the Da Vinci Vinci birthplace helped in the reconstruction of the designs of famous artists. Draft of Leonardo da Vinci's purse was first discovered by historian Charles Pedreti in 1978, among the hundreds of thousands of other designs, but back then it didn't attract much attention. "Leonardo designed a few fashion accessories, but this bag is absolutely unique.
---