FAVE BLOGS
Makeup Tutorials - Makeup For Life - Beauty Blog, Makeup Tutorials, Product Reviews, Celebrity Makeup, Beauty Advice
It´s saturday, I´m back in beautiful Monaco and life is good! As you all know I´m addicted to brown eyeshadows because it´s sofisticated, beautiful and goes with everything. However, sometimes plain brown can be a bit boring and since it´s saturday I decided to leave my comfort zone and do it with a twist. 1. As always we start with a base. I like both Urban Decay Primer Potion and MAC paint pot and since the paint pot was already in my little everyday makeup bag I decided to go for that in the color Painterly.
I love the messy hair/bohemian look. I also love the beach. So, here is a DIY Sea Salt Beach Hair Spray that I can not live without anymore!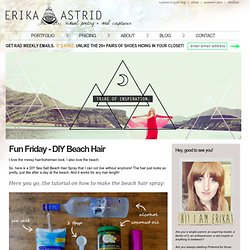 Free Budget-Spending Worksheet - Monthly Household Budgeting
Did you know that in addition to numerous designs for submarines, helicopters and parachutes, Leonardo Da Vinci designed women's purses as well? Luxury Italian brand of fashion accessories Braccialini decided to 'revive' Da Vinci purse that should become "must have" accessory of the wealthy trendseters.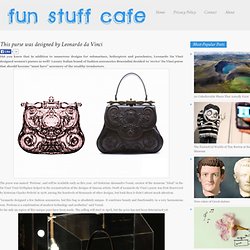 This purse was designed by Leonardo da Vinci