To Eat
Food, drink and fun | theduckinnpubandkitchen. When you are settling in after a beer or two, you may decide it's time to grab something to eat.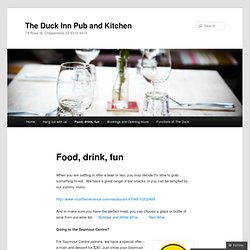 We have a great range of bar snacks or you can be tempted by our yummy menu. And to make sure you have the perfect meal, you can choose a glass or bottle of wine from our wine list. Bubbles and White Wine Red Wine. Jackie M Malaysian Cuisine, Concord, Sydney — The Food Pornographer. Morena, Surry Hills. There are certain challenges when trying to introduce a cuisine into a country especially one largely unsampled and unheard of.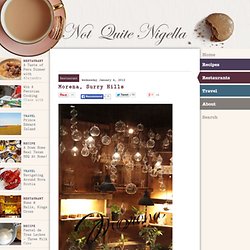 And for years native Peruvian chef Alejandro Saravia has toiled trying to introduce his country's cuisine to Australia through his Taste of Peru dinners and[ cooking classes]( chef-alejandro-saravia/). There is the struggle against using ingredients like guinea pig which many people associate with Peruvian cuisine, lest it become a gimmicky cuisine.
Bar H | Sydney Food Blog – I dream in chocolate. I don't usually buy group buying coupons.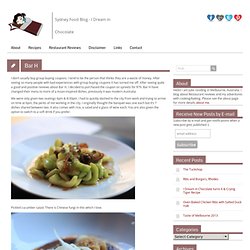 I tend to be the person that thinks they are a waste of money. After seeing so many people with bad experiences with group buying coupons it has turned me off. After seeing quite a good and positive reviews about Bar H, I decided to purchased the coupon on spreets for $79. Bar H have changed their menu to more of a Asian-inspired dishes, previously it was modern Australia. The Winery by Gazebo, Surry Hills | minibites – a Sydney food blog. The Winery has been around for quite some time now, and since my last visit it has been busy expanding its cheeky elegant glamour all over Sydney.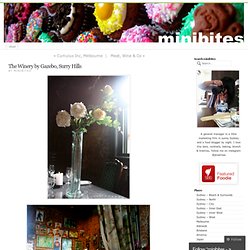 All aside, it's a gorgeous sunny day, and time to wind down with our annual company lunch banquet, so it's back to Crown St! The interior is an amusing mix, much like walking into the vintage store of a hoarder; overmelted candles, animal prints, uncoordinated draped curtains, stuffed animals on the wall and mismatching photo frames and furniture.
When the world stops spinning. ♥ - The Winery, Surry Hills. Bodega revisit, Surry Hills. It's been a year since my last visit, and it is still my favourite tapas place in Sydney!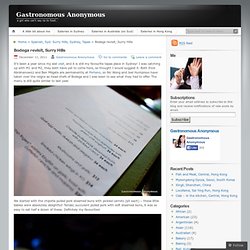 I was catching up with M1 and M2, they both have yet to come here, so thought I would suggest it. Both Elvis Abrahanowicz and Ben Milgate are permanently at Porteno, so Nic Wong and Joel Humpreys have taken over the reigns as head chefs of Bodega and I was keen to see what they had to offer. The menu is still quite similar to last year. Neild Avenue, Rushcutters Bay. This restaurant has now closed "So anyway, I was wearing what I call my adventure pants" my friend Ute leans over and tells me.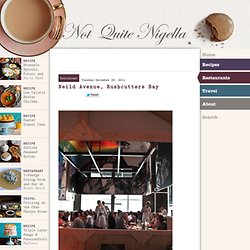 "Adventure pants? " Pendolino, Sydney | Penguin says Feed Me! Penguin says Feed Me A Sydney food blog Skip to content ← El Karim, Roseville Ribs and Burgers, Neutral Bay → Pendolino, Sydney.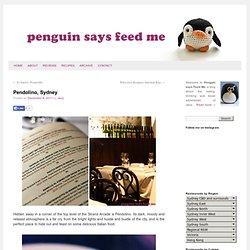 Jamie's Italian, Sydney | J.B. José. UPDATED: New post on Jamie's Italian located here.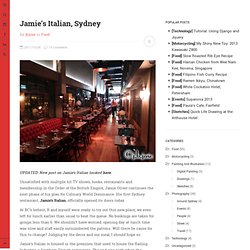 Unsatisfied with multiple hit TV shows, books, restaurants and membership in the Order of the British Empire, Jamie Oliver continues the next phase of his plan for Culinary World Dominance. His first Sydney restaurant, Jamie's Italian, officially opened its doors today. Restaurant Arras, Sydney. Restaurant Arras has relocated to Clarence Street, where the former Becasse used to be.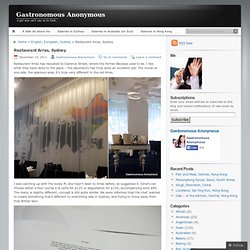 I like what they have done to the place – the decorators has truly done an excellent job! The mural on one side, the spacious area, it's truly very different to the old Arras. I was catching up with the lovely M, she hasn't been to Arras before, so suggested it. Diners can choose either a four course a la carte for $120 or degustation for $140, accompanying wine $80. The menu is slightly different, concept is still quite similar. Quay, Sydney - grabyourfork. Restaurant review: Arras. Rating: 15/20 Grown up ... the sparkling white Arras shuns Sydney's dining trends.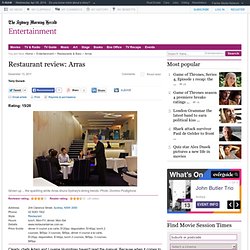 Photo: Domino Postiglione.
Australian Youth Hotel Restaurant, Glebe. No darlings, I haven't gone all YWCA on you. When Joan Holloway suggested lunching at the Australia Youth Hotel I did a double take. Because I don't know about you but I like my sheets crisp and toiletries aplenty and slippers fluffy. But I also know that Joan Holloway has good taste and knows my comfort zone very well. And she knows I'm all about food-and hell even if it were in a youth hostel if the food was good I'd visit it (just not stay there overnight). Parking Purdie the Prius in nearby Broadway Shopping Centre I take the short walk to the Australia Youth Hotel where I bump into Joan H. outside. Suckling Pig Recipe, Bungalow 8. Warning: this post contains images of whole pig "I don't suppose it's a good idea to name her" I say surveying the 7 kilo piglet on the tray.
I'm talking to George Diamond who is the Group Executive Chef for the Keystone Group's restaurants including Bungalow 8 where tomorrow we are to have a porcine feast with eight of my friends. Paddington Arms Hotel, Paddington. Paddington Arms which is located on the busy street of Oxford Street in Paddington is the new venture for the two-hatted Four in Hand restaurant, Colin Fassnidge.
Together with one of his old sous chefs, Neil Thompson , they have created a menu that is quite similar to Four in Hand, promoting nose to tail eating with a more relaxed feel. I quite like what they have done to the place, the spacious area and the booths, it's indeed very casual and a great place to hang out with friends over a nice meal. Now the food is no ordinary pub grub – it has an English / Irish twist to it, I really enjoy the food at Four in Hand, so had high expectations and it did not disappoint. I was meeting with the lovely suzchef. We have heard wonderful things about this place and we are both HUGE fans of Four in Hand. El Loco Mexican Cantina, Surry Hills. My fondest memories growing up had to be hot summers in downtown Los Angeles running amuck in Olivera St - A little laneway which was a destination for some yummy authentic mexican food. My family would always take me to this awesome mexican restaurant and little Gianna had tacos to her hearts content, if I finished my meal and managed to behave myself I would get to buy some mexican jumping beans from the street vendors.
I was easily amused back then, as I still am now. The Dip, Sydney City. The Dip is one of the latest Dude Food joints to hit Sydney and word about their tasty Hot Dawgs (that's Hot Dog for any baby boomers and Gen X-ers reading the post) and Pulled Pork Sandwich's has been the talk of the foodie town for weeks. What's Dude Food I hear my fleet of (one or two) baby-booming readers ask? Simply put it is American style junk/fast food cooked by cool and hip young chefs.
The food usually has an Asian or Mexican spin to it, and pork as well as tooth achingly sweet desserts are a must. The Carrington, Surry Hills. Omage restaurant review | Terry Durack. Graze (Pyrmont) - Going down in a Graze of glory. Foveaux. Omage - Restaurant reviews. Momofuku Seiobo | Terry Durack restaurant review. Osteria Balla, Pyrmont. Sokyo: Sydney meets Tokyo at The Star. Designer dessert: Adriano Zumbo Pâtissier launches at The Star. Oliver Brown - Top Ryde ~ Aroi Me By Amanda Jiang. Sparrow Gelato & Espresso - Lower North Shore - Crows Nest.
---