Personal Development
Limiting Yourself: The Key to Your Success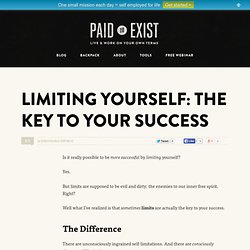 Is it really possible to be more successful by limiting yourself? Yes. But limits are supposed to be evil and dirty; the enemies to our inner free spirit.
Could You Walk Away From $8 Million in Easy Money?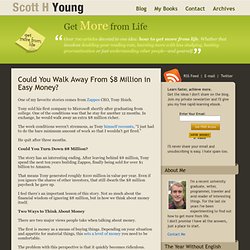 One of my favorite stories comes from Zappos CEO, Tony Hsieh. Tony sold his first company to Microsoft shortly after graduating from college. One of the conditions was that he stay for another 12 months.
But, especially this year, one is conscious of the many ways in which this year's graduating class has been ill served by their elders. They enter a bad job market, the hangover from decades of excessive borrowing. They inherit a ruinous federal debt. More important, their lives have been perversely structured. This year's graduates are members of the most supervised generation in American history. Through their childhoods and teenage years, they have been monitored, tutored, coached and honed to an unprecedented degree.
It's Not About You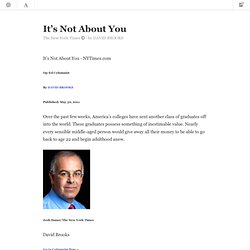 Get Organized
How to Organize Your Files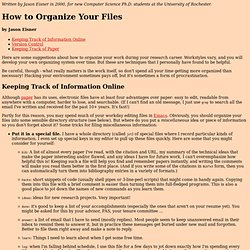 Written by Jason Eisner in 2000, for new Computer Science Ph.D. students at the University of Rochester. by Jason Eisner Here are some suggestions about how to organize your work during your research career. Workstyles vary, and you will develop your own organizing system over time. But these are techniques that I personally have found to be helpful. Be careful, though - what really matters is the work itself, so don't spend all your time getting more organized than necessary!
Yes, it really is that simple. If you want to improve your grades, you need to improve those study skills. Choose a specific place to study and get the materials you'll need to use while you study.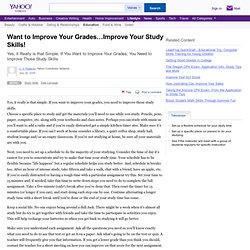 Want to Improve Your Grades…Improve Your Study Skills!
Are Your Dreams Impairing Your Happiness?
Posted in Balanced Lifestyle, Balanced Mind and Soul | November 27, 2011 | 15 Comments By Anastasiya Goers What would a life be without a dream? – A very boring existence, that's what.