Health
BRAIN OVER BINGE
A few posts back Julie Cowdroy wrote about the Below the Line campaign – a program in May that sees well-fed westerners live on $2 a day to experience what it's like for the world's poorest.
lentils: how to *really* eat them
6 clever ways to eat yoghurt (the most slimming food on the planet!?)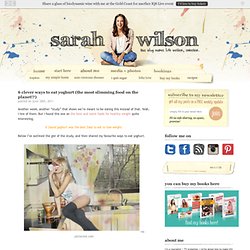 Another week, another "study" that shows we're meant to be eating this instead of that. Yeah, I tire of them.
17 of my best cooking tricks for real wellness
Here's a few cooking and eating tips I live by for a Tuesday.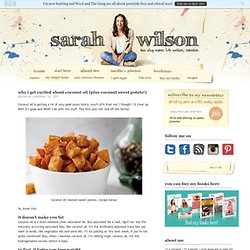 why i get excited about coconut oil (plus coconut sweet potato!)
Coconut oil is getting a lot of very good press lately…much of it from me!
Experts Discuss The Benefits of a Low-Carb, High-Fat Diet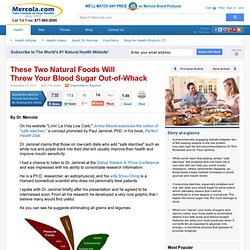 By Dr. Mercola
Sally Fallon's tips for eating breakfast
I'm a big fan of Sally Fallon and her "bible" Nourishing Traditions (in fact it's my all-time favourite manual…I VERY much recommend it).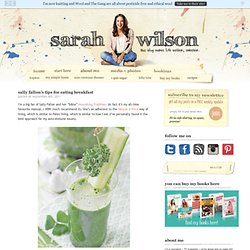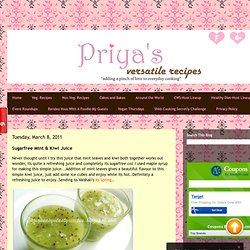 Never thought until i try this juice that mint leaves and kiwi both together works out wonder, its quite a refreshing juice and completely its sugarfree coz i used maple syrup for making this simple juice...Addition of mint leaves gives a beautiful flavour to this simple kiwi juice, just add some ice cubes and enjoy while its hot..Definitely a refreshing juice to enjoy..Sending to Vaishali's Its Spring ..
Sugarfree Mint & Kiwi Juice
Below is a list of portion sizes of some fresh fruits, not all necessarily low carb fruits, but suitable in these portions for even a low carb diet: But first, let's mention Lemons and Limes - These are used in small enough amounts, and usually mixed with other foods so their carb ratio is not enough to worry about.
Low Carb Fruits, Low Carb Vegetables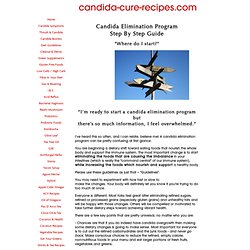 "Where do I start?" "I'm ready to start a candida elimination program but there's so much information, I feel overwhelmed."
Candida Elimination Program, Step By Step Guide
Cold and Refreshing Drink Recipes Sugar Free Recipes Lemon Lime Soda With Stevia This is best when you use the liquid stevia extract, as opposed to brewed stevia tea, so you don't dilute the bubbly effervescence of the soda.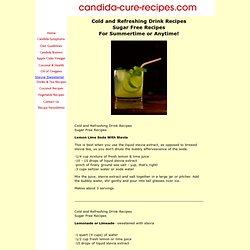 Cold and Refreshing Drink Recipes Sugar Free Recipes