Asian sweet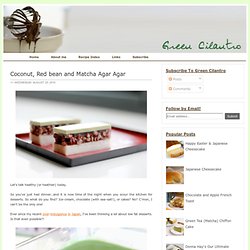 Let's talk healthy (or heathier) today. So you've just had dinner...and it is now time of the night when you scour the kitchen for desserts. So what do you find? Ice-cream, chocolate (with sea-salt!)
Coconut, Red bean and Matcha Agar Agar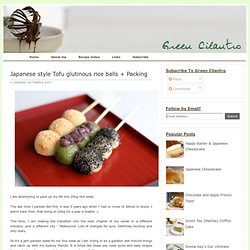 I am attempting to pack up my life into 20kg this week. The last time I packed like this, it was 5 years ago when I had to move to Illinois to study. I learnt back then, that living on 20kg for a year is doable ;) This time, I am making the transition into the next chapter of my career in a different industry...and a different city - Melbourne! Lots of changes for sure.
Japanese style Tofu glutinous rice balls + Packing
Obsession: Black sesame. Confession #1: Not a big fan of chocolate (except dark bitter ones). Confession #2: Craves comfort food on cooler days. Please come back soon summer. Confession #3: Get emotional when watching home renovation T.V shows as if I'm the owners of the house. I'm just kidding...hmmm really.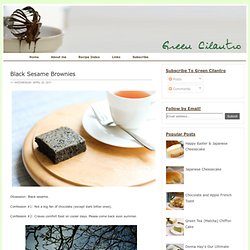 Black Sesame Brownies
This recipe has been posted long ago on my Chinese food blog. Here comes the English version for those who love the traditional Hong Kong sweet soup. This sweet green mung bean soup is great for summer, served either in warm or cold.
Sweet Green Mung Bean Soup (Hong Kong Dessert) - Christine's Recipes: Easy Chinese Recipes