Murphy Beds
Build Your Own Murphy Bed - Planet Green. How to Build a Murphy Bed. Use a table saw to rip 3/4x96" poplar boards to 1-1/4" finished width.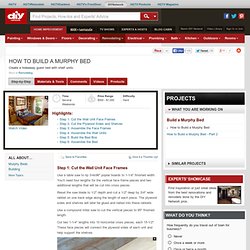 You'll need four lengths for the vertical face frame pieces and two additional lengths that will be cut into cross pieces. Reset the saw blade to 1/2" depth and cut a 1/2" deep by 3/4" wide rabbet on one back edge along the length of each piece. The plywood sides and shelves will later be glued and nailed into these rabbets. Use a compound miter saw to cut the vertical pieces to 95" finished length.
Murphy Beds Came First, Then Wall Beds and Now Flying Beds. A Murphy Table and A Murphy Bed Add a third purpose to your room!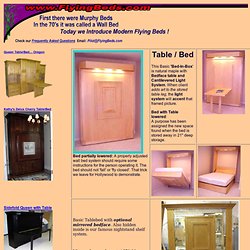 With a Bedface Table you have gone one step beyond the normal Murphy Bed concept. Instead of just hiding the real bed, now a table, a desk, or craft table can take the place of the hidden Flying Bed. Instead of a Dual Purpose Room, you have a Multi Purpose Room. Murphy Beds | Murphy Bed & Desk | Murphy Bed Sale | Wall Beds | Fold Out Bed | Wall Murphy Beds | More Space Place Main Site.
---