Life
Self improvement. Education/Knowledge. Household Hints. Disclaimer - As with all home remedies on this page, use at your own risk. 1) Flies or bees bothering you?
Spray them with hairspray and they will take a quick dive. 2) Sealed envelope - Put in the freezer for a few hours, then slide a knife under the flap. The envelope can then be resealed. (hmmmmmm...) Money Saving/Free Stuff. How to Pay Zero Interest on Your Credit Card Balance for up to Two Years.
Survival
Free Nature Sounds. Masterlock-01.png (PNG Image, 1872x1224 pixels) - Scaled (44%) Organization Tools. 22 Tools You Should Keep in Your Car. Post written by: Marc Chernoff Email "Always be prepared!"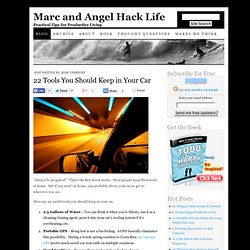 That's the Boy Scout motto. Most people keep their tools at home. But if you aren't at home, you probably drove your car to get to wherever you are. 10 Handy Numbers to Save in Your Mobile Phone. Email "Always be prepared!"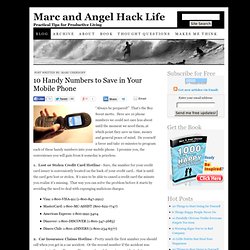 That's the Boy Scout motto. Here are 10 phone numbers we could not care less about until the moment we need them, at which point they save us time, money and general peace of mind. Do yourself a favor and take 10 minutes to program each of these handy numbers into your mobile phone. I promise you, the convenience you will gain from it someday is priceless.
---