Jeni
DIY Project: Placemat into Diaper Clutch. I've got a good green, DIY-er mommy project for you today!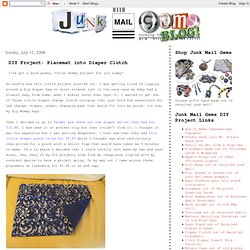 So here's how this little project started out. I was getting tired of lugging around a big diaper bag on short errands just in the rare case my baby had a blowout away from home, when I almost never even open it. Lovehome.co.uk: How to make an envelope cushion. You will need Three 46cm cushions 0.8m x 137cm each of three coordinating fabricsScissorsTape measureMatching threadsPinsSewing machine Step 1: Cutting out the pieces For our 46cm cushion pad, we used approximately 80cm of 137cm-wide fabric and cut the following pieces:Main cover 95 x 49cmTwo ties, 36 x 10cm eachFlap 49 x 18cmFacing 49 x 15cm Step 2: Sewing the ties Take two strips for ties, press in half, right sides together.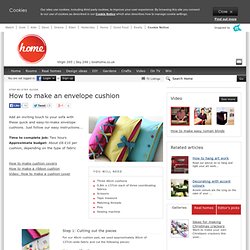 Stitch along one short edge and the long edge using a 1.5cm seam allowance. Turn through. Learn to Sew. To make all of these Instructables, download this collection of How To's as an ebook.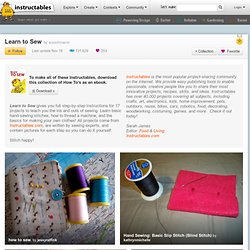 Download » Learn to Sew gives you full step-by-step instructions for 17 projects to teach you the ins and outs of sewing. Learn basic hand-sewing stitches, how to thread a machine, and the basics for making your own clothes! All projects come from Instructables.com, are written by sewing experts, and contain pictures for each step so you can do it yourself. Stitch happy! T Shirt Shrug. How romantic.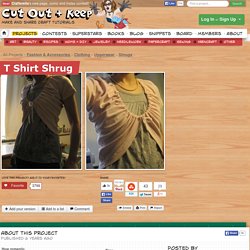 My friend and I went to the arthall in Rotterdam and saw an exhibition called ICON DRESSED designed by Annette Meyer, each garment was made of paper and represented a decade of women clothing from the 1800's till now. I was amazed by a garment which looked exactly like the dress Keira Knightley wore in Pride & Prejudice, I went home got into a romantic state of mind, converted that into creativity and made this.
Boden Boulevard Necklace Knockoff. Did you know Mother's Day is about a week and half away??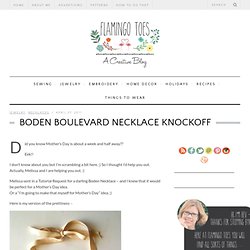 Eek!! I don't know about you but I'm scrambling a bit here. ;) So I thought I'd help you out. Actually, Melissa and I are helping you out. :) Melissa sent in a Tutorial Request for a darling Boden Necklace – and I knew that it would be perfect for a Mother's Day idea. Or a "I'm going to make that myself for Mother's Day" idea. ;) Handmadebooks: I am the emperor.
---