Jeni - DIY & Craft Projects
Vase Groupings: Floral Inspiration for Summertime | Apartment Therapy San Francisco. DIY Cake Stand. It seems as though all sorts of cute party decorating items are "all the rage" these days–cake stands, tiered plates, apothecary jars, hurricane lamps, etc.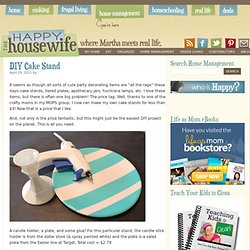 I love these items, but there is often one big problem! The price tag. Well, thanks to one of the crafty moms in my MOPS group, I now can make my own cake stands for less than $3! Boden Boulevard Necklace Knockoff & Flamingo Toes. Did you know Mother's Day is about a week and half away??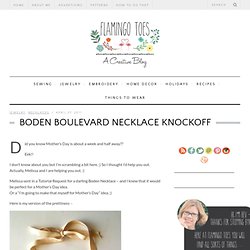 Eek!! I don't know about you but I'm scrambling a bit here. ;) So I thought I'd help you out. Actually, Melissa and I are helping you out. :) Melissa sent in a Tutorial Request for a darling Boden Necklace – and I knew that it would be perfect for a Mother's Day idea. DIY Doily Lamp. How to grow a Rainbow Rose, Naturally. In 2004, two dutch companies, River Flowers and F.J.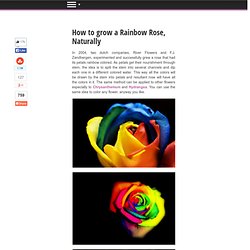 Zandbergen, experimented and successfully grew a rose that had its petals rainbow colored. As petals get their nourishment through stem, the idea is to split the stem into several channels and dip each one in a different colored water. Make: A Photo Clip Frame « DIY Maven. Confession: I am compelled to take pictures of flowers and insects.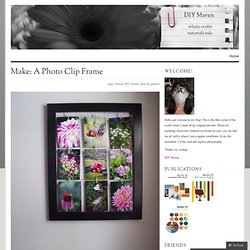 Problem: I don't usually choose these to send to the printer. Solution: a photo clip frame. Credit: I saw something very similar to this at Pier 1 a few weeks ago and decided it would be a perfect way to display a bunch of my flowers and bugs; I also decided that I had everything on hand to make one…so I did. The original costs 28 bucks; mine cost 0 bucks. No kidding! DIY Doily Lamp. Mason Jar Key Hook. Hey guys!
Hope you all had a great Wednesday I have a fun project to share today! I started with a 1×8 board from Lowe's that I cut to about 2′ long. Things to Make. Project Ideas.
---