Education
Building a better brain: Strengthening your mental muscle. According to the newest theory of aging and memory , you can build your brain power through a process called "scaffolding.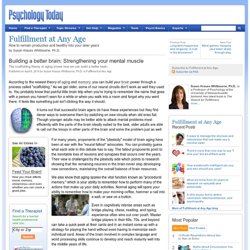 " As we get older, some of our neural circuits don't work as well they used to. You probably know that painful little brain blip when you're trying to remember the name that goes with a person you haven't seen for a while or when you walk into a room and forgot why you went there. It feels like something just isn't clicking the way it should. It turns out that successful brain agers do have these experiences but they find clever ways to overcome them by switching on new circuits when old ones fail. 29 Semi-Productive Things I Do Online When I?m Trying to Avoid Real Work. Post written by: Marc Chernoff Email You don't always have to work hard to be productive.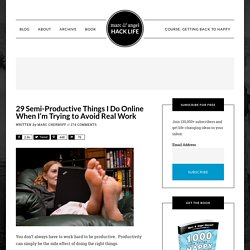 Productivity can simply be the side effect of doing the right things. So here's a list of 29 semi-productive things I do online when my mind is set on avoiding 'real work.' Check delicious popular tags like 'useful,' 'tutorials,' 'tips,' 'howto,' 'advice,' 'entrepreneurship,' etc. for interesting, educational articles to read.Watch one of the thousands of educational videos streaming at TED.com, Academic Earth and Teacher Tube.Read an online book list and find a new book to grab next time I'm at the library. The Little Book of Procrastination Remedies | zen habits. Post written by Leo Babauta.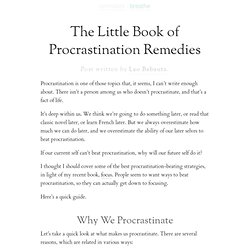 Procrastination is one of those topics that, it seems, I can't write enough about. There isn't a person among us who doesn't procrastinate, and that's a fact of life. The 101 Most Useful Websites on the Internet. 06 Apr 2014 The 101 Most Useful Websites on the Internet is a frequently updated list of lesser-known but wonderful websites and cool web apps. couch mode print story Here are some of the most useful websites on the internet that you may now know about.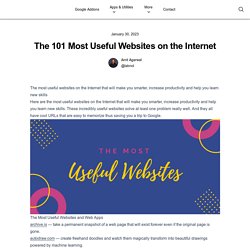 These web sites, well most of them, solve at least one problem really well and they all have simple web addresses (URLs) that you can memorize thus saving you a trip to Google. Top 100 Undiscovered Web Sites - AfterVote. 100 Websites You Should Know and Use. Entertainment Meet David Peterson, who developed Dothraki for Game of Thrones There are seven different words in Dothraki for striking another person with a sword.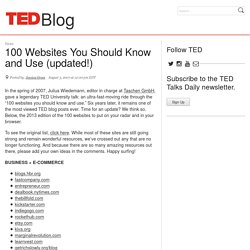 Top 40 Useful Sites To Learn New Skills. Post written by: Marc Chernoff Email The web is a powerful resource that can easily help you learn new skills.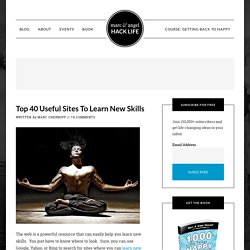 You just have to know where to look. Sure, you can use Google, Yahoo, or Bing to search for sites where you can learn new skills. The Monster List of 99 Online Learning Resources | Bloomfire Blog. 101 Excellent Resources And Tools For Students Of Any Age | Brain Training 101. Whether you're a student just starting the school year or you're a lifelong learner like me, you'll find resources, tools and a ton of fun stuff to stash in your virtual backpack.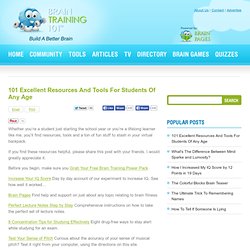 If you find these resources helpful, please share this post with your friends. I would greatly appreciate it. Before you begin, make sure you Grab Your Free Brain Training Power Pack. Increase Your IQ Score Day by day account of our experiment to increase IQ. Flashcards: The world's largest online library of printable flash cards.
---