Research
OCLCResearch's Channel. Google Scholar author fail. Eight months after setting up my Google Scholar author profile and "claiming" my papers I have received my first alert.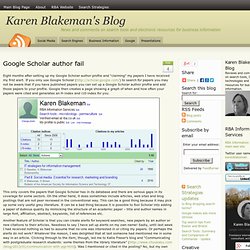 If you only use Google Scholar ( to search for papers you may not be aware that if you have published papers you can set up a Google Scholar author profile and add those papers to your profile. Google then creates a page showing a graph of when and how often your papers were cited and generates an H-index and i10-index for you. This only covers the papers that Google Scholar has in its database and there are serious gaps in its coverage for some sectors.
RiLIES PROJECT « LIS Research Coalition. The Research in Librarianship – Impact Evaluation Study (RiLIES – pronounced "realise") refers to two projects supported by the LIS Research Coalition.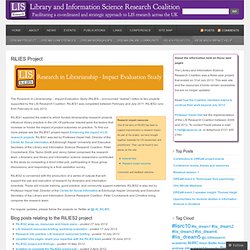 RiLIES1 was completed between February and July 2011. RiLIES2 runs from February to July 2012. Research impact resources: One of the aims of RiLIES has been to support improvements to research impact. As part of the project, we have brought together materials for LIS researchers and practitioners. They can be found in two places on this site: Library and Information Research Journal. RIN report on researchers & IL.
The ability of researchers to handle information is of vital importance.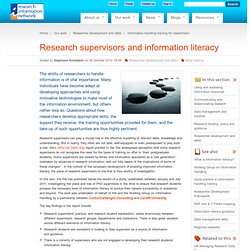 Many individuals have become adept at developing approaches and using innovative technologies to make most of the information environment, but others rather less so. Questions about how researchers develop appropriate skills, the support they receive, the training opportunities provided for them, and the take-up of such opportunities are thus highly pertinent. Research supervisors can play a crucial role in the effective imparting of relevant skills, knowledge and understanding. But in reality, they often are not able, well-equipped or even predisposed to play such a role. RIN's Mind the Skills Gap report pointed to the "the widespread perception that some research supervisors do not recognise the need for the types of training on offer to 'their' postgraduate students.
MyRI Homepage. Testimonials "Your tutorial and worksheets [...] are very thorough and demonstrate a comprehensive knowledge and understanding of the issues and challenges associated with measuring research impact.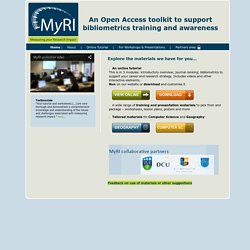 " More... An online tutorial This is in 3 modules: introductory overview; journal ranking; bibliometrics to support your career and research strategy.
---