Random
Clever Travel Hacks for your Awesome Trip
How to Open a Bottle of Wine with Everything But a Corkscrew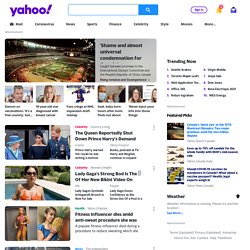 Say you're stranded on a desert island with nothing but a bottle of wine and—inexplicably!—the contents of your entire junk drawer. But a corkscrew is nowhere to be found amidst the clutter. What do you do?
The 30 Best Films of the Decade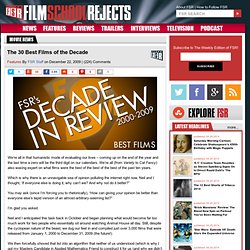 We're all in that humanistic mode of evaluating our lives – coming up on the end of the year and the last time a zero will be the third digit on our calendars. We're all (from Variety to Cat Fancy) also waxing expert on what films were the best of the best of the best of the past ten years.
Tips and Tricks for Extending Battery Life in iOS 7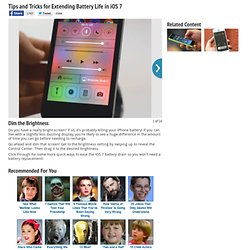 Dim the Brightness 1 of 16 Do you have a really bright screen? If so, it's probably killing your iPhone battery! If you can live with a slightly less dazzling display, you're likely to see a huge difference in the amount of time you can go before needing to recharge. Go ahead and dim that screen! Get to the brightness setting by swiping up to reveal the Control Center.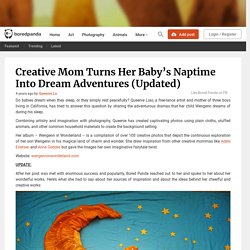 Creative Mom Turns Her Baby's Naptime Into Dream Adventures
Do babies dream when they sleep, or they simply rest peacefully? Queenie Liao, a free-lance artist and mother of three boys living in California, has tried to answer this question by sharing the adventurous dramas that her child Wengenn dreams of during his sleep. Combining artistry and imagination with photography, Queenie has created captivating photos using plain cloths, stuffed animals, and other common household materials to create the background setting. Her album – Wengenn in Wonderland – is a compilation of over 100 creative photos that depict the continuous exploration of her son Wengenn in his magical land of charm and wonder.
31 More Quotes That Will Give You Chills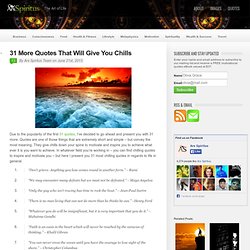 Due to the popularity of the first 31 quotes, I've decided to go ahead and present you with 31 more. Quotes are one of those things that are extremely short and simple – but convey the most meaning. They give chills down your spine to motivate and inspire you to achieve what ever it is you want to achieve. In whatever field you're working in – you can find chilling quotes to inspire and motivate you – but here I present you 31 most chilling quotes in regards to life in general. "Don't grieve. Anything you lose comes round in another form." – Rumi"We may encounter many defeats but we must not be defeated." – Maya Angelou"Only the guy who isn't rowing has time to rock the boat." – Jean-Paul Sartre"There is no man living that can not do more than he thinks he can."
30 Albums That Define Cool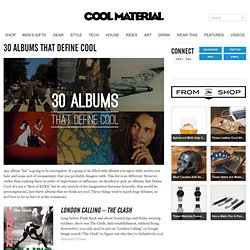 Any album "list" is going to be incomplete. It's going to be filled with albums you agree with, artists you hate and some sort of commentary that you probably disagree with.
Bookshelf Porn
- StumbleUpon
Because Every Country Is The Best At Something
Home > Quotes > (Images) 56 Inspirational Picture Quotes That Will Motivate Your Mind, Body & Soul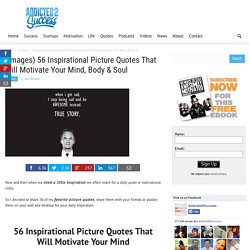 (Images) 56 Inspirational Picture Quotes That Will Motivate Your Mind
Ah, to be a teenager.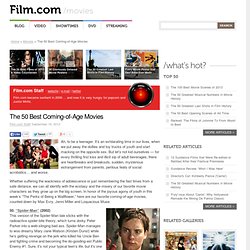 The 50 Best Coming-of-Age Movies
Midnight in Paris
25 Spectacular Movies You (Probably) Haven't Seen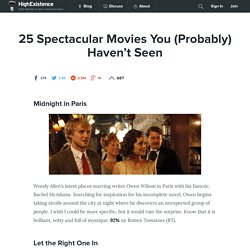 18 ways to educate yourself every day (because nerds are sexy)
"Anyone who stops learning is old, whether at 20 or 80. Anyone who keeps learning stays young.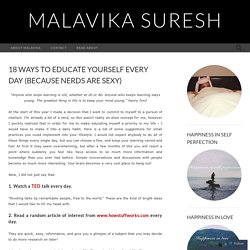 Drum Kit
100 Time-Saving Search Engines for Serious Scholars
While burying yourself in the stacks at the library is one way to get some serious research done, with today's technology you can do quite a bit of useful searching before you ever set foot inside a library.
The 20 Most Beautiful Bookstores in the World
[Editor's note: In celebration of the holidays, we're counting down the top 12 Flavorwire features of 2012.
Become a Morning Person: 8 Tips from a Former Night Owl I spent most of my early and mid 20s working the second shift at newspapers.
Become a Morning Person: 8 Tips from a Former Night Owl | Healthy Living
The Scale of the Universe 2
Drinkify
Various quotations | #244
10 Weird and Mysterious Places on Earth
'Mockingbird' film at 50: Lessons on tolerance, justice, fatherhood hold true
How-To: Easily Remove the Vocals from Most Songs | r3dux.org
25 clever ideas to make life easier