Bible
Bridging the Gap
Calvary Chapel Aurora
GraceThruFaith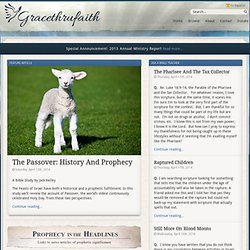 A Bible Study by Jack Kelley "All those the Father gives me will come to me, and whoever comes to me I will never drive away. For I have come down from heaven not to do my will but to do the will of him who sent me. And this is the will of him who sent me, that I shall lose none of all those he has given me, but raise them up at the last day.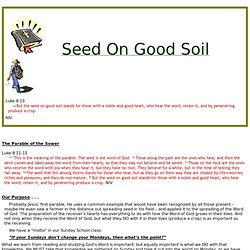 Seed On Good Soil …
The Parable of the Sower Luke 8:11-15 11 "This is the meaning of the parable: The seed is the word of God. 12 Those along the path are the ones who hear, and then the devil comes and takes away the word from their hearts, so that they may not believe and be saved. 13 Those on the rock are the ones who receive the word with joy when they hear it, but they have no root. They believe for a while, but in the time of testing they fall away. 14 The seed that fell among thorns stands for those who hear, but as they go on their way they are choked by life's worries, riches and pleasures, and they do not mature. 15 But the seed on good soil stands for those with a noble and good heart, who hear the word, retain it, and by persevering produce a crop.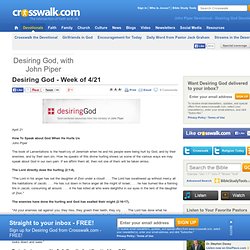 Crosswalk
Serve the Lord with fear, and rejoice with trembling. Kiss the Son, lest he be angry, and you perish in the way, for his wrath is quickly kindled. Blessed are all who take refuge in him. "Serve the Lord with fear . . . This command does not cancel out Psalm 100:2: "Serve the Lord with gladness." Serving the Lord with fear and serving the Lord with gladness do not contradict each other.