Ideal wedsites
Home | Murdoch University in Perth Australia
Murdoch is where free thinkers from all over the world come together to make a difference. We currently have more than 22,000 students and 2,000 staff working together, exploring new ways of thinking and making discoveries. We're proud of our national reputation for excellence in teaching, research and student satisfaction. Our students are enrolled in over 200 undergraduate degrees and postgraduate courses across a range of disciplines, including Veterinary Science, Law, Education, Psychology, Business, Security Terrorism and Counterterrorism and Nursing. We take a flexible approach to learning, providing scholarships and a number of admission pathways, plus a range of internal and external study options to help our students fit study around their work and lifestyle commitments.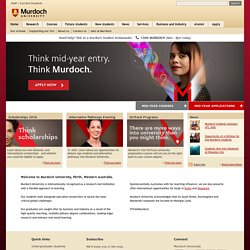 NYU's Literary Mews Festival Brings Sebastian Barry, Lydia Davis, George Prochnik & Others to Celebrate International Literature | Details » Rights Pioneers Edith Windsor and Rachel Robinson Are Among Four NYU Alums to Be Honored at Annual Lunch | Details » Yellen, Rivera, Kagan, Franklin, and Edelman to Receive Honorary Degrees at 2014 Commencement | Details »
Welcome to Windermere School in the heart of the Lake District National Park. Established in 1863, we are a boarding and day school for boys and girls from age 2 to 18. With access to a spectacular greater classroom, we can really live our school motto: Vincit qui se Vincit. We believe Windermere School is unique and very special, with the right balance of academic emphasis, physical well-being and a commitment to serving society. We equip our students with the skills, values and qualifications that provide an enduring foundation for the future.
Windermere School | Boarding Schools UK