Posters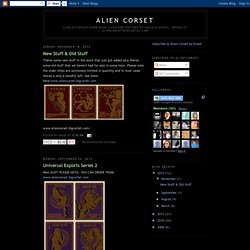 Alien Corset
This is the first of 4 sets that will be coming up over the next few months. They are handprinted with an iridescent red, a pearlescent gold and then a metallic gold. Theres also a bunch of new stuff that has nothing to do with the Export series which I'll be listing at the end of the month. I've been amiss in listing new releases so from now on I'll try and release around 3 a month as opposed to waiting every 4 months and listing 13 at a time. See you in a few weeks.
The art of Ken Taylor | Art & Design
D&L screenprinting - home
Mondo: Posters
Well folks, I've got one hell of a giveaway for you today. Todd Slater reached out with the generous offer to give three lucky readers a copy of his sold-out "Strange Attraction" art print (an 18″ x 24″ screenprint). The first winner will receive the blue version (edition of 100), the second will receive the black variant (edition of 17), and the third will receive the red subscriber variant (edition of 38).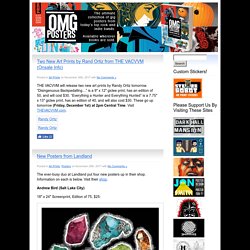 Welcome
04.12.14- - - - this means something. - neon signs, making of - new bruce timm batman - batman vs the terminator - fed up. i love sugar. 04.01.14- - - ah, april 1st. the perfect day to post true information. everyone will believe you. but in all seriousness, received my money from the gallery and heres where the charity portion went. hopefully its pretty transparent for everyone, email me if you need better details to followup with anyone, just to make sure its all above board. thanks for your orders, as always. 03.23.14- - - i am working, i am working. in other news - Wheels for kids. wow. more info about this program. - traits / hulk - yikes. shark. - jeff goldblums laugh - let it go...metal - mike mignolas top pieces 03.18.14- - - man this year is flying by. - type men - it paints me to see this- otomo. the man. - land of the lost prometheus.- ah...dolphin. - more dolphins. or whales - learning through disney. - squirrel me round.
Aaron Horkey - Rock of Eye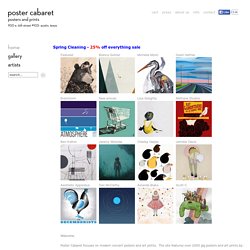 Welcome, Poster Cabaret focuses on modern concert posters and art prints. The site features over 2000 gig posters and art prints by: Aesthetic Apparatus, The Cricket Press, Dan Grzeca, Daymon Greulich, Delicious Design League, Derek Hess, Diana Sudyka, Dirk Fowler, Emek, Furturtle Printworks, Gary Houston, Guy Burwell, Invisible Creature, Jay Ryan, Ken Taylor, Kevin Tong, Landland, Leia Bell, Mat Daly, Methane Studios, Micah Smith, Michael Michael Motorcycle, Nate Duval, Patent Pending, Rhys Cooper, Sonnenzimmer, Spike Press, The Little Friends of Printmaking, The Small Stakes, Vahalla Studios The gallery also has an excellent selection of art prints from a wide range of artists: Adam Hancher, Adam Haynes, Alberto Cerriteno, Amanda Blake, Amy Ruppel, Andrew Holder, Andy Kehoe, Bee Things, Blanca Gomez, Brett Amory, Charley Harper, Eleanor Grosch, Evan B.
welcome - tad carpenter
Was really great to work with a personal favorite of ours, El Ten Eleven. We made this poster for their recent show at the Record Bar here in KC, MO. The theme of their recent album, Transitions, and the fact that they are only a duo played significant influence in the design of this 3 color print on Mr. French Speckletone paper. An edition of 100 copies signed and numbered.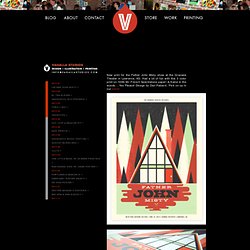 Vahalla Studios
Aesthetic Apparatus
Inside the Rock Poster Frame Store