Flipped Instruction
How flipping works for you Save time; stop repeating yourself Record re-usable video lessons, so you don't have to do it again next year. It's easy to make minor updates to perfect lessons over time once the initial recording is done.
To flip or not to flip? That is not the essential question. In assessing the optimal classroom dynamics, I would argue that we need to take a good look at what our classrooms look like right now, what activities our students gain the most from, what we wished we had more time for, and what things about our class we wish we could eliminate. Do I flip: yes. Would I recommend it: enthusiastically. But let's start by rewinding for a minute, to my 2009 AP Calculus class.
Teacher Toolkit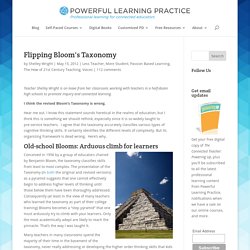 Teacher Shelley Wright is on leave from her classroom, working with teachers in a half-dozen high schools to promote inquiry and connected learning. I think the revised Bloom's Taxonomy is wrong. Hear me out. I know this statement sounds heretical in the realms of education, but I think this is something we should rethink, especially since it is so widely taught to pre-service teachers. I agree that the taxonomy accurately classifies various types of cognitive thinking skills. It certainly identifies the different levels of complexity.
Flip Your Classroom Reach Every Student in Every Class Every Day By Jonathan Bergmann and Aaron Sams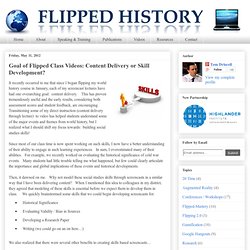 Goal of Flipped Class Videos: Content Delivery or Skill Development?
It recently occurred to me that since I began flipping my world history course in January, each of my screencast lectures have had one overarching goal: content delivery. This has proven tremendously useful and the early results, considering both assessment scores and student feedback, are encouraging. Transitioning some of my direct instruction (content delivery through lecture) to video has helped students understand some of the major events and themes from world history, but I realized what I should shift my focus towards: building social studies skills! Since most of our class time is now spent working on such skills, I now have a better understanding of their ability to engage in such learning experiences. In sum, I overestimated many of their abilities.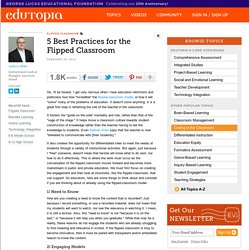 Ok, I'll be honest. I get very nervous when I hear education reformists and politicians tout how "incredible" the flipped classroom model, or how it will "solve" many of the problems of education. It doesn't solve anything. It is a great first step in reframing the role of the teacher in the classroom. It fosters the "guide on the side" mentality and role, rather than that of the "sage of the stage." It helps move a classroom culture towards student construction of knowledge rather than the teacher having to tell the knowledge to students.
Teacher Vodcasting and Flipped Classroom Network
Bamboo Capture | Wacom Americas
Flipped Model For Social Studies.pdf - Google Docs
Unplugged This past week I had a chance to unplug and disconnect. My college-aged son, Caleb, and I had a chance to go on a canoeing trip along the Wisconsin River for four days. We paddled 92 miles from Sauk City Flipping a High School Dropout Recovery Program I had a chance to sit down with Mary Tsadi at the ISTE 2013 conference in San Antonio a few weeks ago.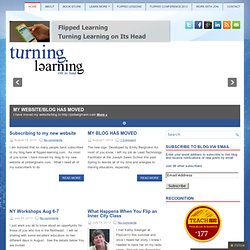 Implementing a Flipped Classroom: An Instructional Module
Have you "flipped" yet? My colleagues have this week; it's PSSA week in Pennsylvania (PSSAs are standardized tests.). That's not the flipped I meant, however.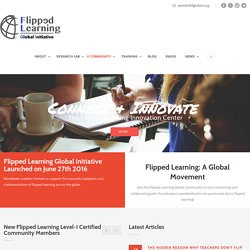 Welcome to the Flipped Learning Network™ Ning, the first online community of practice FOR and BY Flipped Educators! ________________________________________________________________ Want to Join?
This site is maintained by Jerry Overmyer and is devoted to teaching educators how to use screencasting to flip your classroom. This method of learning is the brainchild of Jonathan Bergmann and Aaron Sams who are pioneers in the field of using screencasting in education. The official site is now at the Flipped Learning Network. The flipped classroom model encompasses any use of using Internet technology to leverage the learning in your classroom, so you can spend more time interacting with students instead of lecturing. This is most commonly being done using teacher created videos (aka vodcasting) that students view outside of class time. It is called the flipped class because the whole classroom/homework paradigm is "flipped".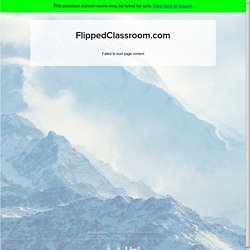 driscoll-class.wikispaces
Katie Gimbar's "Flipped" Classroom
I attended a public middle and high school between 1989-1995 in Illinois. I never had to take high-stakes standardized tests. My teachers never used one minute of instructional time preparing me for taking a standardized test.