Social Media Tips for Musicians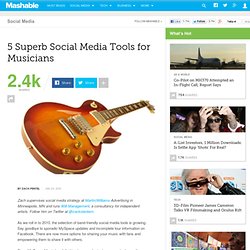 Zach supervises social media strategy at Martin|Williams Advertising in Minneapolis, MN and runs 808 Management , a consultancy for independent artists. Follow him on Twitter at @zackolantern .
5 Superb Social Media Tools for Musicians
Five social media tips for indie musicians | Technology | Los An
Actor and musician Jared Leto takes questions at the Social Media Summit.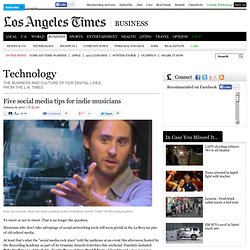 In a recent post on the Nine Inch Nails forum , Trent Reznor advises unknown artists how to better utilize the Internet and new media to promote themselves. He has some great thoughts that apply to most organizations, even if they have nothing to do with the music industry.
How Trent Reznor's new media tips for musicians apply to your or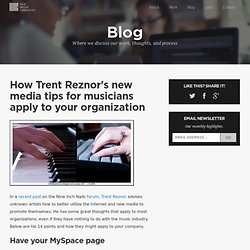 Note: This is the first post from Jason Feinberg, MediaShift's new music correspondent.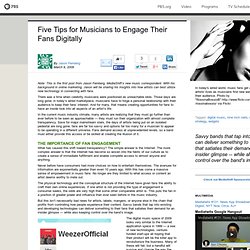 MediaShift . Five Tips for Musicians to Engage Their Fans Digita
5 Twitter Tips for Bands & Musicians
Social media has opened a host of new opportunities for bands and musicians at all levels to connect on a personal level with fans. If you're a band or musician, you should be on Twitter. There I said it.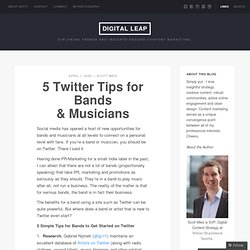 Using Search Engine Optimization To Get Your Music Discovered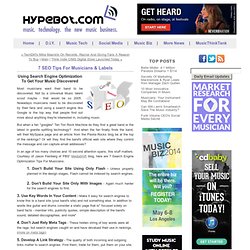 7 SEO Tips For Musicians & Labels
Today's musicians, both mainstream and indie, are using social media to connect with fans, build anticipation, and generate revenue in new and unique ways.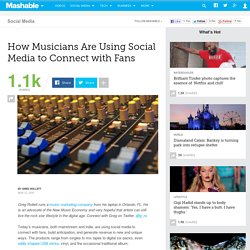 How Musicians Are Using Social Media to Connect with Fans