Social Media Tips for Musicians
5 Superb Social Media Tools for Musicians. Zach supervises social media strategy at Martin|Williams Advertising in Minneapolis, MN and runs 808 Management, a consultancy for independent artists.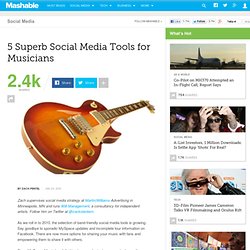 Follow him on Twitter at @zackolantern. As we roll in to 2010, the selection of band-friendly social media tools is growing. Say goodbye to sporadic MySpace updates and incomplete tour information on Facebook. There are now more options for sharing your music with fans and empowering them to share it with others. Since MySpace Music has failed to show much staying power, tools on other networking sites have risen to fill the void. Five social media tips for indie musicians | Technology | Los An. Actor and musician Jared Leto takes questions at the Social Media Summit.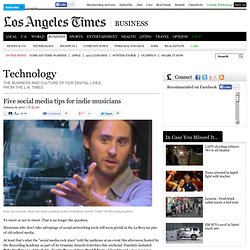 Credit: The Recording Academy To tweet or not to tweet. That is no longer the question. How Trent Reznor's new media tips for musicians apply to your or. In a recent post on the Nine Inch Nails forum, Trent Reznor advises unknown artists how to better utilize the Internet and new media to promote themselves.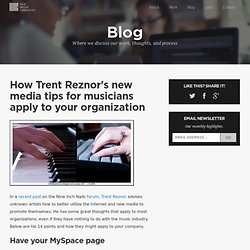 He has some great thoughts that apply to most organizations, even if they have nothing to do with the music industry. Below are his 14 points and how they might apply to your company. Have your MySpace page MySpace is the social network of choice for musicians. For your organization, a strong LinkedIn community or a well-developed Facebook page may be the more appropriate route.
Five Tips for Musicians to Engage Their Fans Digita. Note: This is the first post from Jason Feinberg, MediaShift's new music correspondent.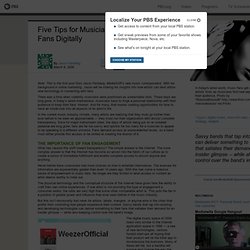 With his background in online marketing, Jason will be sharing his insights into how artists can best utilize new technology in connecting with fans. There was a time when celebrity musicians were positioned as unreachable idols. 5 Twitter Tips for Bands & Musicians. Social media has opened a host of new opportunities for bands and musicians at all levels to connect on a personal level with fans.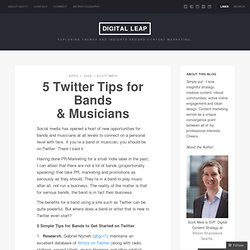 If you're a band or musician, you should be on Twitter. There I said it. 7 SEO Tips For Musicians & Labels. Using Search Engine Optimization To Get Your Music Discovered Most musicians want their band to be discovered.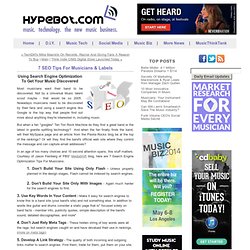 Not by a Universal Music talent scout maybe - that would be so 2005. Nowadays musicians need to be discovered by their fans and using a search engine like Google is the top way that people find out more about anything they're interested in, including music. But when a fan "googles" Ten Ton Rock Machine do they find a great band or the latest in granite splitting technology? How Musicians Are Using Social Media to Connect with Fans. Greg Rollett runs a music marketing company from his laptop in Orlando, FL.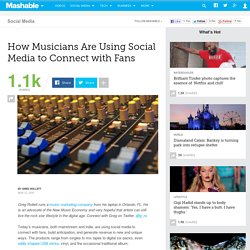 He is an advocate of the New Music Economy and very hopeful that artists can still live the rock star lifestyle in the digital age. Connect with Greg on Twitter, @g_ro. Today's musicians, both mainstream and indie, are using social media to connect with fans, build anticipation, and generate revenue in new and unique ways. The products range from singles to mix tapes to digital six-packs, even oddly shaped USB sticks, vinyl, and the occasional traditional album.
---