Web 3.0
Pragmatic web. The Pragmatic Web consists of the tools, practices and theories describing why and how people use information.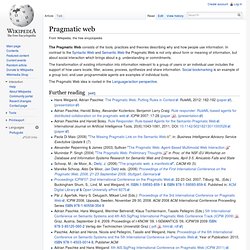 In contrast to the Syntactic Web and Semantic Web the Pragmatic Web is not only about form or meaning of information, but about social interaction which brings about e.g. understanding or commitments. The transformation of existing information into information relevant to a group of users or an individual user includes the support of how users locate, filter, access, process, synthesize and share information. Web 3.0. Historia de la web 3.0 La primera referencia a este futuro de la web, se acuñó en 2001, al aparecer publicado en un artículo científico de la American Scientific y a su autor, Tim Berners-Lee, apuntando a un entorno online idílico donde las máquinas pueden interpretar páginas web de la misma forma que los humanos.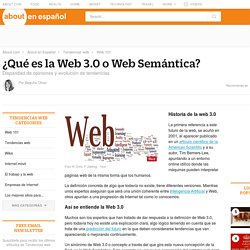 La definición concreta de algo que todavía no existe, tiene diferentes versiones. Mientras unos expertos aseguran que será una unión coherente entre Inteligencia Artificial y Web, otros apuntan a una progresión de Internet tal como lo conocemos. Así se entiende la Web 3.0 Muchos son los expertos que han tratado de dar respuesta a la definición de Web 3.0, pero todavía hoy no existe una explicación clara, algo lógico teniendo en cuenta que se trata de una predicción del futuro en la que deben considerarse tendencias que van apareciendo o mejorando continuamente.
Web 3.0 – Innovation Nightmare or Disruptive Catalyst? If you're finding it difficult to innovate, scale and source the proper talent to develop software and valuable digital assets in Web 2.0 – driven by astounding technology fragmentation in the mobile & tablet space – then the emerging Web 3.0 will be your worst nightmare.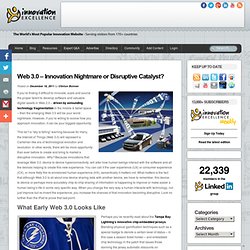 However, if you're willing to evolve how you approach innovation, it can be your biggest opportunity. This isn't a "sky is falling" warning because for many, the Internet of Things (Web 3.0) will represent a Cambrian-like era of technological evolution and revolution. What is Web 3.0, anyway? Unfortunately, to understand Web 3.0, people need to first understand Web 2.0.

A difficult enough task in itself, but luckily there is a simple enough analogy to help clarify. Before the term Web 2.0 first surfaced in 1999, the internet can be described as being similar to a huge library; there is access to a wealth of information, but only if you know where to find it. The worldwide web offered a completely passive experience for the user, and if it did not have what you were looking for, then tough luck. Web 2.0 was not a change in technical specification of the worldwide web, but a change in the philosophy of software developers and web users. It brought a deluge of user-generated web content in the form of social networking sites, such as Facebook, blogs, wikis and video sharing sites, such as YouTube.
Forecast 2020: Web 3.0+ and Collective Intelligence « simple processes. "We know what we are, but we know not what we may become" – Shakespeare The ancient Chinese curse or saying — "May you live in interesting times." — is upon us.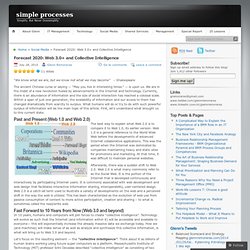 We are in the midst of a new revolution fueled by advancements in the Internet and technology. Currently, there is an abundance of information and the size of social interaction has reached a colossal scale. Within a span of just one generation, the availability of information and our access to them has changed dramatically from scarcity to surplus. What humans will do or try to do with such powerful surplus of information will be the main topic of this article. Welcome to Web 3.0, The Contextual Web. "The Attention Internet" we've lived in for the past decade has been all about the business of amassing eyeballs at content sites, either through massive scale—Yahoo, AOL/Huffington Post, You Tube—or by providing search for content---Google, Bing, Ask.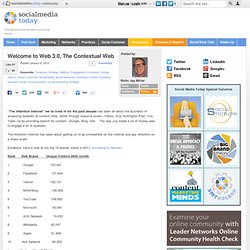 The way you made a lot of money was to engage a lot of eyeballs. The Attention Internet has been about getting us to go somewhere on the Internet and pay attention on a mass scale. Evidence: have a look at the top 10 brands online in 2011, according to Neilsen: Rank Web Brand Unique Visitors (000) month 1 Google 153,441. Say Hello to Web 3.0. The internet is ever changing media platform.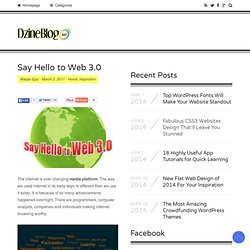 The way we used internet in its early days is different than we use it today. It is because of so many advancements happened overnight. There are programmers, computer analysts, companies and individuals making internet browsing worthy. Although, we have come long way but one needs to remember his starting point. It was not very long when Web 1.0 was introduced which quickly transformed into Web 2.0. Google+ y la Web 3.0. Debes estar en Google+ sí o sí.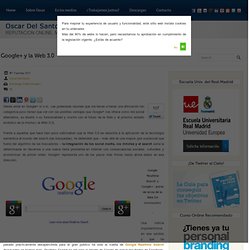 Las poderosas razones que me llevan a hacer una afirmación tan categórica poco tienen que ver con las posibles ventajas que Google+ nos ofrece como red social alternativa, su diseño o su funcionalidad y mucho con el futuro de la Web y el próximo estadio evolutivo de la misma ( la Web 3.0). Frente a aquellos que hace bien poco vaticinaban que la Web 3.0 se reduciría a la aplicación de la tecnología semántica al mundo del search (las búsquedas), he defendido que – más allá de una mejora (por sustancial que fuera) del algoritmo de los buscadores – la integración de los social media, los móviles y el search sería la determinante en llevarnos a una nueva tierra prometida en Internet con consecuencias sociales, culturales y económicas de primer orden. Google+ representa uno de los pasos más firmes hasta ahora dados en esa dirección. Google 'Realtime Search' y Google+ : punta de lanza de la Web 3.0 (recreación)
Web 3.0: La Web Inteligente | mbasilico.com.ar. La evolución de la Web podemos resumirla en el siguiente gráfico: Web 1.0 Fue la web estática, publicación de contenido por ciertas personas.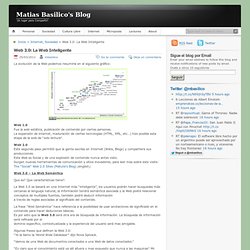 La expansión de internet, maduración de ciertas tecnologías (HTML, XML, etc…) hizo posible esta etapa de la web de "solo lectura". Web 2.0 Este segundo paso permitió que la gente escriba en Internet (Wikis, Blogs) y compartiera sus producciones. Esta Web es Social y de una explosión de contenido nunca antes visto. La red en 2012. WEB 3.0 ha llegado definitivamente. What is Web 3.0? What Will Web 3.0 Be Like? What is Web 3.0?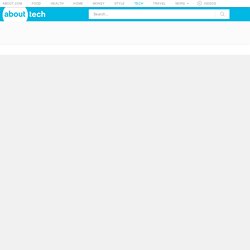 One difficulty in nailing down a definition or metric for evaluating Web 3.0 is the lack of a clear, distinct definition of Web 2.0. Most people agree what Web 2.0 is an interactive and social web facilitating collaboration between people. This is distinct from the early web (Web 1.0) which was a static information dump where people read websites but rarely interacted with them.
If we distill the essence of change between Web 1.0 and Web 2.0, we can derive an answer. What is Web 3.0? 10 Rules for Succeeding in a Web 3.0 World. Reid Hoffman Previous Internet Eras Web 1.0 - Web 1.0 was an era of low bandwidth. Semantic web notes. ¿Web 2.0, Web 3.0 o Web Semántica?: El impacto en los sistemas de información de la Web (Lluis Codina) I Congreso Internacional de Ciberperiodismo y Web 2.0. Bilbao: Noviembre 2009 ¿Web 2.0, Web 3.0 o Web Semántica? : El impacto en los sistemas deinformación de la Web Por. Web 3.0: Expectativas muy altas « Factor Humano. Web 2.0 puede definirse como la explosión de las redes sociales en Internet. Google mismo ha sido desplazado por Facebook en Estados Unidos como el lugar con más visitas. Poco más se puede pedir del desarrollo de las redes. Sin embargo, cuando se comenzó a hablar de Web 2.0, algunos anticiparon la idea de "web semántica", idea que poco a poco quedó aparcada y vuelve a emerger como la característica central de la Web 3.0 en ciernes.
Www.ugr.es/~sevimeco/revistaeticanet/numero10/Articulos/Formato/articulo3.pdf. La Web 3.0, añade significado. En general, se asocia la Web 3.0 a una nueva etapa destinada a añadir significado a la web, y por tal motivo se acuerda con Tim Berners-Lee, el creador de la World Wide Web, en llamarla Web Semántica. Todavía no se ha incorporado el cambio de actitud, que como señala Christian Van Der Henst S. implica la Web 2.0, cuando ya se habla de Web 3.0, como de una realidad inminente que promete transformar no sólo nuestra experiencia web, sino toda nuestra cotidianidad.
¿Qué es la Web 3.0? Si bien, en general, se asocia el término al de Web Semántica, acuñado por Tim Berners-Lee, cabe acotar, valga la paradoja, que no existe total consenso acerca de lo que significa la Web 3.0. Aunque se coincide en que esta etapa añadirá significado a la web, no hay acuerdo sobre cuales son los caminos más apropiados para su desarrollo.
José Antonio del Moral, director general de la consultora Alianzo, en su artículo sobre Web 3.0 ¿futura realidad o ficción? Tendencias web 3.0. 5 Vídeos imprescindibles para entender la web 3.0. Preparo una presentación completa acerca del tema de la web 3.0, para distintas instituciones, ampliando los Talleres sobre web semántica que ya he impartido antes (en catalán aquí) Os agradeceré que dejéis comentarios al respecto. También que alguien se anime a subtitular a Kelly o el primer y mejor, en mi opinión, vídeo de esta pequeña serie. What is Web 3.0 Definition? Eric Schmidt Defines Web 3.0. What is Web 3.0. Web 3.0,Web 3.0 Technologies,Web 3.0 Definition. Web 3.0 tn. The Proactive Web Era : Intelligent Web and Intelligent Services are knocking at the door ! | The Transcendent Man's Blog.
50 new tech tools you should know about.
---