Food and drink
LaSaGnA TiMpAnO. I went to see tUnE-yArDs on Monday night with some friends, and as always we wanted to cook a meal that somehow related to the show we were heading to.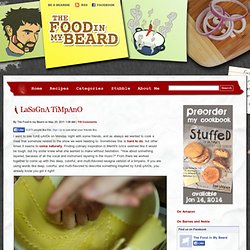 Sometimes this is hard to do, but other times it seems to come naturally. Finding culinary inspiration in Merrill's lyrics seemed like it would be tough, but my sister knew what she wanted to make without hesitation. "How about something layered, because of all the vocal and instrument layering in the music? " From there we worked together to come up with this deep, colorful, and multi-flavored lasagna version of a timpano. If you are using words like deep, colorful, and multi-flavored to describe something inspired by tUnE-yArDs, you already know you got it right!
Cream Cheese Enchiladas. Cream Cheese Chicken Enchiladassource: slightly adapted from On My Menu 5 ounces cream cheese, softened 1/4 cup sour cream 2 cups prepared salsa.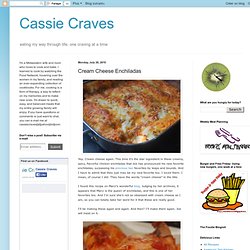 Pasta with Creamy Cajun Sauce. Sunday, April 15, 2007 A few weeks ago, I was doing prepping in the studio kitchen for a class called "Creative Healthy Cooking" for that evening.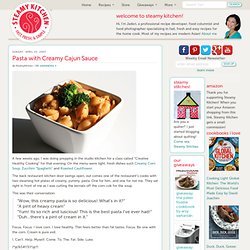 On the menu were light, fresh dishes such Creamy Corn Soup, Zucchini "Spaghetti" and Roasted Cauliflower. White Chicken Enchiladas. Great basic recipe.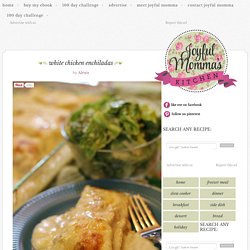 Here is my version of this recipe that makes the chicken filling more flavorful and moist. Enjoy! Honey Sauced Chicken. Hi Pinterest visitors!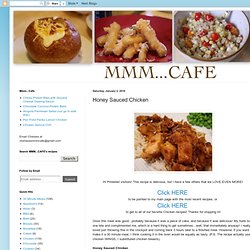 This recipe is delicious, but I have a few others that we LOVE EVEN MORE! To be pointed to my main page with the most recent recipes, or to get to all of our favorite Chicken recipes! Thanks for stopping in! Oooo this meal was good...probably because it was a piece of cake, and because it was delicious! Mexican Casserole. I am always on the lookout for a great Mexican dish to make at home.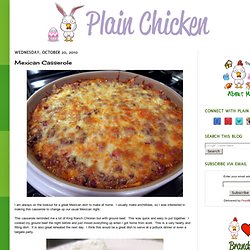 I usually make enchillidas, so I was interested in making this casserole to change up our usual Mexican night. This casserole reminded me a lot of King Ranch Chicken but with ground beef. Man-Pleasing Chicken | Witty in the City. I have never gotten so many compliments before, let alone for a piece of chicken.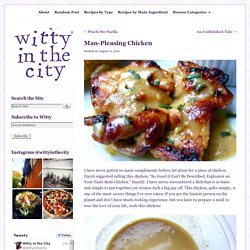 David suggested calling this chicken, "So Good it Can't Be Described, Explosion on Your Taste Buds Chicken." Exactly. I have never encountered a dish that is so basic and simple to put together yet creates such a big pay off. This chicken, quite simply, is one of the most savory things I've ever eaten. Weekend Cocktail~ Pink Grapefruit Margaritas « There Goes the Cupcake…
These margaritas will certainly liven up your weekend, both refreshing and delicious.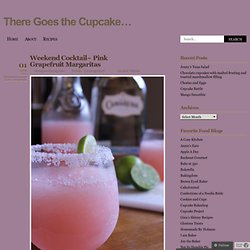 They are super simple to make, the only catch being, you need fresh limes, it really makes a difference. Make these at your next party, they are sure to be a hit. Pink Grapefruit Margaritas From: Barefoot Contessa's How Easy Is That 1 cup ruby red grapefruit juice1/2 cup fresh squeezed lime juice (about 4 limes)1 cup triple sec orange liqueur3 cups ice1 cup silver tequila1 lime cut in wedges, optional Kosher salt. If you prefer to rim the glasses take a lime wedge and rim, then dip in salt, if you do not like a salted rim sprinkle a touch of salt in each glass, the salt really brings out the flavor. Festive Lower-Calorie Holiday Cocktail Recipes | SpaFinder Club Spa.
How to Make Alcoholic Ice Cream, the Greatest Dessert of All Time. Skinny Baked Mozzarella Sticks. Part-skim mozzarella sticks coated with crispy seasoned breadcrumbs and baked until hot and golden.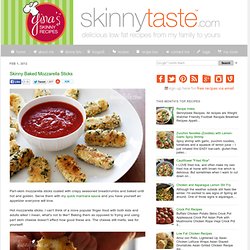 Serve them with my quick marinara sauce and you have yourself an appetizer everyone will love. Hot mozzarella sticks, I can't think of a more popular finger food with both kids and adults alike! I mean, what's not to like? Verdens beste forrett - tema. Jeg har aldri lagt skjul på at jeg elsker restauranten Noma.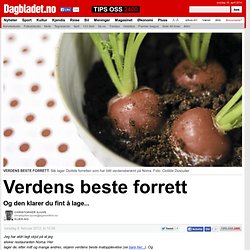 Her lager de, etter mitt og mange andres, skjønn verdens beste matopplevelse (se bare her...). Og det er derfor vi våger å kalle det, litt fleipete, for "verdens beste forrett". Vår franske matblogger Clotilde har også latt seg fascinere av Rene Redzepis oppfinnsomhet. Holiday Bacon Appetizers. Does anyone remember these lovely little numbers?
Back in the early eighties, they were all the rage at suburban holiday get togethers. I know, because my parents had quite a few of those get togethers, and my mom served these all the time. And though she'd ordered me to stay upstairs and do my homework, when it was clear to me the adults were nice and sloshed on egg nog and settled in the living room, I'd sneak down to the kitchen, grab a huge handful of these little treats, and stuff them in the pocket of my Vanderbilts. Parmesan Roasted Potatoes. There's one very important fact I have not shared with you yet. You know what? I love potatoes. See?
Cool Whip Ice Cubes for Hot Cocoa. Oppskrift på peppersaus - Slik lager du peppersaus. En god saus forlenger livet, tror jeg. Om det ikke stemmer, så får det heller være. For, hva ville livet vært uten bearnés - eller si brun saus? Og når jeg tenker på hvordan denne svarte, hemmelige sausen gir nytt liv til salater og sandwicher, så blir jeg enda mer sikker på at jeg har rett. Alle som var våkne på 80- og 90-tallet fikk det med seg. Hjemmelaget - Åtte gode middager i gryte – Dinmat.no. My Recipe Box | LivePantry. Posted on 05/26/2012 "Frisk, syrlig og saftig salat med spennende farge. Dressingen demper rødbet-smaken, og sammen blir det en spennende kombinasjon.
Jeg glemte mynten, men salaten var god uansett - selv samboeren min som "egentlig ikke er så begeistret for rødbeter" forsynte seg en gang til! Org. oppskrift fra Spis Bedre 5/2010" posted on 04/08/2012 "Velsmakende og enkel å lage.
---